Prologue
Greece is a lovely place for cycling holidays all year long. Incredible landscape, friendly people, mild climate, and tasty food, of course. I have been cycling in Greece several times before – regions of Thrace, Central Macedonia, and countless enjoyable rides in Crete.
This time together with five friends, we decided to explore other islands of Greece. We began our trip in Crete, went to Kythira island, later cycled around the Peloponnese. In this article, I will disclose more details about our seven days adventures on this spot on earth.
First days in Kythira
The meeting point, for pragmatic reasons, was chosen in Crete. In the late autumn, it is very cheap and easy to fly to Chania. Most of us came from different European cities – Berlin, Vilnius, Oslo. Therefore, Crete was an ideal place to meet up and begin our tour.
We started the trip in Paleochora, and in a few hours, we quickly reached Kissamos. From Kissamos, a ferry goes to Antikythira, Kythira, Piraeus islands twice a week. The ferry ticket cost 13.50 EUR, and bicycles are carried onboard free of charge. So this is an excellent choice if you want to go there to check around.
Our plan was to jump off for one day in Kythira island, cycle around it. And then to proceed to the next island.
Soon we found out that the end of October perhaps is not the best period to visit Kythira.
It was rainy and windy, and that somehow, it reminded me of more remote Scottish islands than one of the romantic places in the Mediterranean.
Despite that, we had a chance to enjoy the peaceful vibe of Kythira for a moment. Most of the roads were empty. Towns are small and cosy. I heard that the situation changes drastically in the summer months as many tourists visit the island by ferry or plane. But now, it was utterly tranquil.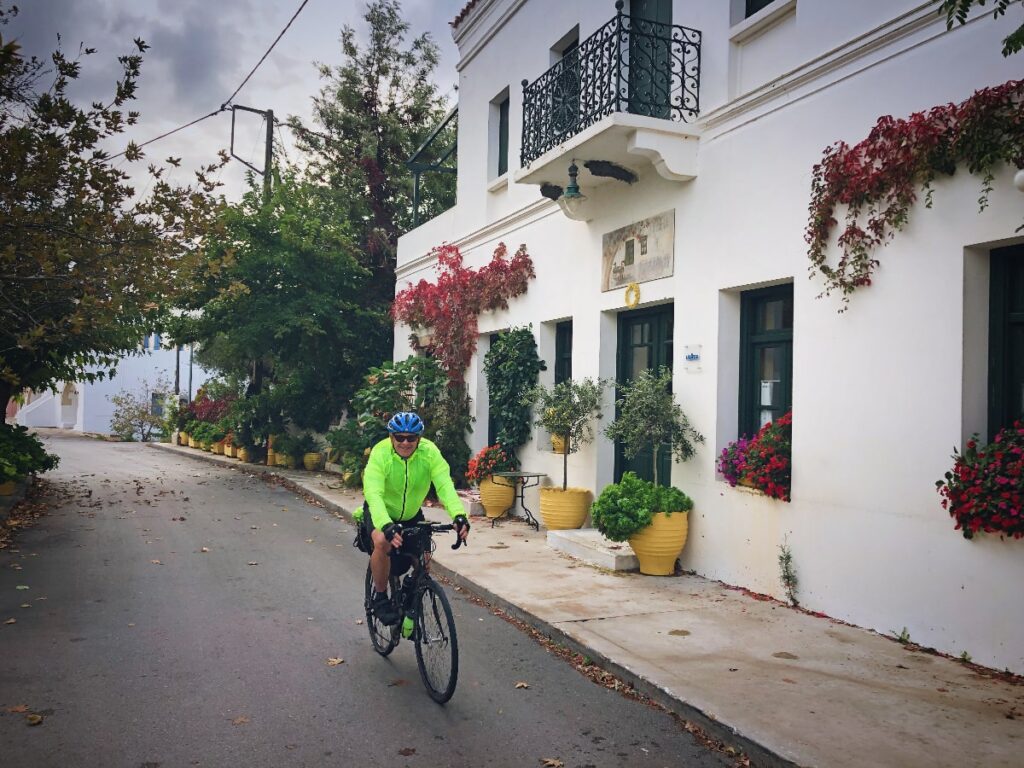 Due to bad weather conditions, we were stuck in Kythira longer. The next day the ferry which had to take us to Neapoli Voion(Peloponnese) was cancelled. Moreover, according to the weather forecast, several upcoming days had to be similar.
We had nothing else to do but just cycle around, check the villages and wait. Simply, there were no other alternatives. Boats in the local harbour were too small to overcome the stormy waters. The airport was closed.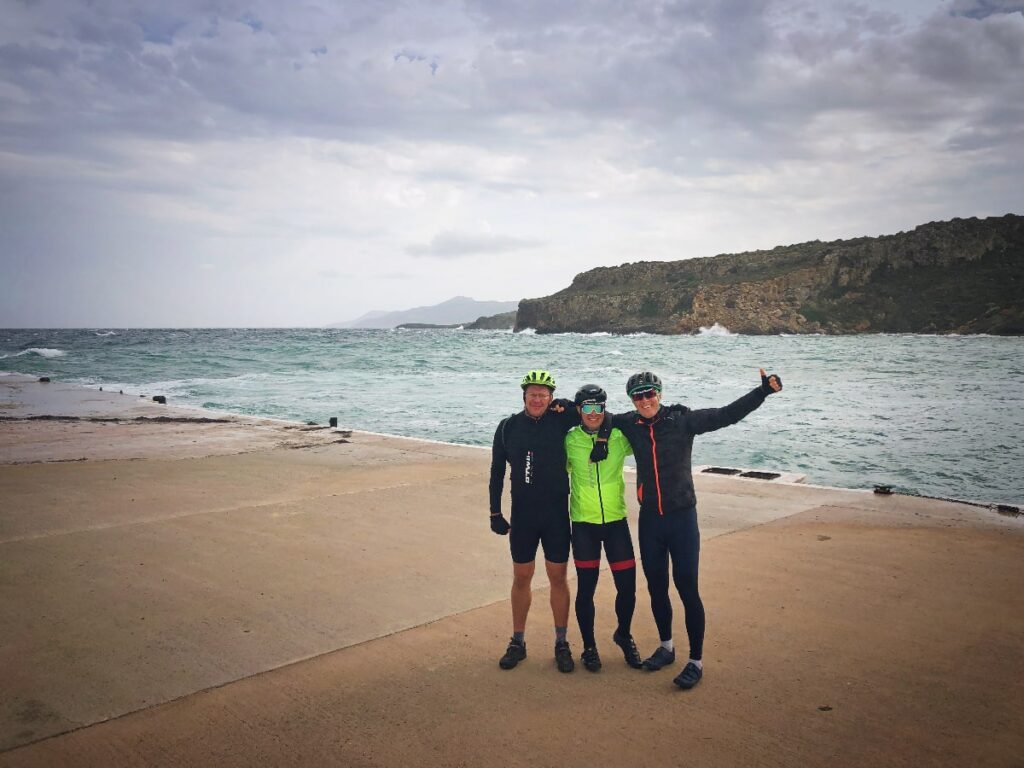 All of a sudden, the next day, the wind weakened a bit. So the ferry came and managed to get to Peloponnese in the evening.
Peloponnesian adventures
First of all, we explored the Laconia region (the eastern part) of the island. The most exciting place to go there is probably Monemvasia. Both Acropolis of Monemvasia and the town of Gefira are worth visiting.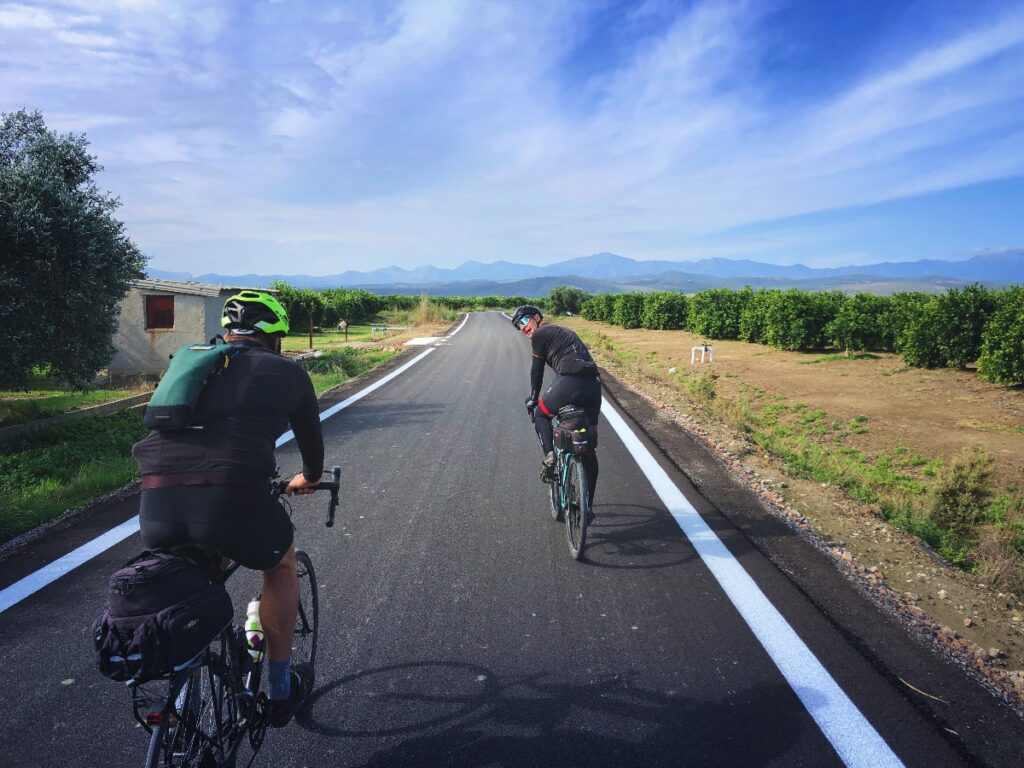 Afterwards, we cycled to Gythio. I could say that Gythio is my top 2 place of all days (what is first, you will find out later). Incredible oldtown and the harbour.
There was one more reason I felt so happy being in Gythio. 20 km to the town, I damaged my tire altogether riding on a dirt road. While I continued to move slowly, the fellows got here first to look for a bike shop. Fortunately, they found it and the local dealer even had a pair of my size new tires! I managed to upgrade my wheels during lunchtime while the rest enjoyed their glass of beer and food.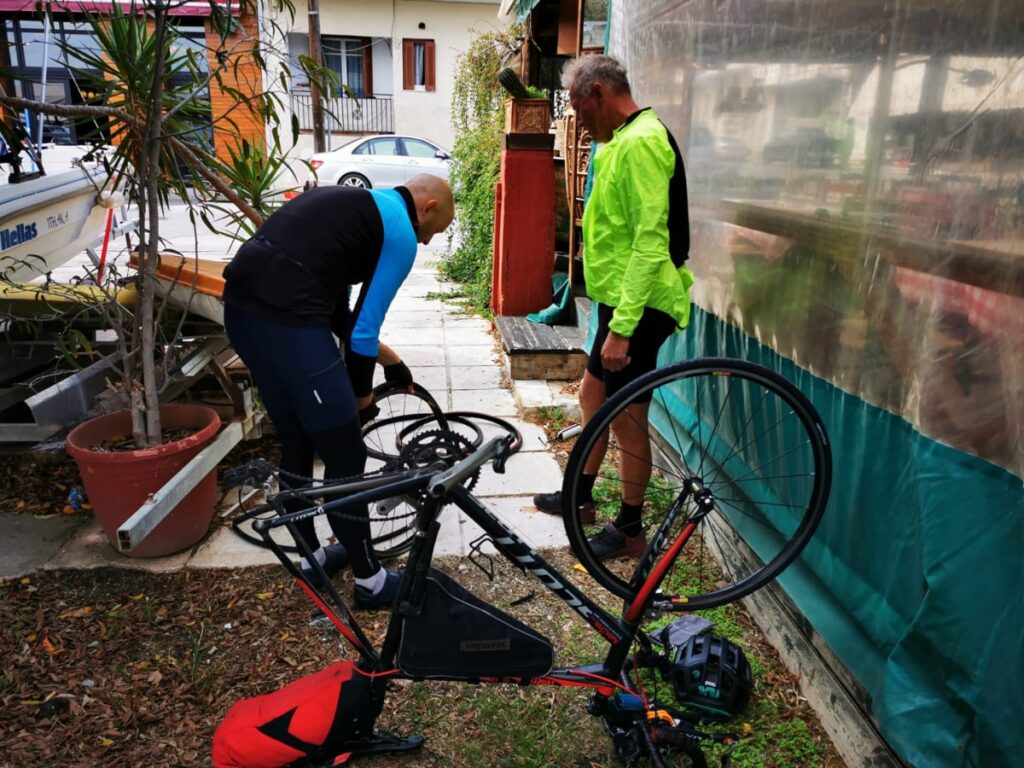 My favourite segment of the whole trip was the coastal road from Neo Itilo to Kalamata. That is a picturesque way with beautiful curves and enjoyable climbs. Every 10 kilometres there is a small village on the shore so you can stop there and easily flow into a calm greek fishermen's life. During our stay, we haven't seen considerable traffic on this road. Only random camper vans, mainly from Germany and UK. But we met some cyclists spinning the pedals just like we did. I bet in the summer months there should be much more of them.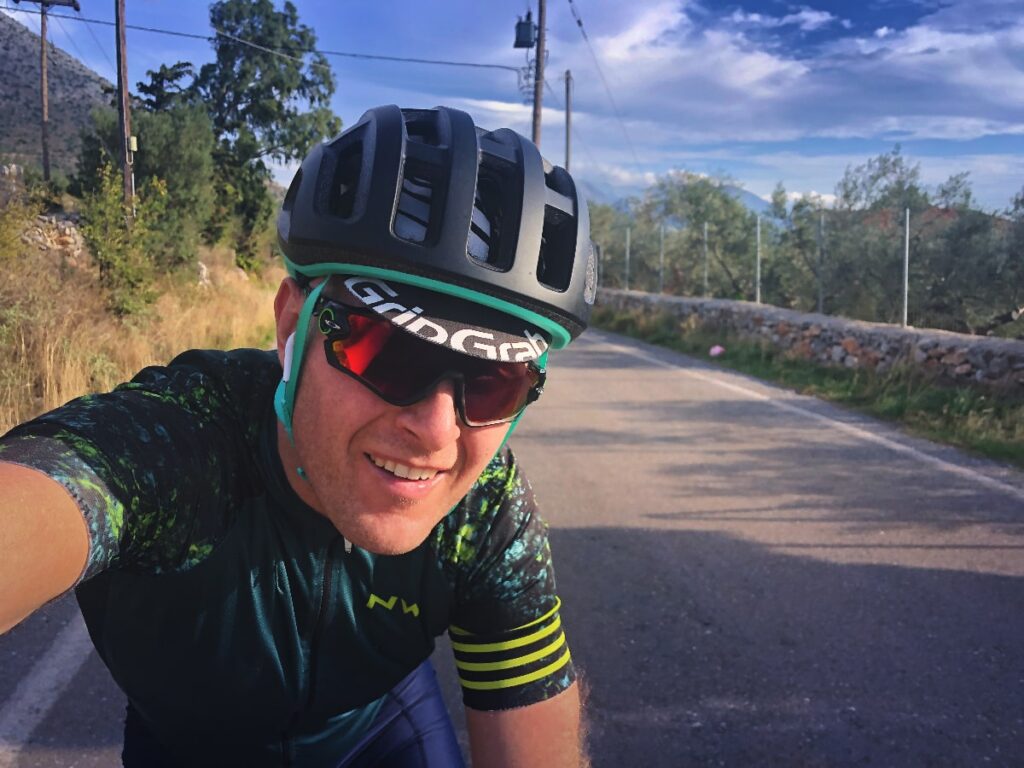 Another great discovery was the evening in Megalopoli. It is a town of coal miners and workers of Power Plant. Initially, it was just a crossing point on our initial route, but we were forced to shorten our Pelloponesian loop due to an extra day in Kythira.
Megalopoli mine is the largest open-pit mine on Peloponnese island. It began to be used in the 1970s when Power Plant was built, and most locals work there. In the town, you will not see the stunning ancient architecture or cultural heritage (for this, you need to go to Dimitsana, which is 40 km away from here). It looks even like a random Soviet industrial town that is still left in Belarus, Ukraine, or Baltic countries. But, I was surprised to find how many good restaurants and bars they have there. Great places to eat and drink after a hard day in a factory.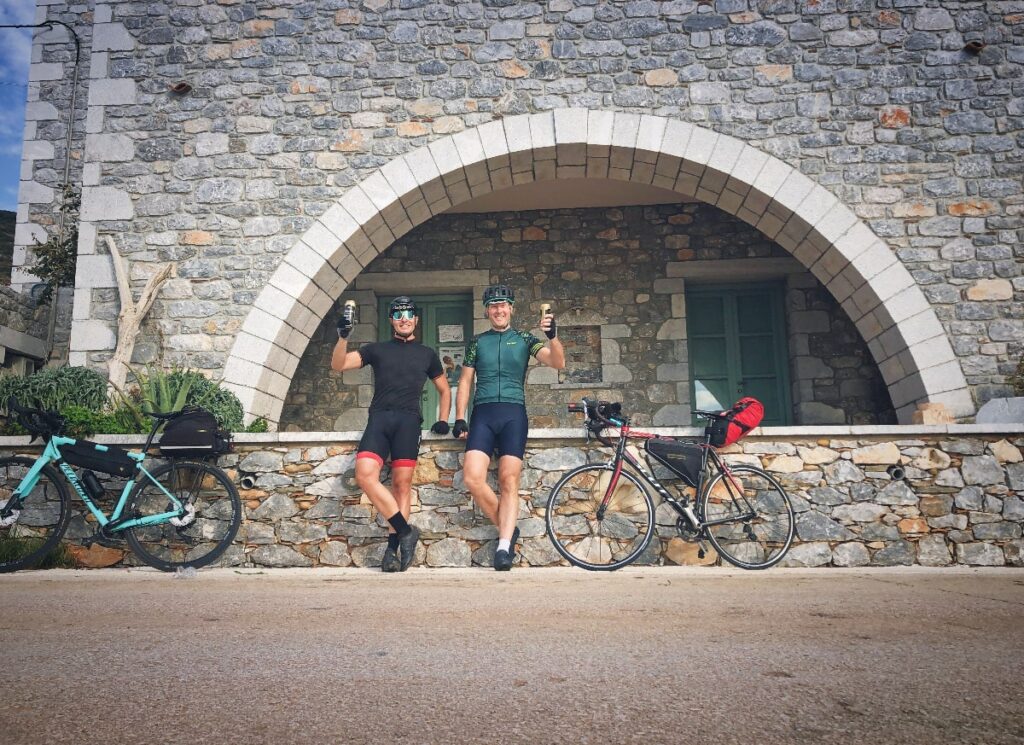 The sixth day of the trip was dedicated to travel to Nafplio. Morning leg was nothing special – just another boring distance on an abandoned road to Tripoli. Looks like all activities moved closer to the motorway which connects Kalamata to Athens. But in the afternoon, it was different. We have traversed to the Argolic Gulf on a more impressive route with a panoramic view and sceneries.
Nafplio instantly became my favourite place of the whole trip. It is probably the most beautiful town in the area of Argolis (eastern Peloponnese). With its tiny harbour and cosy oldtown, significant architectural objects surrounded by hills, Nafplio fascinated all our team members. I'm sure this place is very busy with tourists during summer. However, in October, it was pretty OK – many sites are still open, so you can explore museums, art galleries, visit Palamidi castle or just shop around in the boutique shops.
As an accent of our pleasurable experience in Nafplio was a dinner in the harbour area with lovely food and some Tsipouro.
Nafplio town falls in my list of "places I need to visit once again" with Brasov and Lviv.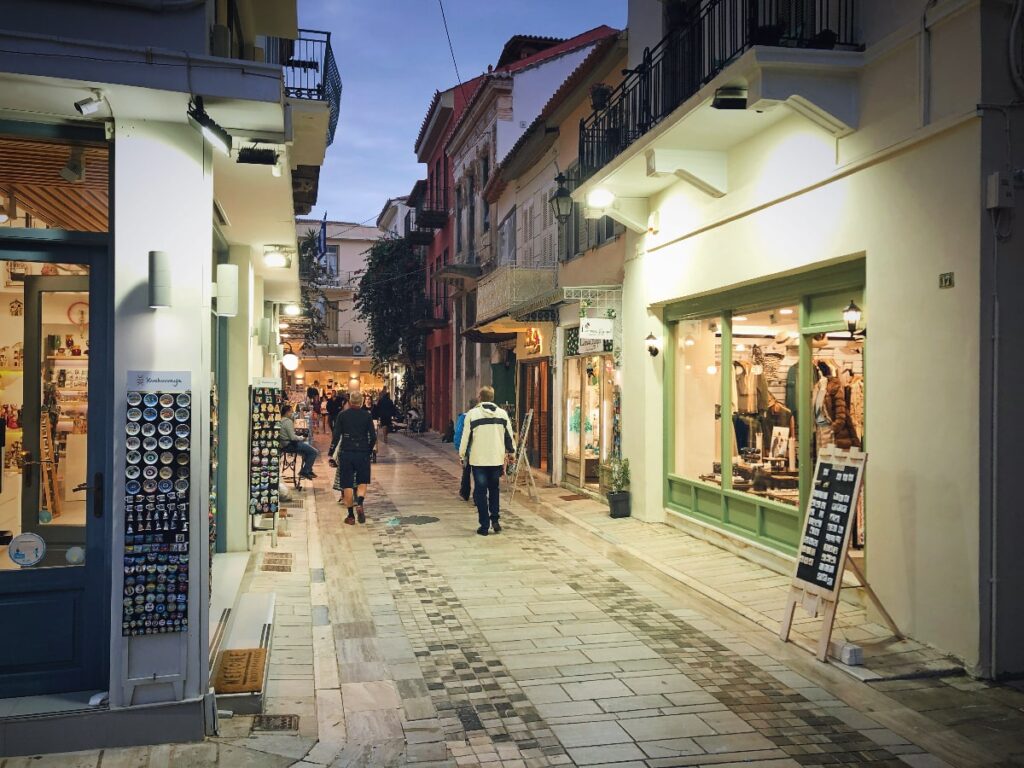 On the last day of the trip, we have chosen to pass by the Corinthia region and finally along the Saronic Gulf coast to reach Piraeus. In the morning, we have climbed to the final 800 m passing point connecting Argolida and Corinthia districts. Finally, I felt that autumn was slowly is kicking in Greece too. The temperature suddenly fell to +6 degrees Celsius. It was pretty chilly descending with summer gear only. Luckily this lasted 15-20 minutes until we got to the beach.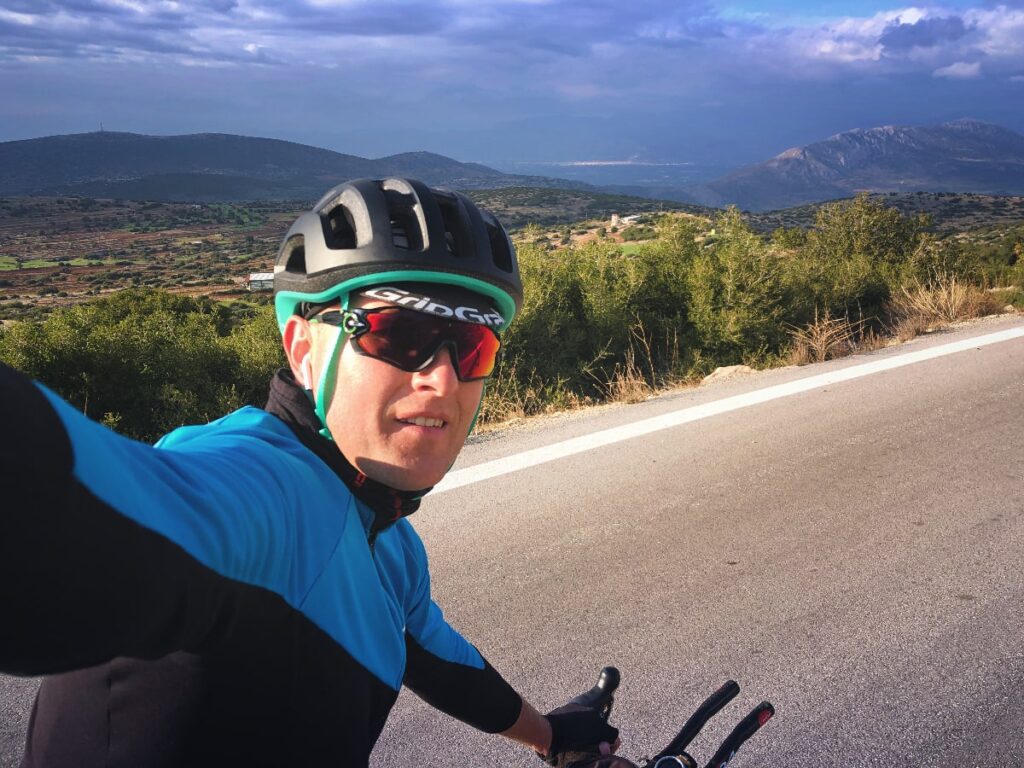 Another exciting object was the famous Corinth Canal that connects Gulf in Corinth in the Ionian Sea and Saronic Gulf in the Aegean Sea. A Canal of 6.4 kilometres long was finished in the 19th century though it was a big dream for mankind almost 2000 years. Best known for its narrowness (24 meters) and steep rock walls of 17 meters heigh, today Canal lost its economic importance and is mainly used for touristic purposes.
Unfortunately, our visit didn't come out without losses. The bridge over the Canal is made of steel, but the top surface is wooden. It has roughly 5 cm gaps between each board which means that if you want to cross to the other side, it is better to walk than to cycle. That is what most of us did except for one unlucky lad that decided to check his manoeuvring skills. The fall off the bike was dramatic, and the last one for his well honoured Cannondale. Luckily, he personally paid off with only a few scratches on his face. Poor guy. Another lesson to learn.
The last 50 kilometres to Piraeus, we cycled in four. Segment from Agioi Theodori to Megara on the old road was spectacular and worth trying for everyone. Many motorcyclists and weekend drivers from Athens go there to enjoy the calm rocky seaside.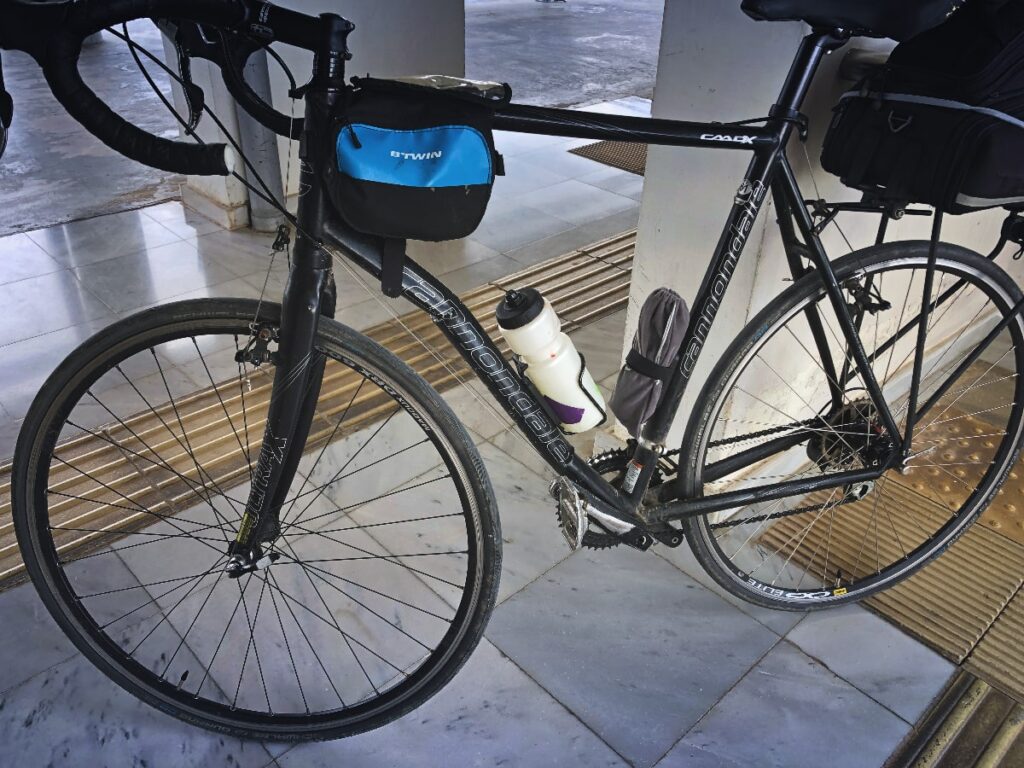 Apart from this, the other events were less memorable. The closer you get to Athens, the more complicated traffic you get into – many cars, scooters, pedestrians, complex crossroads, etc.
After all my trips eventually, I concluded and could recommend it to anyone – instead of trying to get to the city centre by bicycle, it is better to stop earlier and for last distance use train. Maybe it is not so fascinating but much more enjoyable and safer.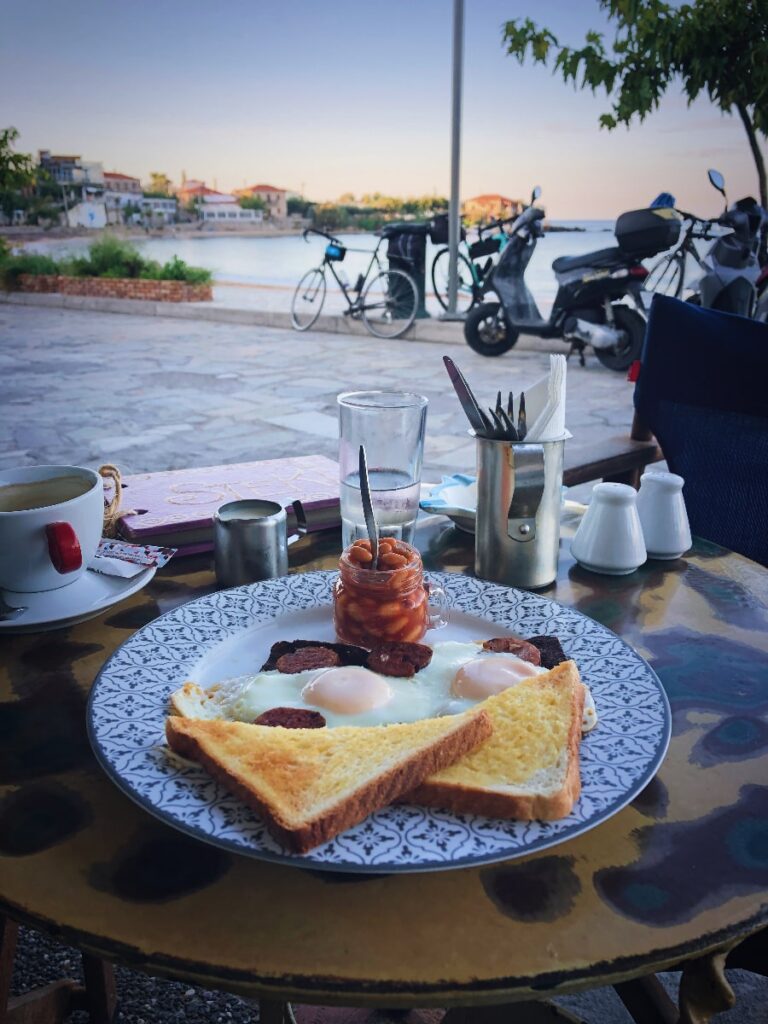 Conclusion
The more I'm cycling in Greece, the more I like it as a cycling holidays destination. It has everything a typical cyclist traveller might look for – interesting places to see, a decent road quality, a lot of low traffic routes, English-speaking people (in most areas), mild climate, brilliant cuisine. And even having such advantages in mind, I think why Greece is not so popular among the cyclist community. Is it because they do not have Tour de France, Vuelta, or Giro? Perhaps.
Usually, folks love to do early-spring cycling camps in Spain. No doubt, places like Alicante, Canary islands can offer an absolutely whole experience for the novice or advanced riders. Believe me, I'm still daydreaming about the cheery winter months in Tenerife again. However, I would recommend Greece without a blink for those who want to try out something new.
Thanks for reading!