Intro
My favourite 8 long-distance cycling routes in Tenerife.
I had an opportunity to spend the winter months in Tenerife enjoying balmy sunny days and a warm climate.
Instead of being locked down in cloudy and cold northern Europe, in Tenerife I was hiking and surfing on various island spots. But for the majority of my leisure time, I was riding my bicycle. In six months, I have tried most of the road cyclist tracks. 
Based on my personal experience, I would like to share my top 8 routes, impressions, and recommendations.
Buying a bicycle in Tenerife
The first task was to find a proper bicycle with spending not more than 500 euros. 
One option was Triban 520 from Decathlon. However, I had to look for another because they didn't have a model for my height.
Then I found Marin Pasubio on the second-hand market, but it was gone in a few hours.
Finally,  I got a renewed Scott Speedster S20 in El Medano. Nothing special, though it was my first road bicycle ever, and I was happy to get the XXL size on the island.
Cycling tours
I had my workouts three times per week. On workdays, I went cycling around my residence place in Puerto de la Cruz. And during the weekends, I was going for a long rides that took me 4 hours and more.
I will focus on long rides that helped me to discover Tenerife. As a bonus, spinning pedals around the island allowed me to keep my physical shape and endurance level in good condition.
1. Puerto de la Cruz – Punta del Hidalgo
The route takes you along the Northern coast of Tenerife island to Punta del Hidalgo. A small fishermen's village known for its modern-style lighthouse and natural baths.
The first interesting stop on the route is El Sauzal town. Great place to have a short break and look around. Here you can see the most famous town's cultural object – a San Pedro Apostol church. Built-in the 16th century, the church declared an Asset of Cultural interest in 2005.
Near Masa del Mar, and El Pris villages, take a chance to stop and check out natural swimming pools on the sea coast. It is a relaxing experience that you can't find in many places.
The best wines in the Canary islands come from the Tacoronte Acentejo. You can notice extensive vineyards once cycling through the region.
While on the way, look for an advert sign with the headline Guachinche on a roadside. It is a typical Canary island establishment where you can have a locally produced wine accompanied by traditional homemade food. An excellent opportunity for a lunch break and to get to know the local cuisine.
2. Puerto de la Cruz – Buenavista del Norte
It is a quick route to explore the Northern part of the Island. Suitable well if you have a free afternoon and prefer to travel on a flat segment.
The segment on motorway TF-5 from Puerto de La Cruz to Las Cucharas has intensive traffic. However, the roadside is wide enough to feel safe. After exiting TF-5, the traffic significantly reduces, which gives a perfect chance glancing at the fabulous North coastline.
At almost every little piece of land in this region, you will see bananas plantations. Some farmers offer guided tours if you would like to learn more about growing this culture on the Island.
Next on the road, is a town that is worth exploring – Garachico. It is a charming place in a remarkably unspoilt part of the Island with a nice tiny oldtown and unique rocky seacoast. You could plan here a snack or a coffee stop in advance.
Buenavista del Norte marks the end of Tenerife as it stands on the north-westerly-most point of the Island.
If you still have time and enough energy, I would recommend visiting Punta de Teno Lighthouse. That is a lovely place with a colossal panorama of Los Gigantes Cliffs and La Gomera Island on the horizon. Otherwise, you can do a quick round tour in the Buenavista del Norte town centre and turn back towards Puerto de la Cruz.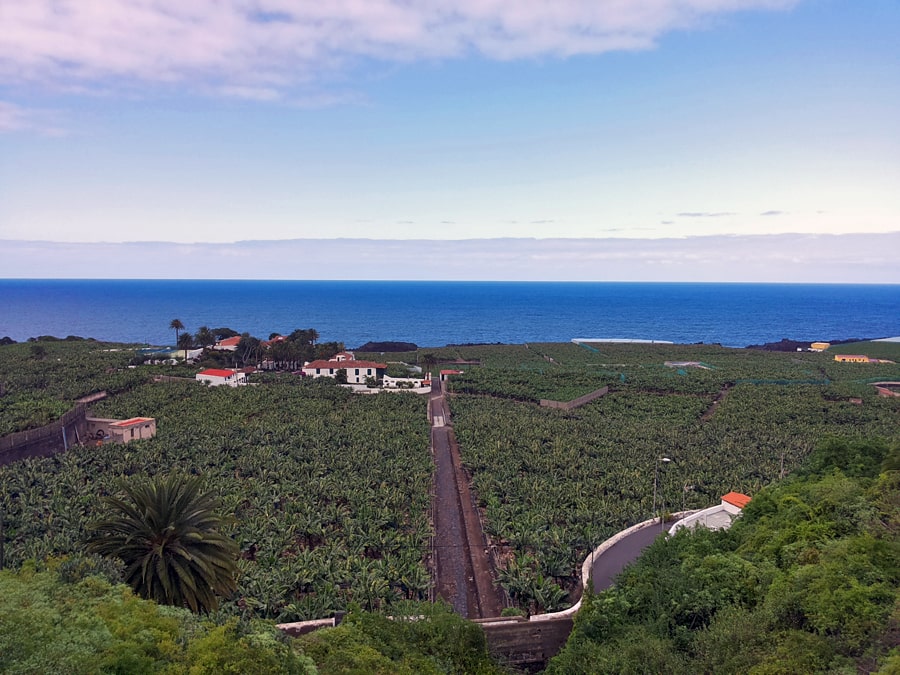 3. Puerto de la Cruz – Masca – La Orotava
4. Puerto de la Cruz – Teide National Park – La Esperanza
"From zero to hero'" That's how this route alternatively could be called.
Starting from ocean altitude level in Puerto de la Cruz, you will have constant ascent for 40 kilometres until you reach Teide National Park. The highest route point is at 2300 meters above ocean level near Teide Observatory.
The first route segment goes in La Orotava valley, which is highly populated. The traffic sometimes might be annoying. However, I have never experienced any safety issues. Drivers respect cyclists and pass over in a safe distance.
By entering Teide national park territory, you will immediately notice the differences. The landscape completely changes. You will be able to enjoy a fascinating view of the La Orotava valley. Moving your eyes up, you will see the other Canary islands.
After reaching 1800 meters altitude, you will notice significant weather differences. Depending on the particular season when you are cycling the weather conditions can be challenging. Keep in mind that sometimes the surface in the Teide zone can be covered by snow. Moreover, you can expect significantly lower air temperature and cold winds than the towns near the coast.
In regards to that, don't forget to pick up a warmer jacket. Probably you won't need it while climbing, but it will pay off later.
Once you start descending, soon you will pass the La Esperanza Forest park. This part is less steep and very pleasurable to ride. On the La Esperanza town, take a turn back to the Puerto de la Cruz using the regional roads.
5. Puerto de la Cruz – Teide national Park – Santiago del Teide
This route would fit for those who are interested in exploring Teide National Park at a quick glance.
You can learn more about the segment from Puerto de la Cruz to National Park's beginning by reading the description of Route 3.
Assuming that you have already reached El Portillo crossroad, next, you will enter the crater area edged by a craggy rim known as La Caldera de las Cañadas. It is full of impressive rocky structures coloured with various shades.
At 40th kilometre you will pass the island symbol – Mount Teide and in a minute after you will see Roques de Garcia rocks on the right side of yours.
If the weather conditions allow, I recommend having a break and take a short walk around. There is a restaurant on the opposite side for grabbing a bite. Besides mentioned objects just on the left from Teide, you will see another crater called Pico Viejo.
Once you reach the southern part of the crater, you will enter Corona Forestal Natural Park that surrounds the Teide from all sides. It is the largest natural protected zone in Tenerife.
Beware for the potholes while descending. Some road sections might be lumpy.
If you need another break, I recommend stopping in Santiago Del Teide. Here are some cafes and shops to buy food or beverages. It might be wise to refresh yourself, before the last ascent towards Erjos. After it, the road goes down until Puerto de la Cruz.
6. La Laguna – Anaga – Teide National Park
This all-day route will let you see two nature parks – Anaga Rural Park and Teide National Park. Moreover, you will cross Guimar's and La Orotava's valleys.
Starting your tour in Tenerife North Airport, you will finish your ride in Puerto de la Cruz crossing almost 1/3 of the island.
Anaga Rural Park is the greenest part of the whole island. That means that it is wet and covered by fog often. Plan your trip according to the weather forecast to see the full beauty.
Santa Cruz de Tenerife is a capital city with the highest population. Though it is the shortest possible route avoiding motorways, busy roads, keep in mind that cycling in it can be frustrating. On the other hand, it is an excellent place to have a refreshment break.
Try to save your energy while riding in the Valley of Guimar. After passing it, you will have to do Arafo climb towards Teide National Park. Arafo climb is relatively short (~30 kilometres), but strenuous.
On an En Portillo crossroad, take a turn towards La Orotava valley and enjoy your descent and marvellous sunset vibes that are visible on the island's western side.
7. La Laguna – Vilaflor – Teide National Park
Riding all day long, you will be able to see Guimar valley and the small villages of Tenerife's eastern part.
After reaching Granadilla town, you will start ascending towards Teide National Park.
Though any ascent to Teide is a challenge, the South's climb on TF-21 road is classified as the most difficult one. So good endurance is a must. The whole climb is about 37 kilometres long, which means most cyclists will spend 3 – 4 hours to get on top beating 1700 meters ascent from Granadilla to Teide. The gradient varies from 5% to 7%, and it is possible to find a comfortable rhythm.
On the top, you will have an opportunity to cross the Teide National Park enjoying spectacular views of the area.
The last leg is a joyful journey down to Puerto de la Cruz.
8. Puerto de la Cruz – Puerto de la Cruz (around the island)
It is a symbolic route around the Tenerife island. By crossing the Southern, Eastern, Western and Northern regions, you will see differences in landscape and daily life of residents across the island in one day.
You can start anywhere on the island because this route is circular.
The absolute majority of chosen roads are with small traffic and good quality. That will allow you to enjoy riding without bothering about your safety.
You will cross many towns on the way. There are plenty of places to eat or buy refreshments. If you need a bicycle repair service on the way, there are many bike shops in the Southern towns and Santa Cruz.
The route's duration can be from 9 to 11 hours, depending on your physical condition and endurance level. To make the whole circle before the dark, I recommend beginning your journey before sunrise.
The whole track is relatively flat. There is only one ascent climb above 1000 meters near Santiago del Teide. Another two are less than 600 meters near Granadilla and La Laguna.
Maybe this is not the most scenic route from all aforementioned, nevertheless by making that; you will become one of a small number of cyclists that made it in one day.