Last Updated January 2, 2023
I spend a week traveling around Finland by bicycle. By reading article Fascinating 6 days bicycle tour in Finland, you learn about the possible cycling route and towns to visit in Finland.
Arrival to Helsinki
Packing and preparations are over. I'm going through the checklist to ensure I didn't forget anything mandatory for my trip. That is a pleasure and immense stress at the same time.
I left my house yard in Riga before dawn. In a few hours, I reached Tallinn – before the morning traffic jam. Yet, I spent an hour looking for a free parking place to leave a car for a whole week.
Finally, I was ready to get on the Tallink ferry from Tallinn to Helsinki. One way ticket with a bicycle cost 35 Euros which I bought online a day before. The procedure was seamless and fast, as well as the whole journey. In 2 hours, I landed on Finnish soil. And my cycling adventure has begun.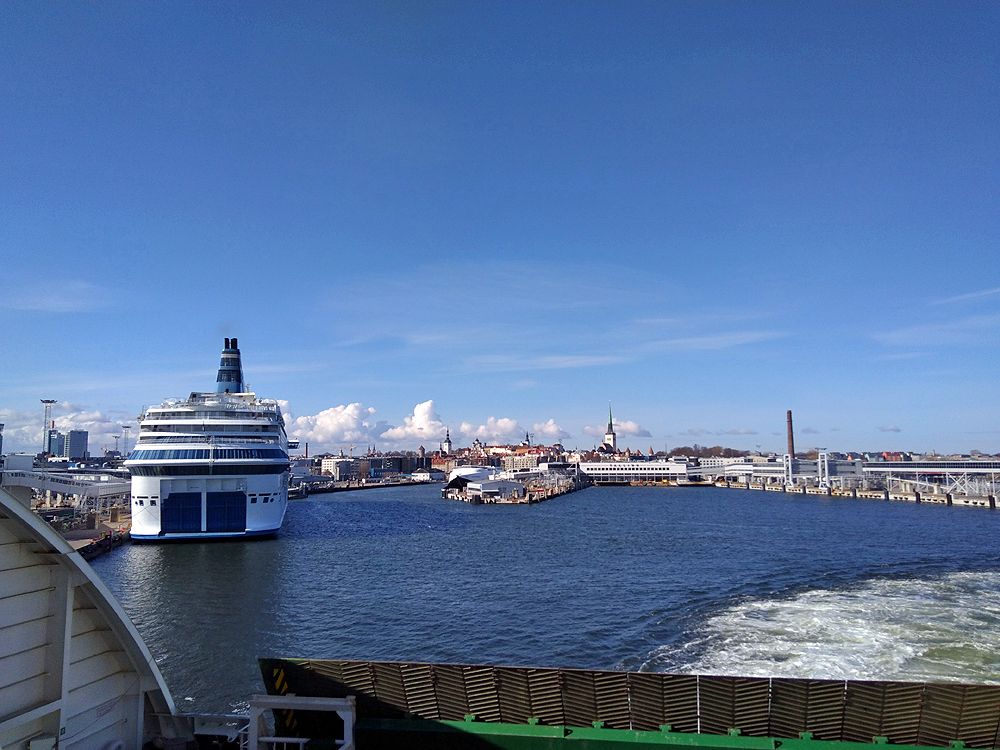 The temperature was the first thing that was different from my home place. It was colder. I was working on finding a proper combination of clothes for cycling day. My winter cycling jersey with jacket was too warm for riding. But during the stops I was freezing.
The surroundings were quite empty and dark. Even though it was the middle of April, the snow melted only a few days ago. Thus all the trees and the grass were still without any signs of the coming spring.
A tip

Finland is a Nordic country with long and cold winters and late and relatively short warm season.
Plan your cycling apparel and camping gear accordingly.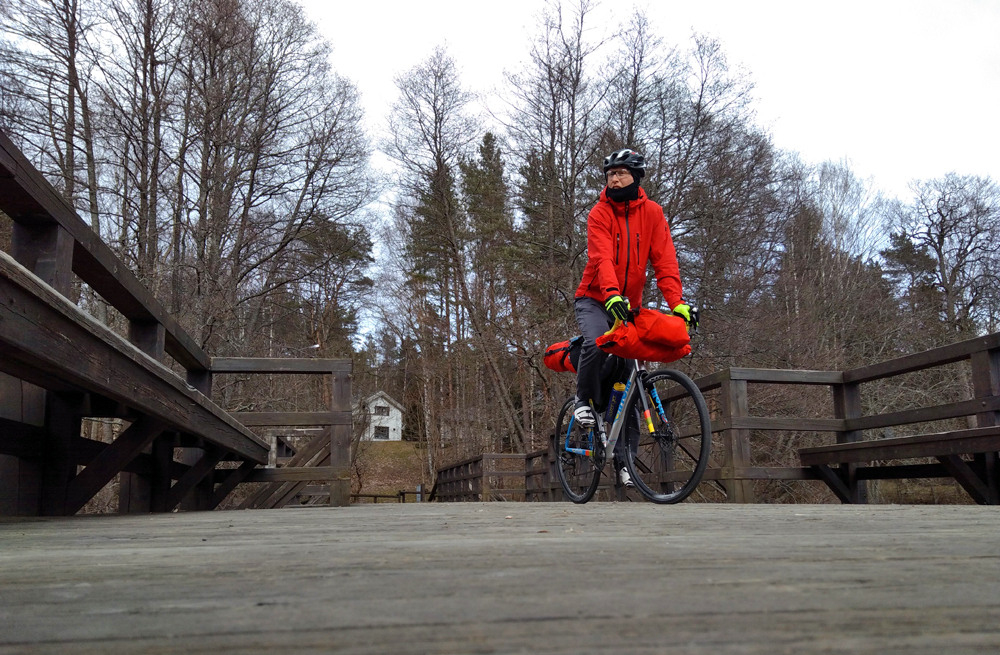 It was my first day of cycling after a long winter break. I struggled with packing my equipment into backpacking bags. They were swinging all the time, which annoyed me a lot. I was carrying heavy camping equipment. So, I had to find the perfect place to fit them in.
My body and muscles were sending signals of the necessity for rest. I took that day as a warm-up, and after 100 kilometers, I stoped.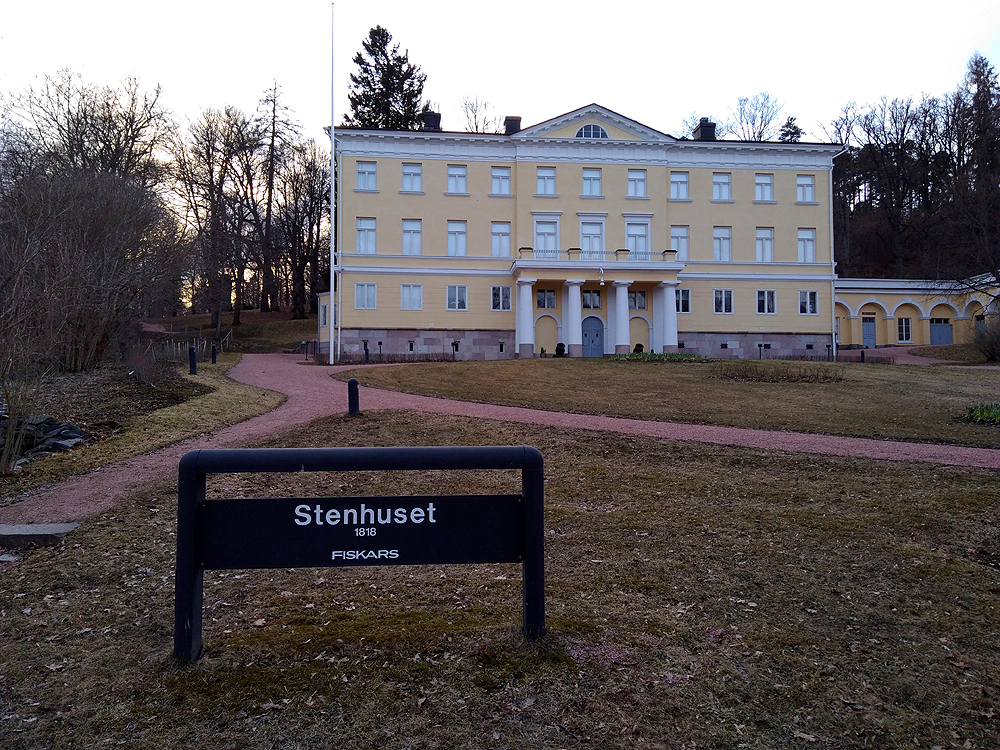 I have chosen a small village Fiskars for an overnight. Some of you may be familiar with this name as they produce well-known axes, knives, and other qualitative garden tools here.
There is a museum for ironworks popular among tourists in summer. In April it works until 4pm and to my unluck, I was too late. Visit Fiskars Museum webpage for more details.
The King's Road route
I canceled my initial plan to sleep in the tent. Honestly, it was too cold for me as the temperature fell below freezing at night.
After checking Airbnb, I found a cheap place to sleep in Fiskars village. Everything was good except the size of the bed. It was too small for me.
I was flipping back and forth all night, trying to find a decent resting position. Finally, at 7 AM, I gave up and left the house.
The good thing about this was that I had more time to explore. I changed the plan and took an alternative route to visit Tammisaari (also known as Ekenäs).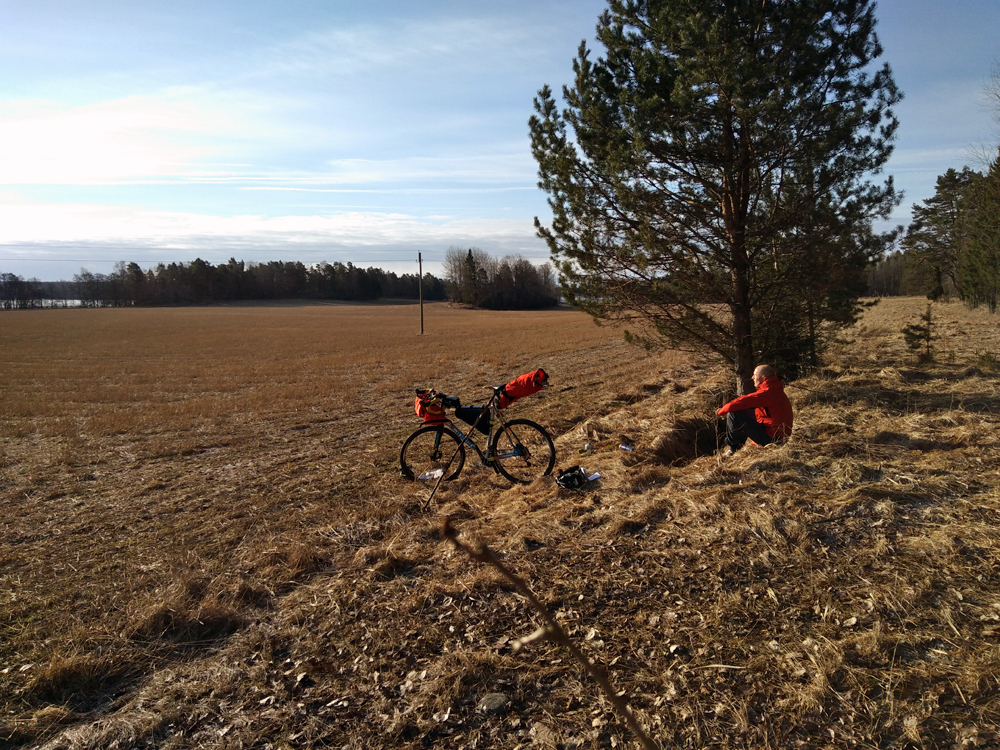 It was breakfast time. After some kilometers, I stopped to eat my meal and enjoy the calm morning. Sun was starting to warm up the surroundings, and it was a magnificent moment in the empty peasant field. I boiled up water for the coffee and ate a sandwich with ham.
Tammisaari reminded me of some cozy Aland island villages I had visited before. I did a quick tour ride around, but everything was still closed. April is still too early, and there is not much to do. Though in the summer they offer many attractions.
A tip

Finland's museums, craft places, and accommodation sites' working hours might vary during the low season. Check the details, ensuring a successful visit.
After leaving Tammisaari, I went towards Turku following the route called "the King's road" (Kuninkaantie, Kungsvägen). It is a scenic coastal bicycle pathway that connects Vyborg and Turku.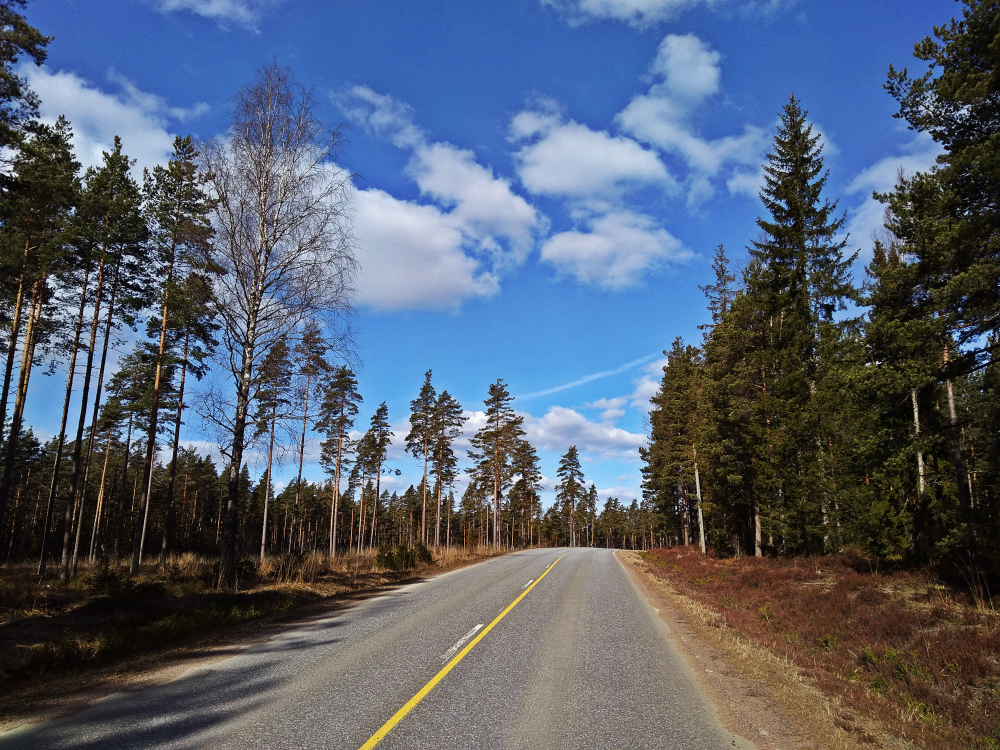 In the Medieval Period, Finland was a part of the Swedish kingdom. This road was a part of the mail road that stretched from Bergen to Vyborg.
It is interesting to know that even nowadays, most of the Swedish minority in Finland lives in the south coastal region. That explains why road signs are in two languages everywhere.
Later I learned about legal law in Finland related to ethnic minorities. It says if the ethnic minority in the area is above 2%, official signs and names must be in two languages.
I felt physically and mentally ready to cycle longer distances on my second day. After cycling for 150 kilometers, I successfully reached and stayed in Turku.
As a days award – it was a hostel with sauna procedures.
Oh yes, you can get it only in Finland.
Following Eurovelo 10 route
The most memorable day of the trip. The temperature raised up to +5C degrees and everything went perfect.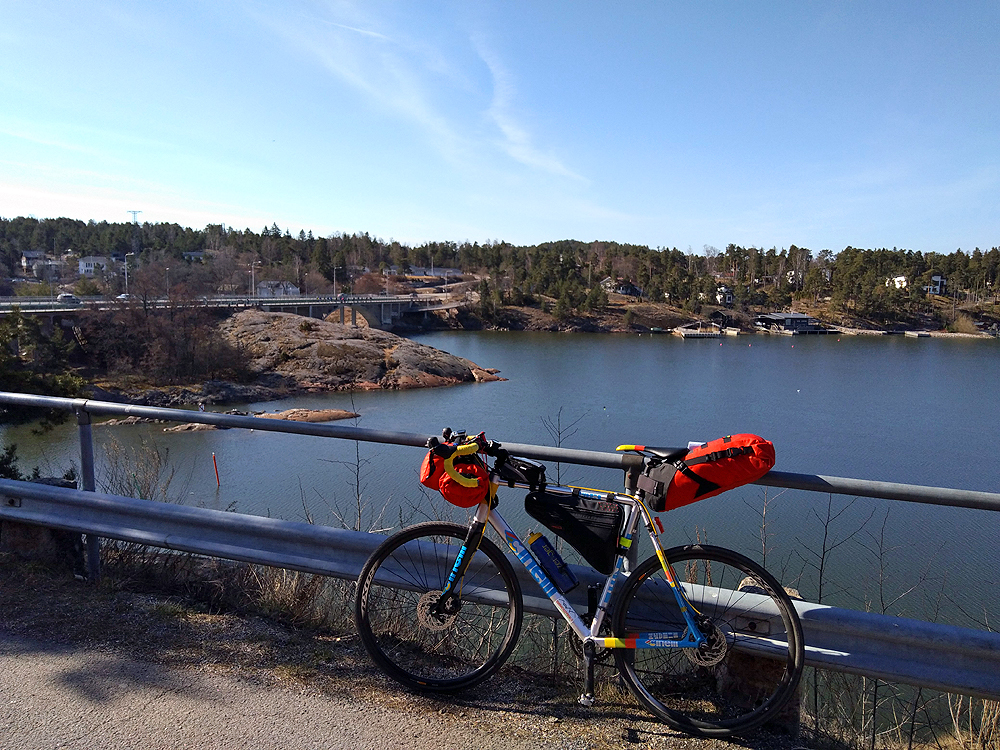 After leaving Turku, I stumbled upon a Eurovelo 10 "Baltic sea cycle route." It goes along the coast of Bothnian Bay far to the north. To my surprise, the cycling path quality was top-level. Excellent quality and picturesque scenery. Route was similar to the Aland Islands. Aland islands is an ideal place for beginner cyclists. It offers very little traffic and short distances to go.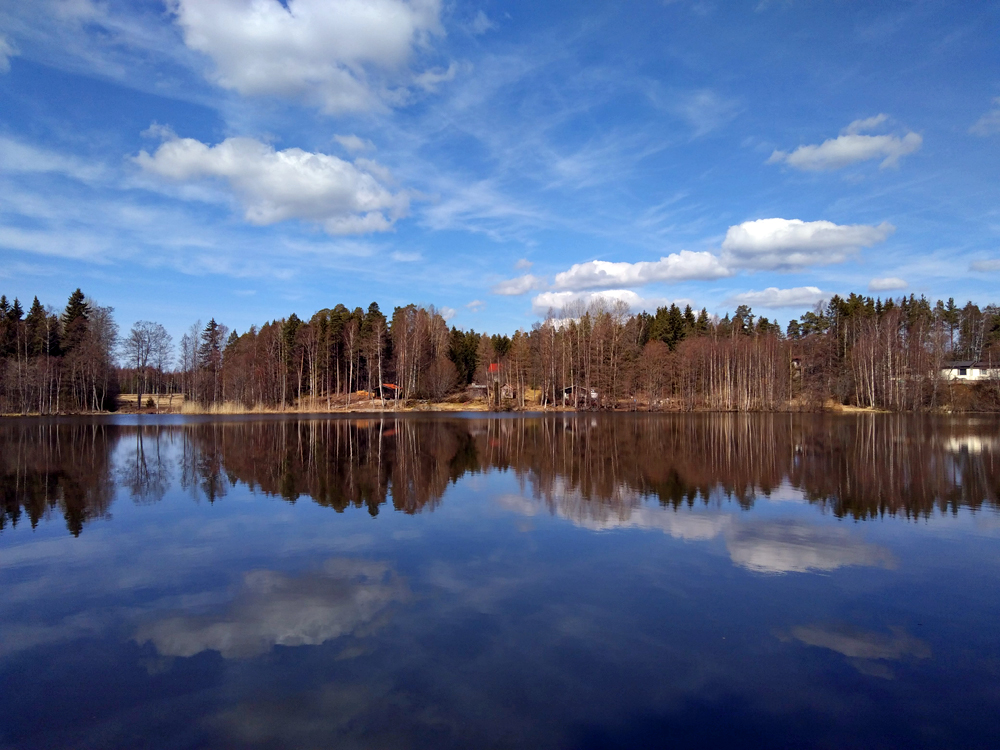 For lunch, I stopped in Uusikaupunki. It was a tiny Finnish town with an ongoing performance in the center square. It was acapella artists, and they were doing a rehearsal show before the town's 400th birthday. I was lucky to listen for free to their songs while eating a kebab in the restaurant nearby.
The food in Finland is expensive. Moreover, taking out the largest cities like Helsinki and Tampere, the range of options is limited in the smaller places. The standard options are kebabs, hamburgers, and sausages. For a single portion, you will pay 15 Euros on average.
A tip

The prices for dining in Finland is high. Plan your budget in advance and study possible places to eat before leaving. Consider carrying your own food and preparing it outside. There a plenty of places to do it.
The second leg was so joyful, like the first one. I continued rolling on empty coastal roads. I felt relaxed at the same time had so much fun exploring the surroundings.
Two hours later, I reached Rauma. My legs were still full of energy, and the sun was still high. I wish I had booked my bed in Pori because even after 140 kilometers I wanted to proceed.
But even staying here was a good idea. I left my bags and went to the center to look around, eat dinner, and drink a pint (or two) of beer.
A cold ride to Tampere
I stayed in the tiny garden house I found on Airbnb for an evening. The weather forecast for tomorrow was terrible. It was supposed to be heavy precipitations on the way to Tampere. A mixture of rain and snow at the same time.
The only workaround was to leave as early as possible and get to Tampere around lunch. I accepted the plan, and the next day at 6 AM, I was already on a frosty bike path.
All day long, I spent gazing at the clouds through the handlebar. They were getting closer and closer. Many times I thought I won't succeed. That the blizzard will catch up a lonely cyclist, who persistently was rushing towards Tampere. Luckily it only happened once I reached the city and got into a hostel.
Today's route could have been better. I didn't see much, as I was rushing a lot. If you plan to go from Rauma to Tampere, I would recommend to find different route than mine.
Great day cycling to Lahti
The following day I dreamed about turning back the time. I wanted to return to a bright and sunny morning in Turku. Instead, at 9 AM, I was standing under the roof of the bus stop considering, "what should I do."
I fell into that scene several minutes after I left the hostel. Raindrops mixed with snowflakes were falling from the dark grey sky. And a poor lonely cyclist was standing and shivering from the cold.
My summer cycling shoes were drenched in the rain, and I was hopelessly standing alone in the freezing suburbs of Tampere.
I was thinking about finishing my journey and taking a bus back to Helsinki. I wouldn't have refused another cup of warm coffee.
But after dark moments, the sun always comes up. It was still a long way to go to Lahti. With the first blue spots in the sky, I dared to proceed my journey.
The first part of the day I kept cycling on small country roads in between endless lakes. Everywhere I looked, I saw blue and crystal clear water with sunlight sparkling on its surface. That is how I imagined Finland before arrival. The only issue currently was my wet feet that dried so slowly.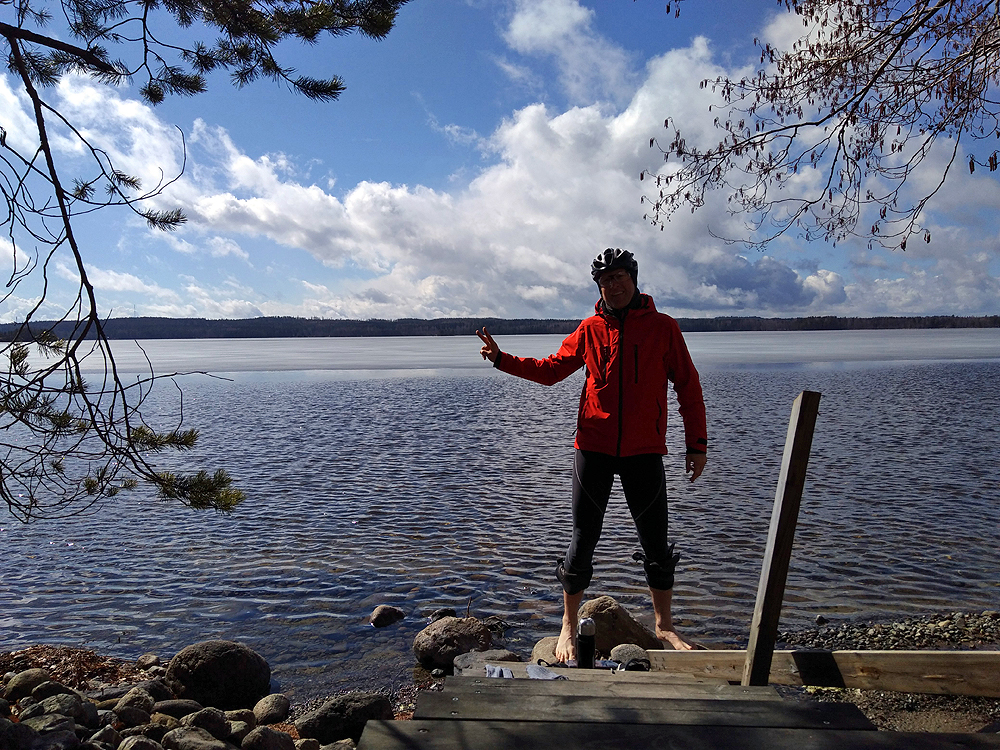 Still – that was an exciting day. Better than yesterday.
It took me 7 hours to reach Lahti. Which meant, again, I had some spare time for Lahti exploration.
A tip

No matter on what season you are travelling, take a waterproof clothes with you. Rainfalls in Finland are very common.
Lahti in the Finnish language means Bay. Before the Soviet collapse, there was a strong furniture industry developed. The export map of goods was seeking the far East. Later, unemployment rose dramatically. The local government had to make an effort to bring the region back to life. But this is history already. Today Lahti is one of the fastest-growing economic centers in Finland.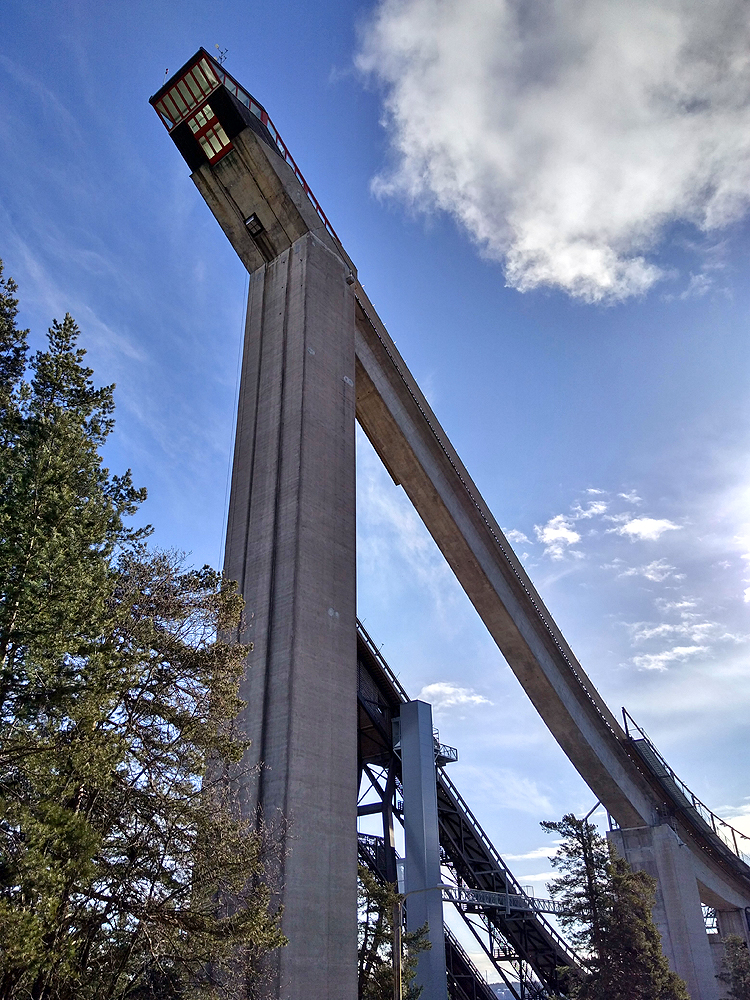 I took a chance to visit another unique place in Lahti. The Lahti Sports Center has a giant trampoline for ski jumping. Athletes from all over the world visit this place, participating in international championships. Amazing to see and worth visiting.
Visiting Provoo
My challenging tour around the southwestern part of Finland was going to an end. In the morning, I rode around Lahti and rushed towards Porvoo. After 100 kilometers, Porvoo old town welcomed me. I only had one or two stops on the way because there was nothing interesting except the fields on the road. But, it was worth coming here earlier. Porvoo looked different from other towns in Finland that I saw.
Together with Turku, Porvoo is one of several medieval towns in Finland. It is very different from other industrial towns and has a unique identity.
In the summer, many tourists come here to see well-preserved 18-19th century buildings. But the most interesting point for me in Provoo was a cathedral of Evangelical Lutheran Church from the 15th-century period.
I'm happy that I decided to stop here overnight. The opportunity to enjoy a walking tour around the fascinating town of Provoo was what I remember most about my whole time in Finland.
Is Finland good for cycling?
Finland is a great place to cycle, with brilliant infrastructure and a high cultural attitude towards cyclists. I could mention only several countries where I felt safe and relaxed cycling on the motorways, like here.
But at the same, I have never felt so lonely and isolated on my cycling tours as in Finland.
Don't expect to be approached by strangers near the food store, asking about your trip and your destination. Even with my accommodation hosts, we usually exchanged a couple of polite sentences without going much into the details.
That's Finland, and people here are not talkative. And I respect that.
If I had another opportunity, I would pick another date to go there. April was too cold for me. I skipped many places to visit and enjoy due to the bad weather, and I regret that a bit.
If you are fine with challenging weather conditions or social isolation, Finland is an excellent destination to go to and experience adventures on a bicycle.
Thanks for reading!