We cycled 2400 kilometers from Lithuania to Greece. After 16 days, starting the trip from Vilnius, we reached Thessaloniki.

For us, it is an every-year tradition of gathering in different European places and going for a multi-day ride. Holidays on bicycles enable us to visit exciting sites, try local food and beverages, and meet people.

On the way, we visited Belarus, Poland, Ukraine, Romania, and Bulgaria and got to Greece. 

In this article, I'm sharing my experience of cycling in Bulgaria.
Cycling in Bulgaria
During your visit to Bulgaria, you can enjoy a beautiful cycling adventure in the Balkan and Rhodope mountains. After a memorable time in nature, visit towns like Plovdiv and Pleven. Try local food and beverages and meet the people.
Bulgaria has two officially marked Eurovelo routes. Eurovelo 6, called the Atlantic – Black sea route, lasts from Vidin to Silistra along the Danube river. Eurovelo 13, known as the Iron Curtain trail, starts in Dragoman and ends on the Black Sea coast.
Bulgaria was the fifth country on our journey to Greece. Like all countries, it has good and bad. Here are some of them.
Pros:
Cheap and tasty food
People often speak English, German, Spanish
Interesting Balkan and Rhodope mountains to cycle
Cons:
Low driving culture
Possible high temperatures during the July-August period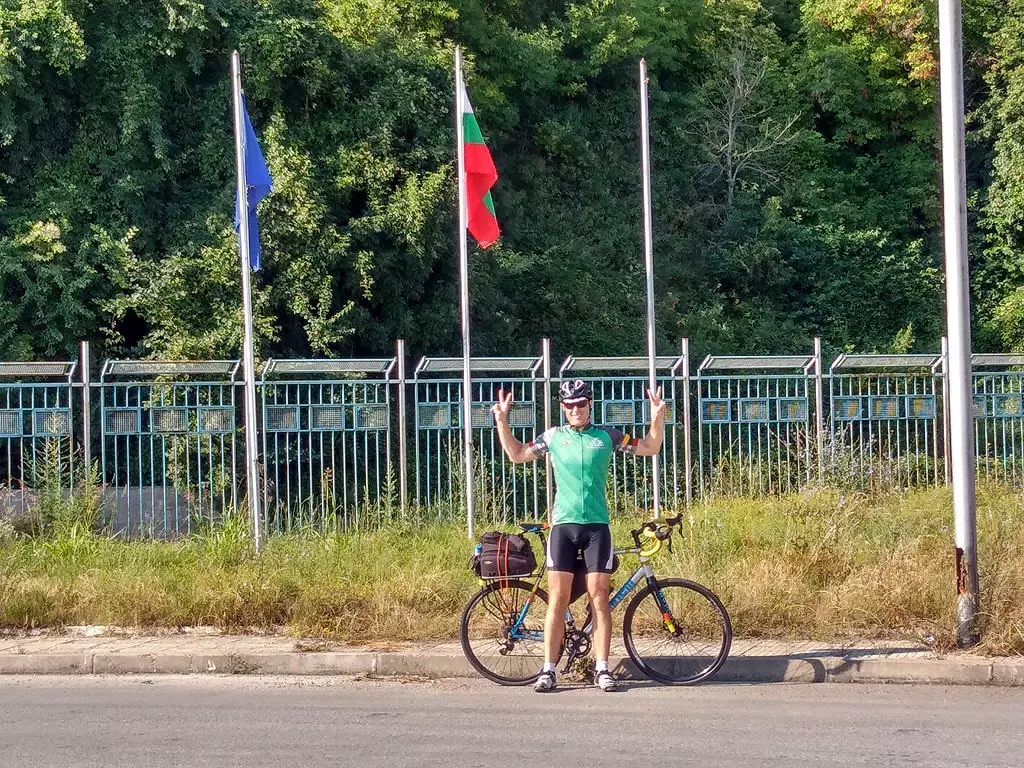 Northern Bulgaria
After a short night in a countryside villa, we left early. We rushed to get on a ferry that took us to Nikopol in Bulgaria.
The ferry from Turnu Magurele goes to Nikopol four times daily (8:00, 12:00, 16:00, and 19:30) and costs 1 Euro per person. Bicycles are free of charge. We wanted to get on the 8th o'clock ferry, so we could have more time to cycle. The trip was short, and in 15 minutes, we stepped into Bulgarian soil.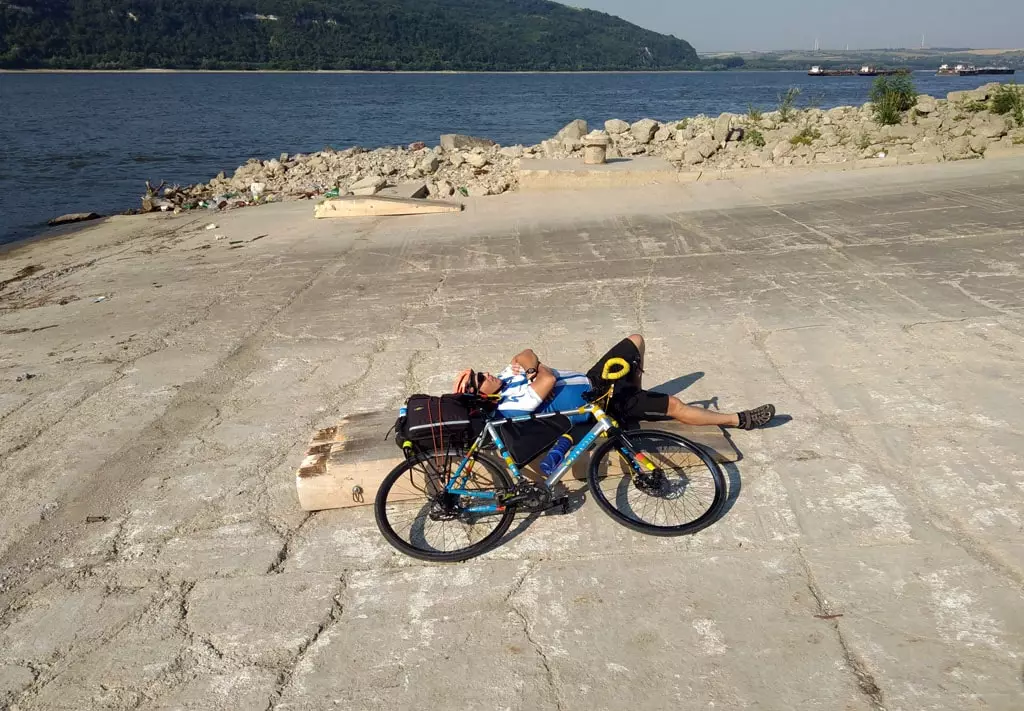 It was still early morning, but the sun promised a hot day ahead. 10:00 AM, the temperature reached +30 degrees of Celsius. We continued moving towards Pleven, the seventh-largest city in Bulgaria.
Around lunchtime, we stopped at the city center to get some food. To me, Pleven looked so alive with a good atmosphere.
Pedestrian streets were full of people and children playing in the fountains. A variety of colorful flowers were everywhere. Street musicians were building up a great musical environment around them. We ate at Kanape restaurant, which served delicious Bulgarian salads and freshly made pork, chicken, and veal meat.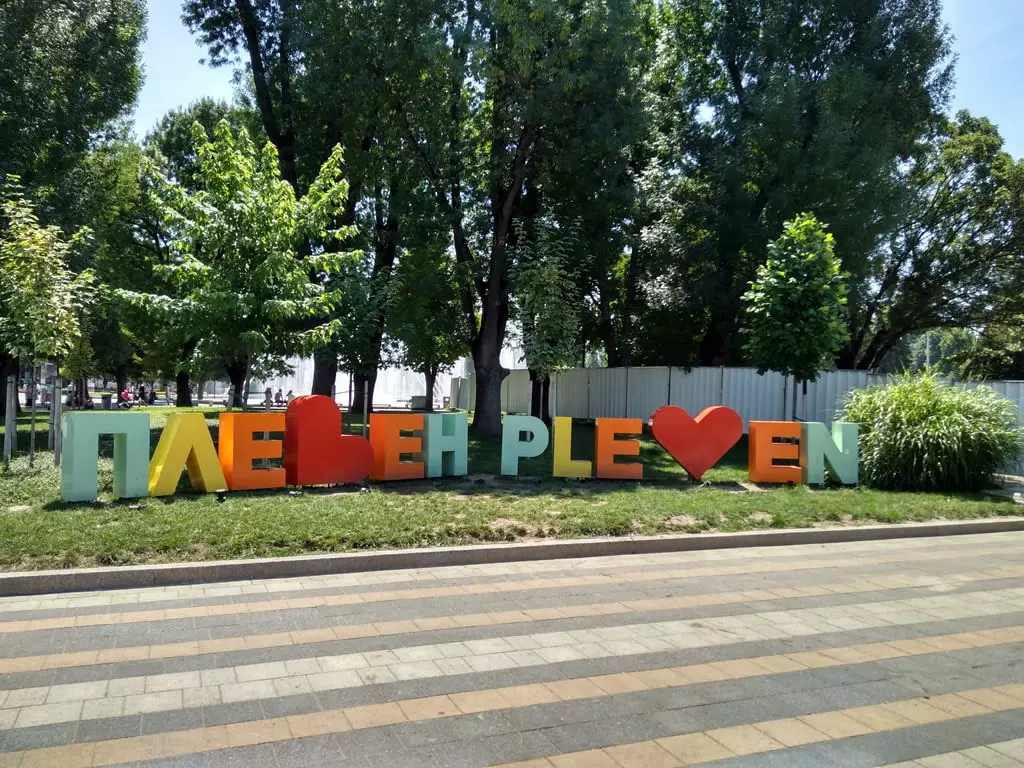 Overall, it was a pleasant short stay. But we had to move on and reach the Balkan mountains. The next overnight place was in Beli Osam, which we reached later that day.
Beli Osam is a lovely village in the Western part of the Balkan Troyan mountains. It is a popular destination in the summertime for tourists. People usually stay in family villas that have SPA and swimming pools. Also, they relax by going for hikes or fishing in nearby rivers.
Beklemeto pass
The morning started with a big climb to a Beklemeto Pass. It is 1500 meters above sea level and has an average gradient of 5%. From Beli Osam, we ascended for 19 kilometers.
Beklemeto pass was one of my favorite climbs in Bulgaria. It has everything for a challenging sportive workout. The possible winds are blocked by the slopes and the trees around the road help to keep the sunshade.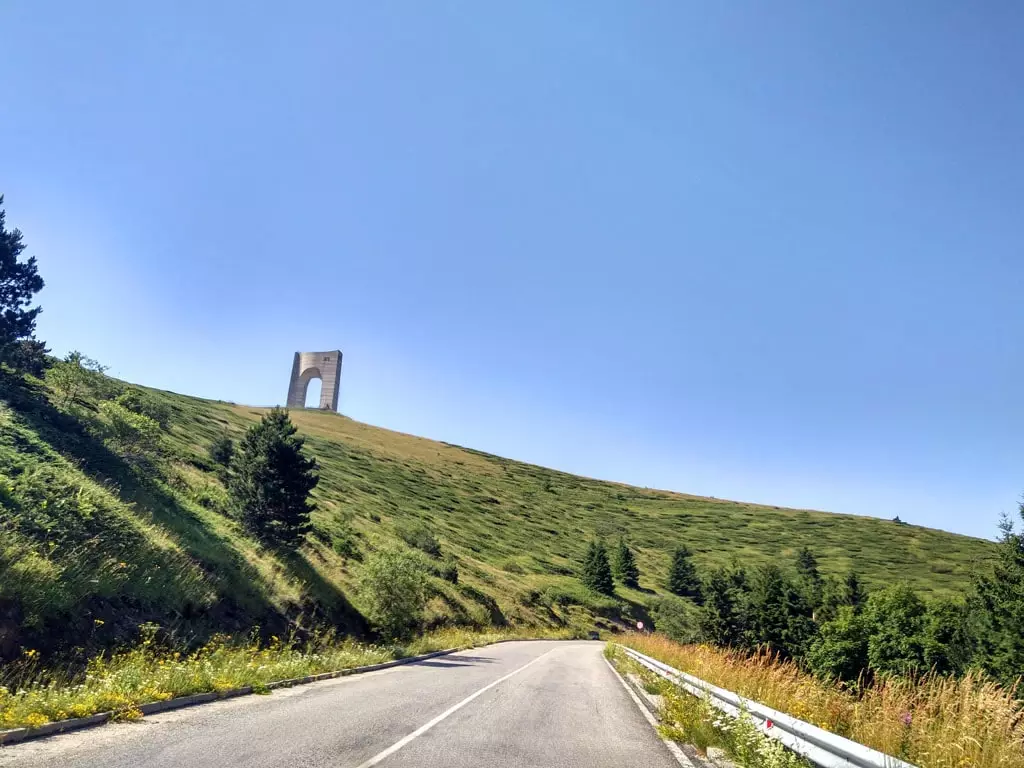 The southern part of the passage is much steeper. A descending brought new challenges to me. My bicycle brakes overheated, and the braking power decreased dramatically. I stopped dozen times in every shadow to cool them down. To the next village of Kamare, I came with a big delay. Folks began worrying about me, so it was a good story to tell them.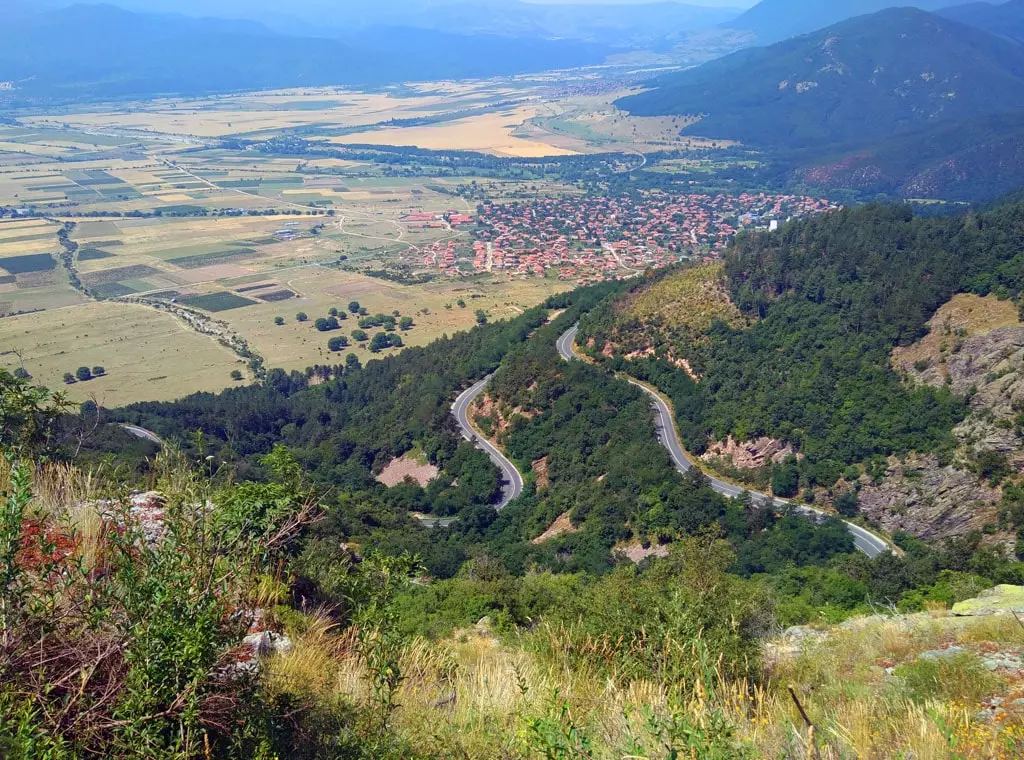 A tip

In hot conditions, entry-level mechanical disc brakes could be insufficient. Check manufacturer datasheets for detailed instructions. Instead of 160mm, I recommend using 180mm disc brake rotors with better cooling.
We kept fighting with the high temperature throughout the whole day. Later it was even worse. Balkan and Rhodope mountains surrounded the Plovdiv region. Both mountain massifs are blocking the wind.
The burning temperature was a challenge for everyone. All the streets in the towns were empty, and kids were playing in the lakes. I saw peasants washing their horses in the creek. Every hour we had to make refreshment stops with beverages and ice cream.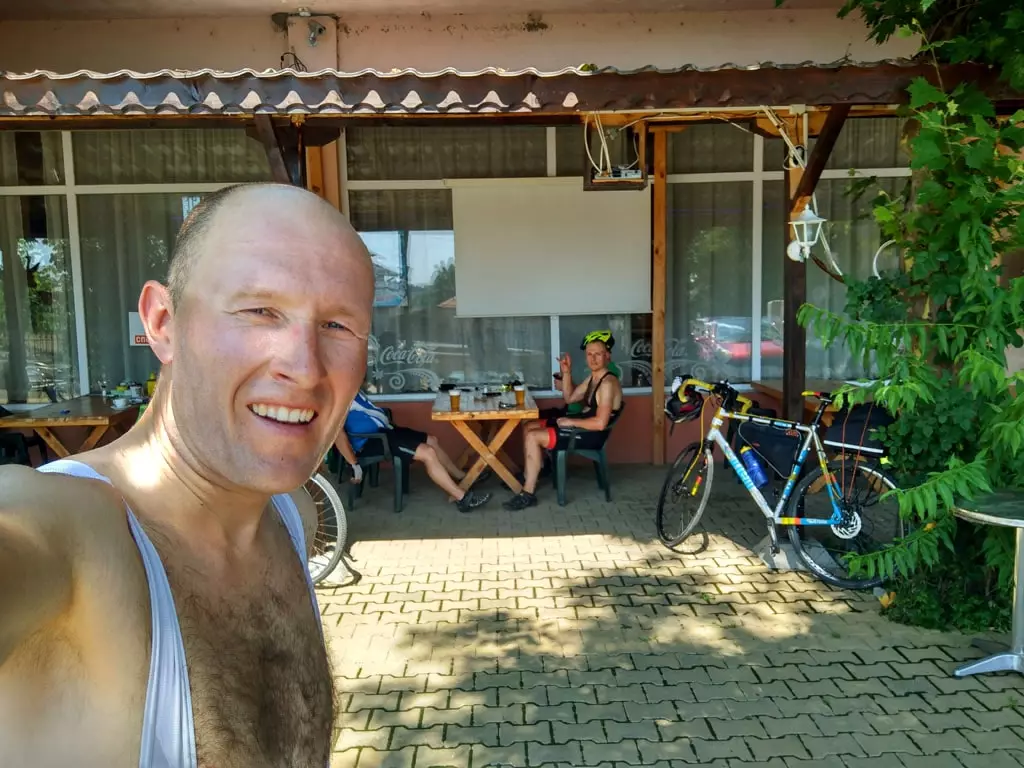 Driving culture in Bulgaria
The heat forced us to change our daily routine. We wanted longer stops to recover from the sun, that's why on the last day we left Plovdiv earlier.
The segment from Plovdiv to Asenovgrad was terrible. In 20 kilometers, I experienced dangerous situations with drivers more than the whole journey until now. Everyone was overspeeding, whether an old Mercedes or a new Jeep Cherokee. But the worst was that drivers ignored the safe distance rule when overtaking.
Speaking overall, we had dangerous incidents in Bulgaria every day. I remember drivers acting very impolitely. Some shouted that we shouldn't ride on the same roads. It is funny because there are no prohibits to doing so. And we were choosing only small roads, avoiding motorways.
A tip

Bulgarians drive dangerously. The culture towards cyclists is poor. Use small roads whenever it is possible.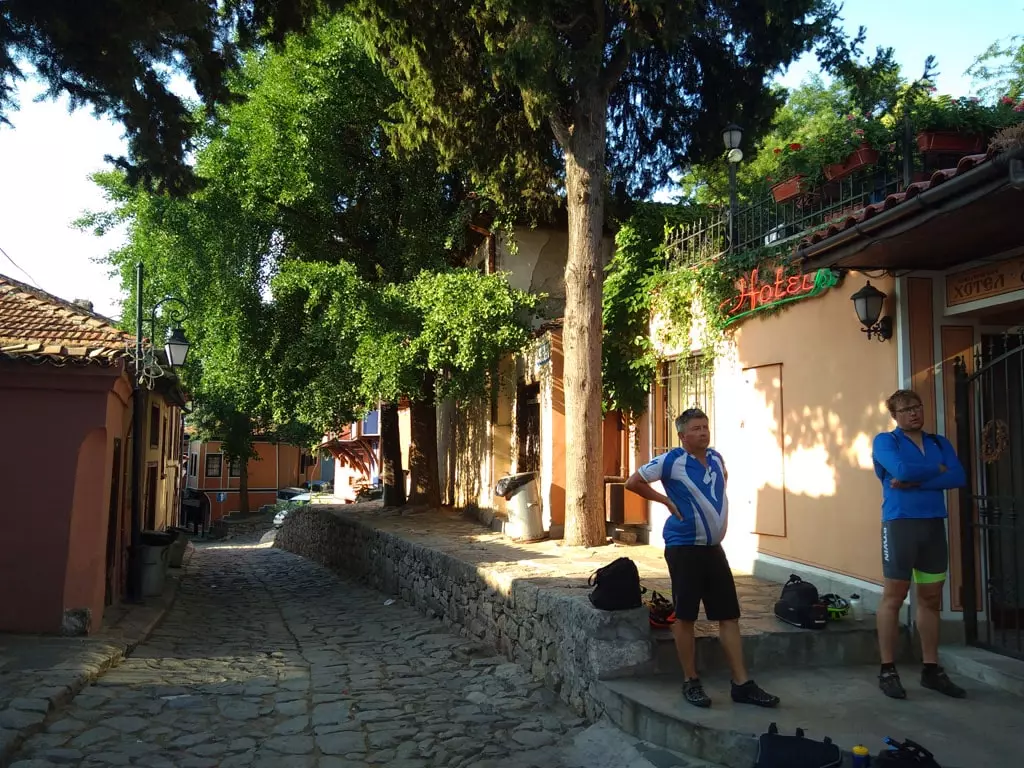 Rhodope mountains
The best memories about Bulgaria are when cycling in empty areas. In the Rhodope mountains, we had half day of enjoying it for the last time. On the way to Zlatograd, we surpassed two climbs. The first one was 1400 meters. Later, after declining to 600 meters, we again got up to 1000 meters.
Rhodope mountains are very green mountains with lots of forests. It is a popular summer destination for local tourists with well-known karst areas, deep river gorges, and caves.
People also visit the place in winter as it has good ski resorts. We passed some of them on the way, like Pamporovo and Chepelare.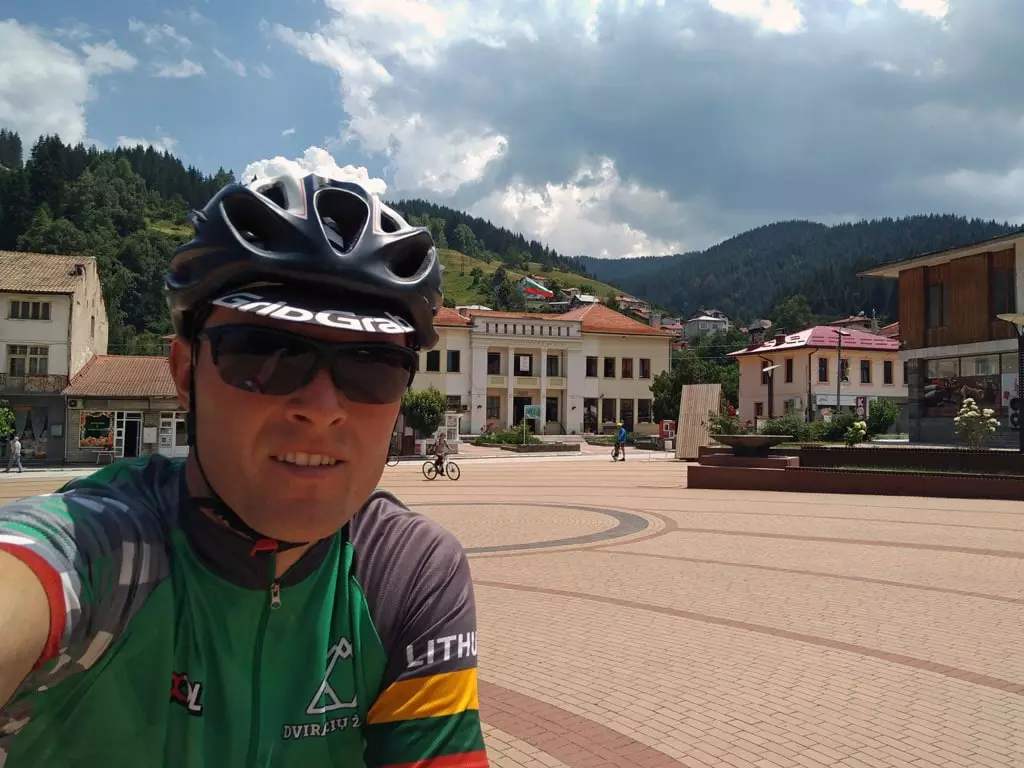 In the evening, we reached Zlatograd. It was the last stop in Bulgaria. As an award for a hot cycling day, we found an apartment with a swimming pool and stayed there chatting with visitors until late evening.
Thanks for reading!
Next country – Greece