Prologue
It is the second article covering our 11 days and 1500 kilometers bicycle tour around Italy and Malta. In the previous article, we covered our adventures in Malta and Sicily. This time we will focus on the second piece of the trip in Southern Italy – Calabria, Basilicata, and Apulia.
Reaching continental Italy
After seven days in Siciliy, we were back in the continental part of Europe. The trip by ferry from Messina to Villa San Giovanni was seamless and very quick. The ferries go every hour because the distance is relatively small, and it is the main crossing point between the continent and the island. The price is ~2,5 Eur/person. In such a way, we entered Calabria and chose to go to the southern part of the peninsula.
After getting through the strait of Messina, we didn't have to rush anymore. There were no challenges left in the upcoming distance today. We kept enjoying a sunny and mild spring day and spinning the pedals together along the coastal road.
Calabrian mafia
In Reggio Calabria and later, the streets got even emptier. Compared to Sicily, the population density in Calabria looked much lower.
Eventually, my thoughts drifted toward other things. The "toe of the Italian boot" is probably best known for – 'Ndrangheta. For those who might not know, this organized criminal syndicate, which started in 1792, still exists.
Actually, they are doing very well. Recently it was announced that 'Ndrangheta has surpassed Sicily's famous Cosa Nostra to become the most powerful organized crime group in Italy and one of the largest in the world. It is considered that drug trafficking and money laundering activities accounted for at least three percent of Italy's GDP in 2010.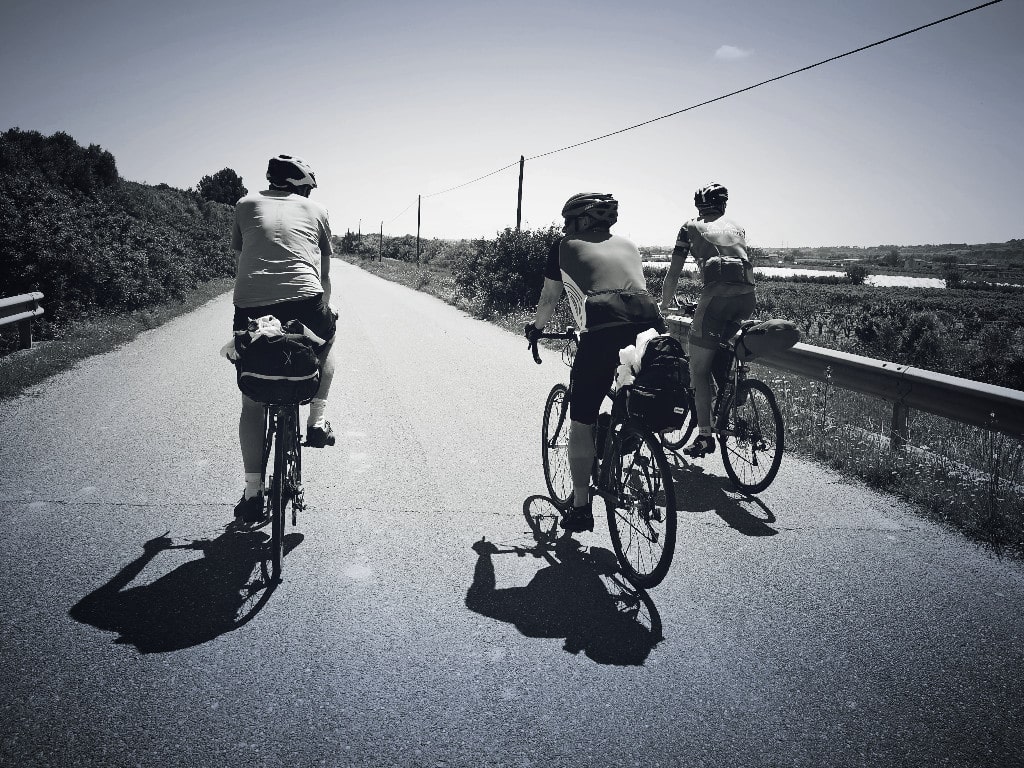 I was getting through the day thinking about those towns we were passing by. Reggio Calabria and Catanzaro are the regions where the mafia operates. A few kilometers on the left, in the mountains, there were villages like Plati and San Luca. They are considered a stronghold of the 'Ndrangheta.
Later we passed by the hometown of 'Ndrangheta – Africo. Have we been scared? Of course not. Otherwise, it was interesting to glance at those places and how they look. To my curiosity, all those villages seemed very poor and abandoned. Beautiful nature and scenery, but to me, it seemed a forgotten place for obvious reasons.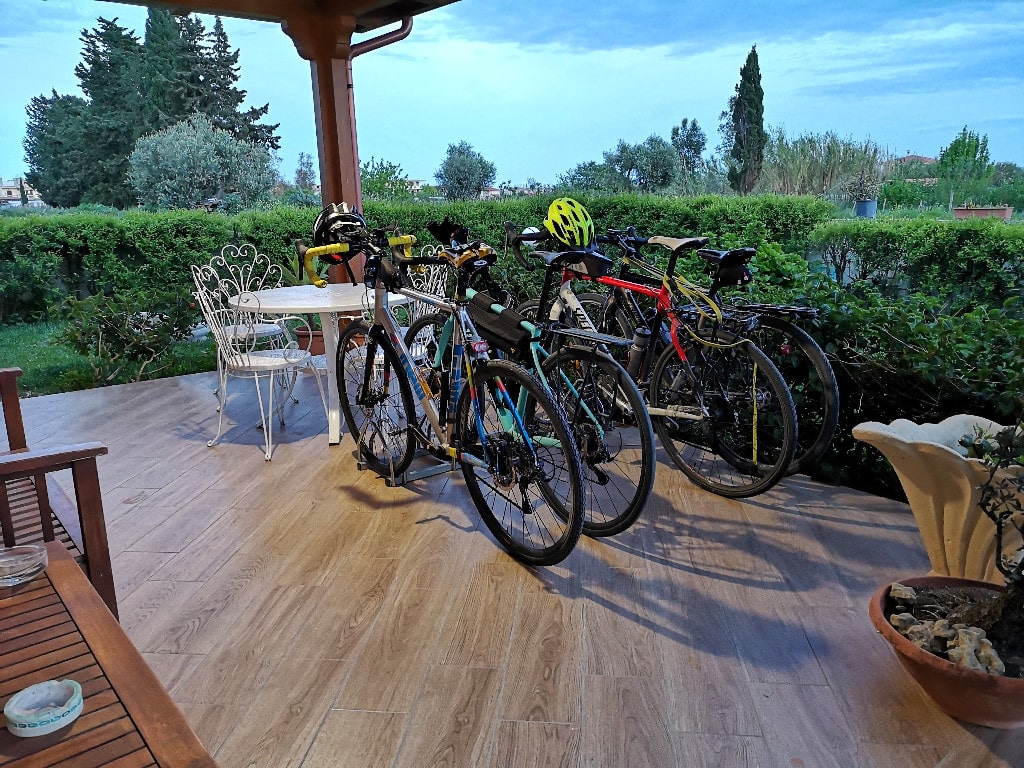 A perfect day
After overnight in Bova Marina, we continued to cycle towards Catanzaro. I was surprised about that morning segment. Even after several years, the scenes from that ride come up again and again in my memories.
That morning was calm and bright like never before. All of our fellows were pedaling a bit separately from each other. Everyone was on their own rhythm. Glancing back, I saw the silhouette of the Etna volcano was disappearing in the blue sky horizon.
On the right, small waves were swinging towards the coast with the luminous shimmering blue water. Between the beach and the asphalt, there was a train track. Several times, a single-wagon train passed us over full of local passengers traveling between villages. Following the curvy route, we passed several tunnels – totally alone, as the whole road belonged to us.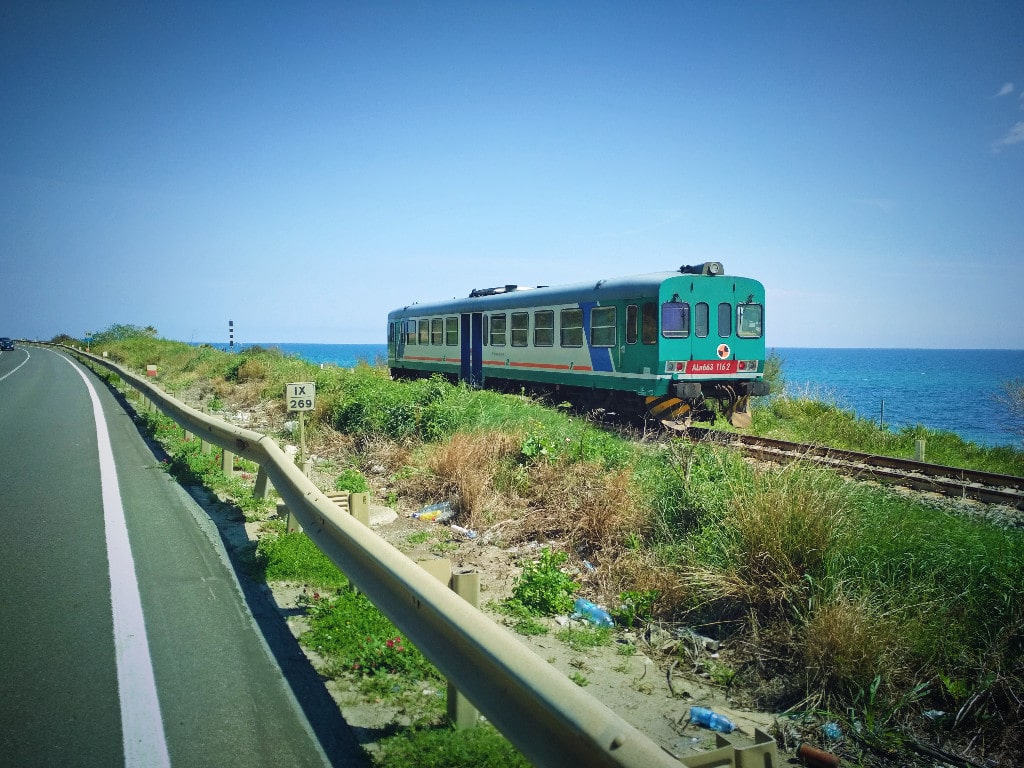 I needed three things at that time, and all of them were there. A "Kings of Leon – Back Down South" in my AirPods, a fantastic view, and an empty road ahead.
I forgot about the mafia and other worries and spent most of the time meditating on my own and relishing the journey and my experiences.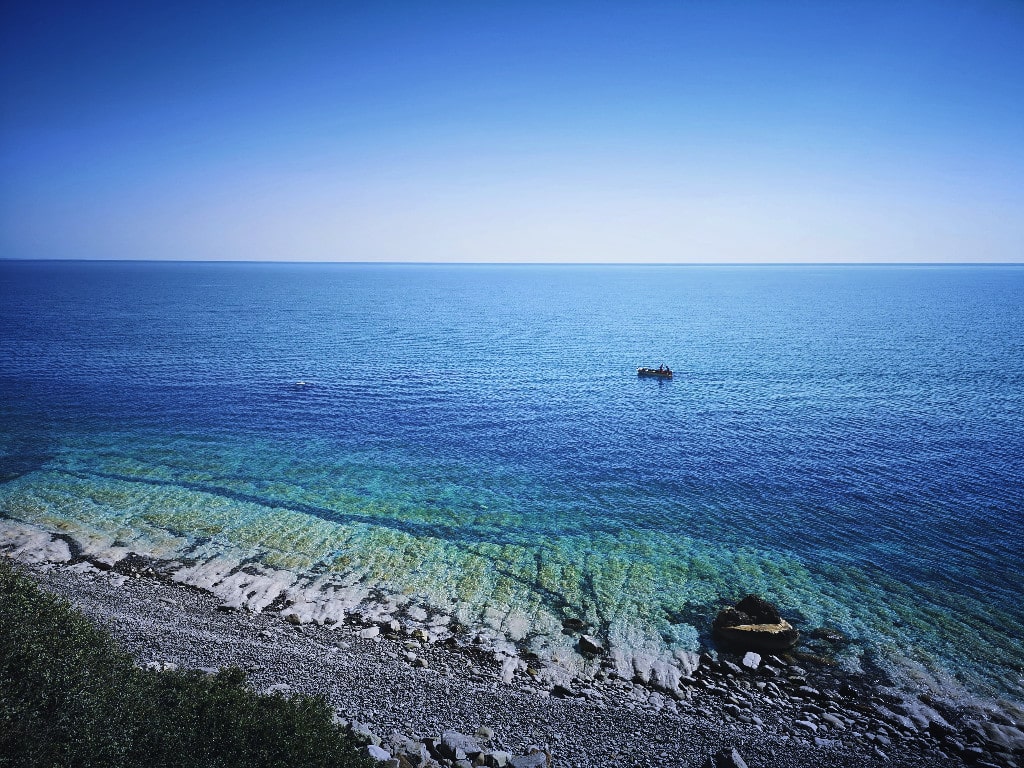 Small challenge
For another day, we kept driving along the coastline. The traffic started to pile up. The trucks and RV vehicles eventually occupied the road. It was more dangerous than the previous day and less fun.
Sometimes we got onto the local roads used mainly by farmers, but they were very short.
We were so focused on killing the distance as soon as possible that we didn't stop in Crotone, which we intended to visit while planning the trip. If you ever go the same route, don't make that mistake as we did. The fortress of Capo Rizzuto, The Castle of Charles V are the objects that should be interesting to see and visit.
In the afternoon, I was fed up with a monotonous ride. Two of us decided to split up with a primary group of cyclists and take a quick detour to the mountainous villages of Pietrapaola and Caloveto.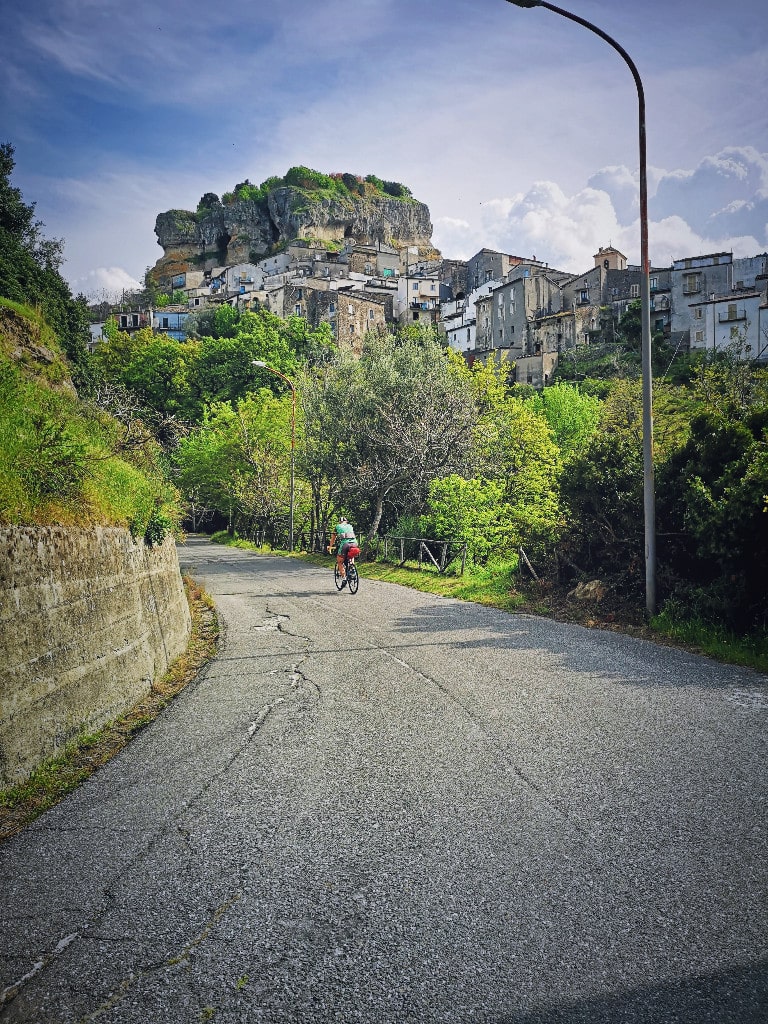 Obviously, a much longer way, but a small challenge is what we also needed. Honestly, it went out to be quite an incredibly challenging detour. With climbing up to 600 meters at grade 13%, we sometimes even had to jump off the bike and walk. But at the end of the day, it was worth doing. It was interesting to see another perspective of Calabria – mountainous regions, which we didn't manage to check out before.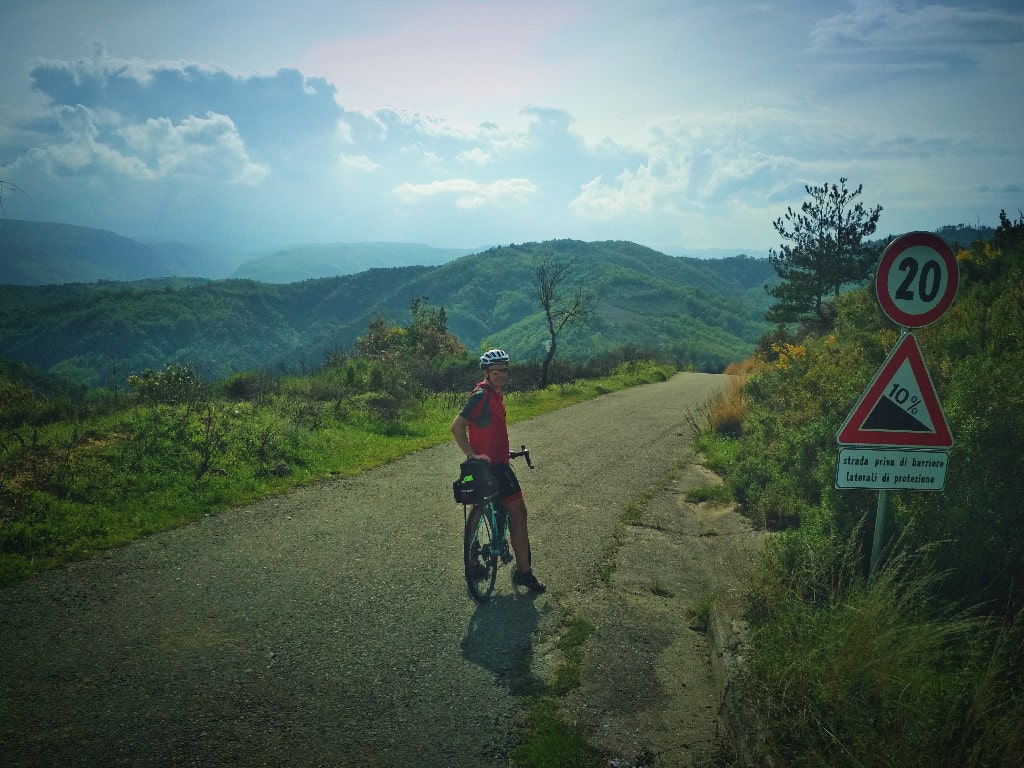 Confusing navigation
We left Calabria the next day and entered the Basilicata region in the direction of Matera. That was the most confusing day navigation-wise. Eventually, we started moving away from the seacoast to the inland.
Due to this, we had to choose some small regional roads. And then the fun began. I believe we reached dead ends roughly a dozen times per ride. Sometimes it was the roadblocks because of ongoing reconstructions, then several abandoned bridges. Other times, we had to choose single paths to cross dried river beds.
Finally, we found ourselves standing in the middle of the meadow, unsure how to get away. Then, we crossed railway tracks in the prohibited area. The navigation was messy because this area had many rivers coming from the slopes of the southern Apennines. Therefore most roads were going along the rivers up or down and not through where we needed to ride.
However, we successfully got through this section and arrived in Matera in the evening.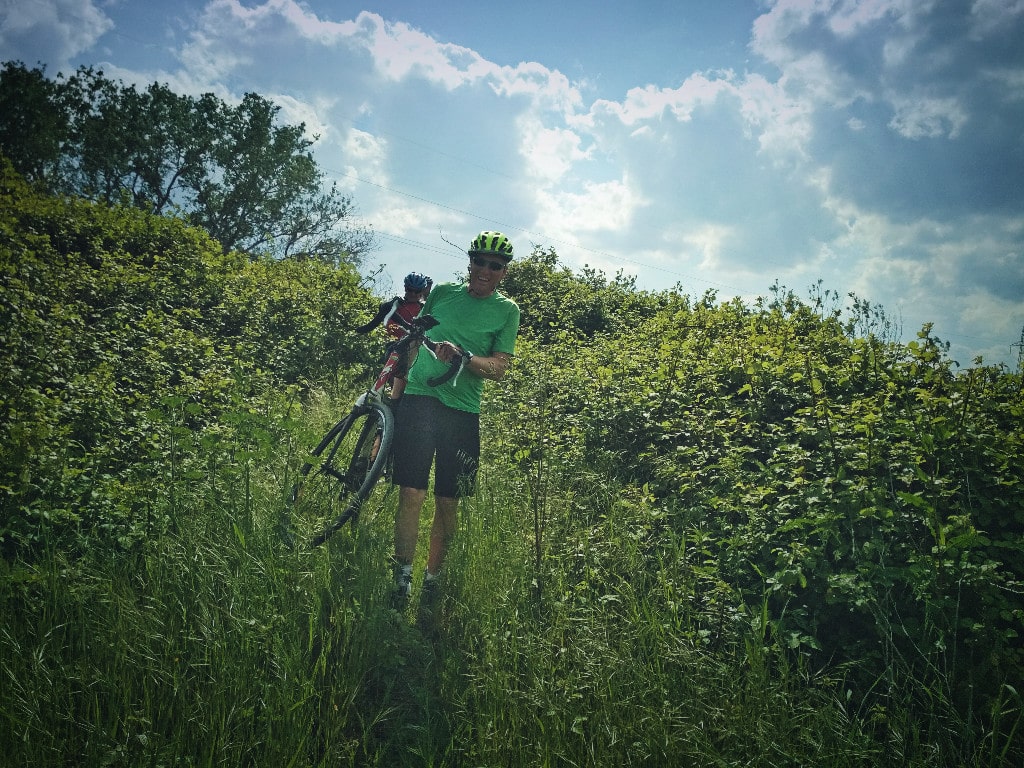 Matera
We traveled in 2019, and that year Matera was holding the name of the European Capital of Culture. Since then, it has been a popular destination for European visitors, and that season was even more crowded. Many events were happening, and you could witness a tremendous amount of various cultural installations all around.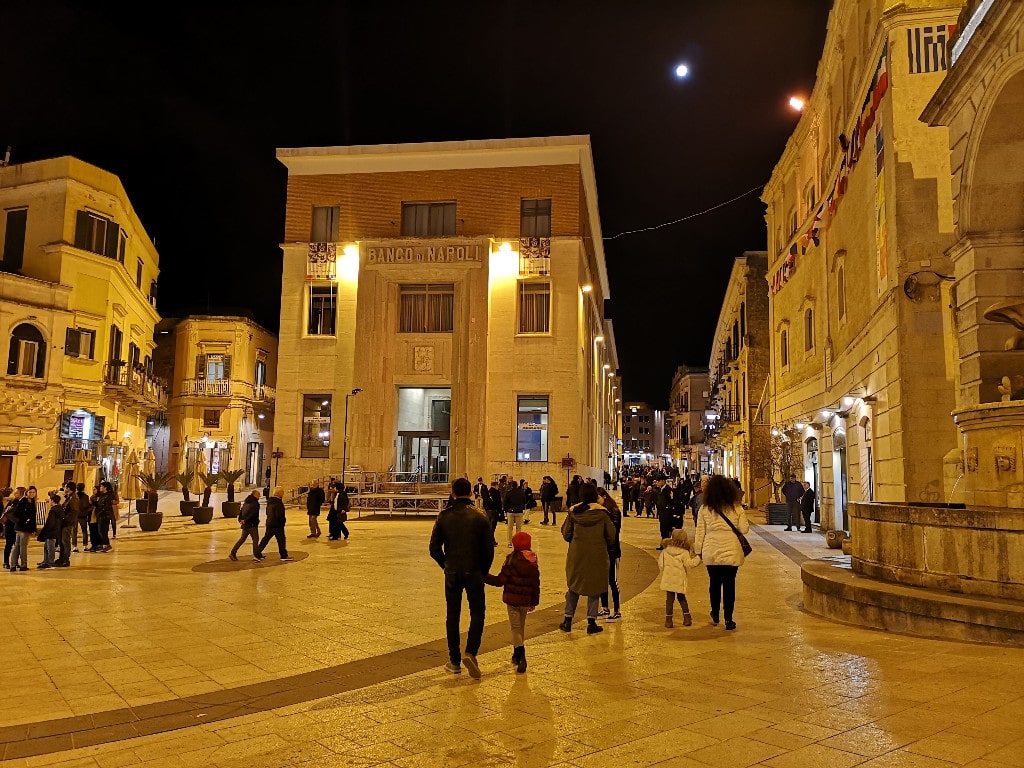 Matera is one of the oldest cities in Europe. Its history started 8000 years. At that time, first farmers and shepherds lived in cave dwellings called "sassi." Matera eventually grew into a conglomeration of houses, churches, and monasteries hewn into the stone. Today these caves are still in good shape and have become tourist attractions. Some caves even become luxury hotels, boutique shops, or cultural places that lure visitors worldwide.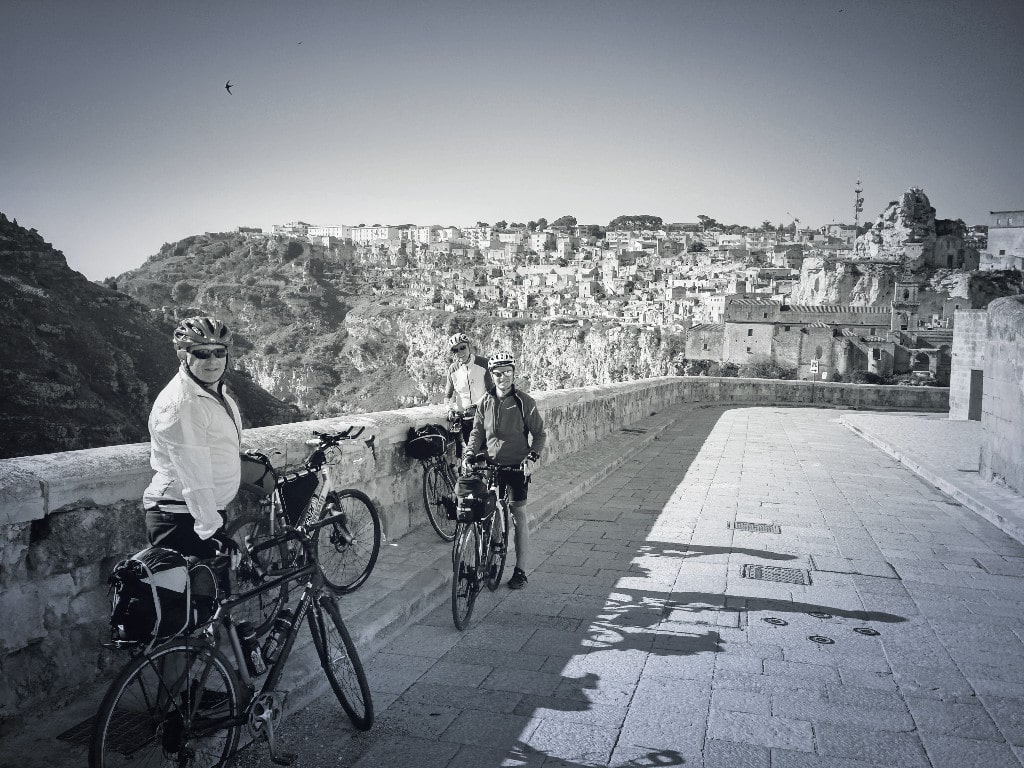 We had an opportunity for a lovely dinner after arrival in the city of oldtown. The following day, we explored famous and remote streets and architectural objects. The I liked most was the panorama of the terrific Matera valley.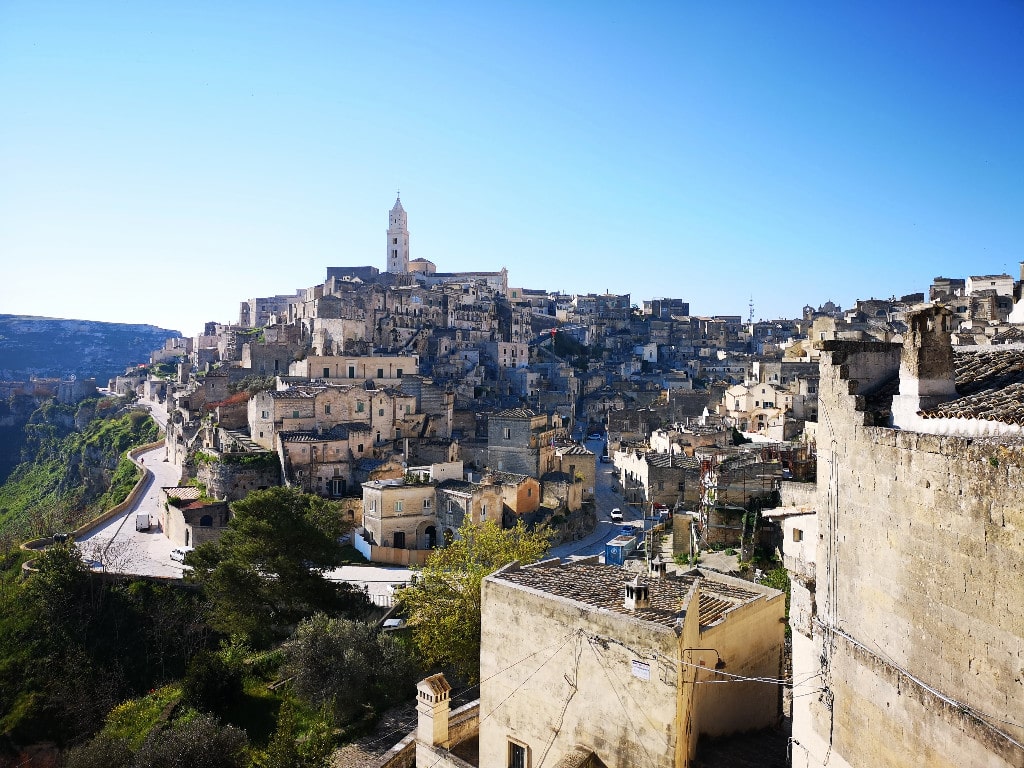 A half day was not enough for such a fabulous place, obviously. I highly recommend it to everyone and plan to come back someday there. But for now, we had to move on to our final destination – Bari.
Reaching the Bari
The leg to Bari was the last one in our 11 days tour in Italy. The terrain was descending mostly, and the last 100 kilometers ended up quite rapidly. The road was perfect for cycling. Mostly was curving between farmer fields, olive plantations, and fruit gardens separated by stony fences.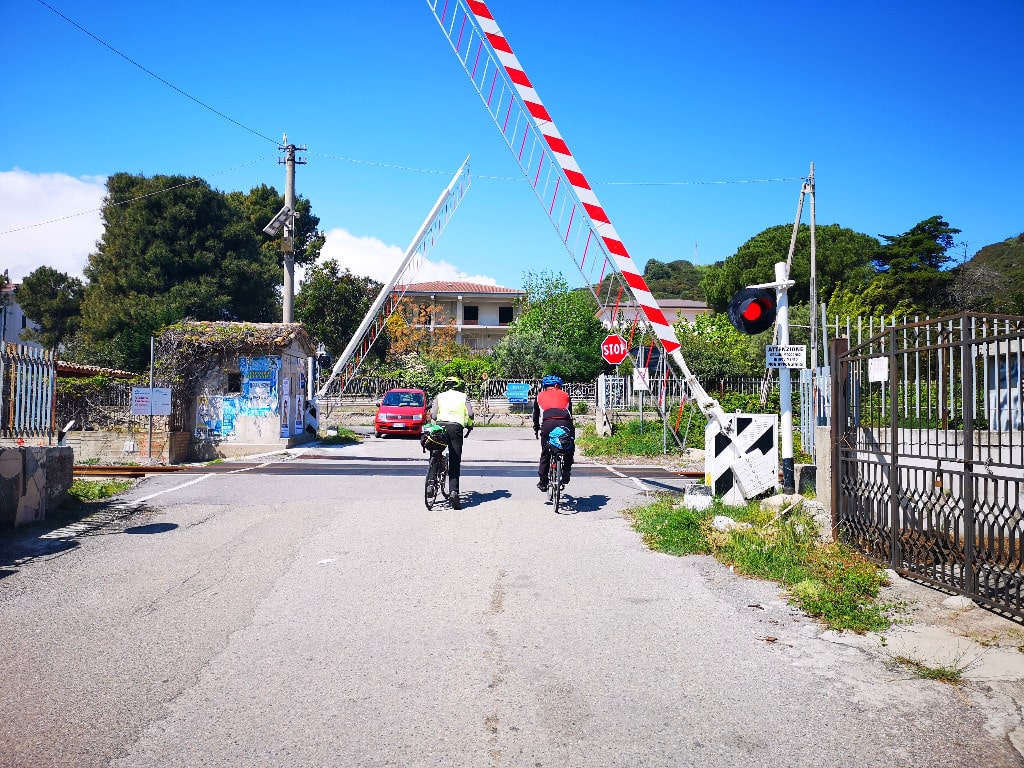 The route from Matera to Bari seemed quite popular among local amateur cyclists. One of them with Lithuanian flags on his cycling apparel drew our attention. He was wearing the jersey of Ramunas Navardauskas, who was riding Bahrain Merida in 2017-2018. So uncommon to see someone with such a rare shirt but a pleasant meet-up.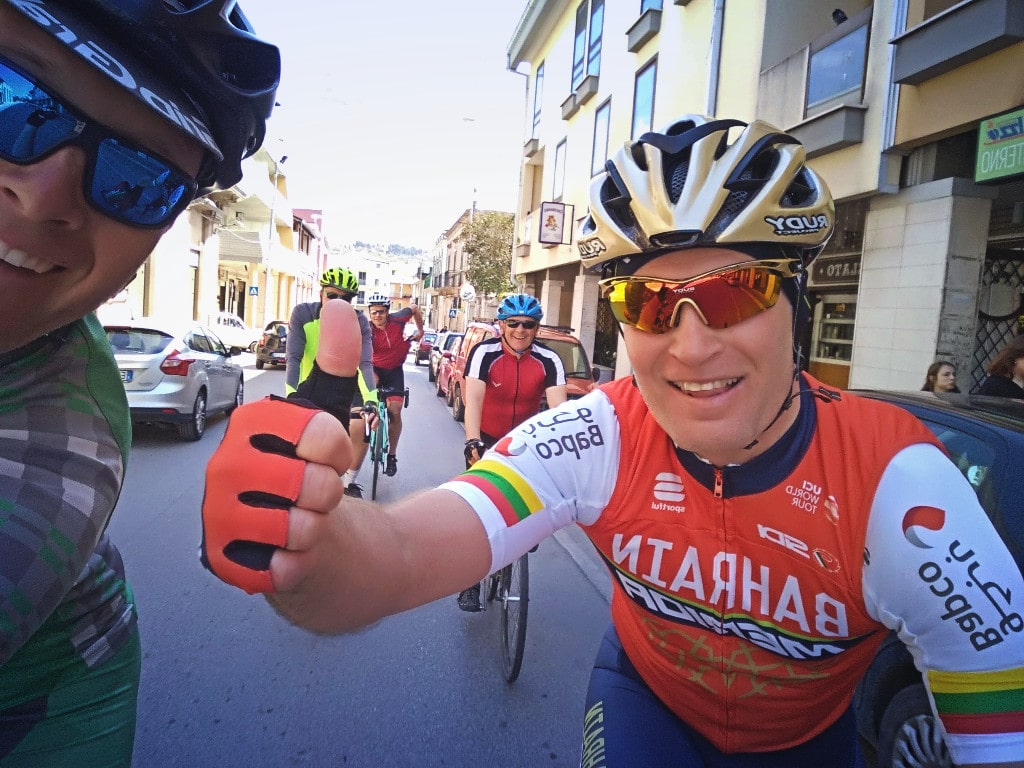 In Bari, like on every trip, we were immediately caught up with organizational matters. We went to the airport to leave the things in the lockers. Next, we had to find a local cycling store we pre-agreed with to give us a couple of bicycle boxes for the flight. After that, the evening was dedicated to packing equipment and a small celebration for reaching the final destination successfully.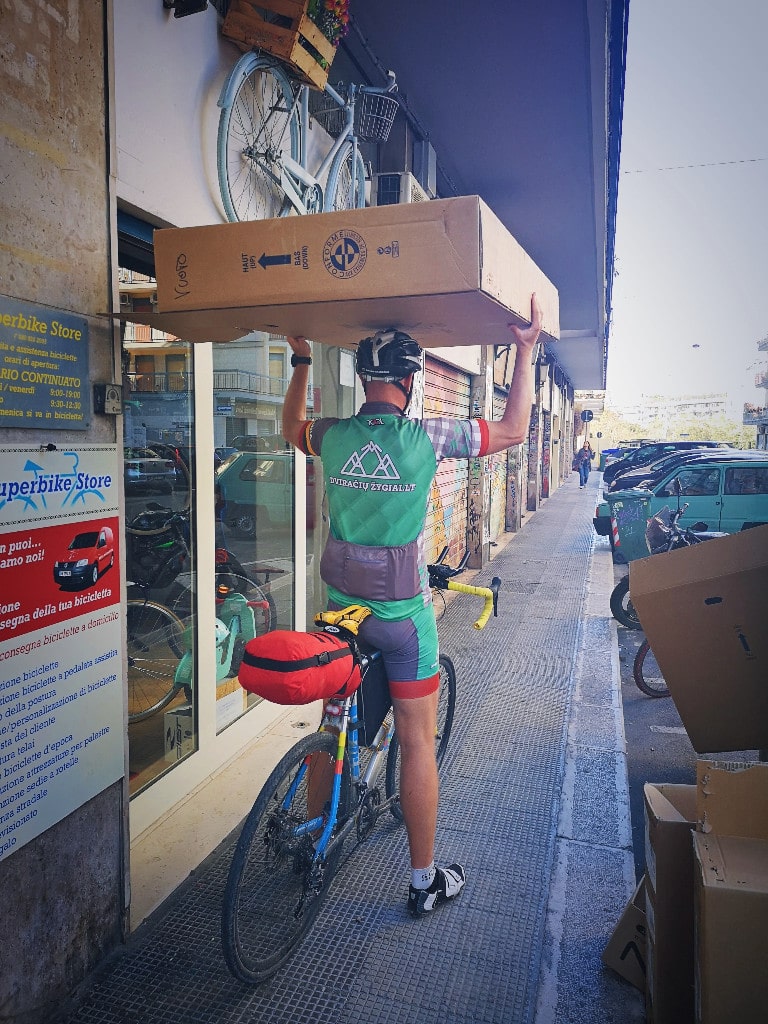 Conclusion
Italy rewarded us with various adventures. There were challenging moments too, but most of the time, traveling was delightful. Undoubtedly, the cycling culture in Italy is at the top level. I felt calm and safe everywhere. If I disclosed what I didn't expect to see, that would be a trash issue in Sicily and the Southern part of Italy.
Besides that, everything else, including nature, food, and people, is the best. I hope to return there again soon and spin around more miles.
Thanks for reading!