Prologue
Cycling in Malta is perfect if you have several extra days for active leisure. Sicily can offer challenging uphills and great scenes. The southern part of the continent of Italy (Calabria, Basilicata, Apulia) brings the opportunity to cycle hundreds of kilometers along the gorgeous sea coastline and explore cultural towns. You can cycle around all three regions in one tour if you have enough time.
In 11 days, we cycled for 1500 kilometers by traversing the most exciting places in mentioned regions.
This article will focus on our cycling experience in Sicily and Malta. The next article will cover the continental regions of Southern Italy.
Arrival
As a beginning point for our trip, we have chosen Valletta in Malta. Valletta is easily accessible from many European capitals. In our case, all five friends arrived from different locations – Germany, Latvia, and Lithuania. Finding a flight from those countries in late April was not complicated. For a one-way ticket from Riga, I paid 112 Euros with the bicycle included. German friends paid even less.
Malta
My first impression of bicycling experience – was heavy traffic. Spending two days here, I learned that if you cycle here, you mostly share the same roads with cars, motorcycles, and trucks. You can also choose small ones, but they are in poor condition.
If you have a chance, hop on the ferry going to Gozo island. Gozo is much more remote and more pristine in comparison with Malta.
Yes, it is relatively small. In our case, we did 30 kilometers roundtrip from going to Nadur, Marsalforn, and Victoria, but still, there are some great places to see and visit.
If you have enough time, I recommend seeing The Fungus Rock, Xlendi Bay, and Ta' Ċenċ Cliffs.
The same day we cycled back to the main island and then to the Valletta port. Again, traffic was terrible. Perhaps we have chosen the wrong roads. If somebody has a different experience, leave your comments below. Otherwise, I would state that Malta is poorly developed for cycling.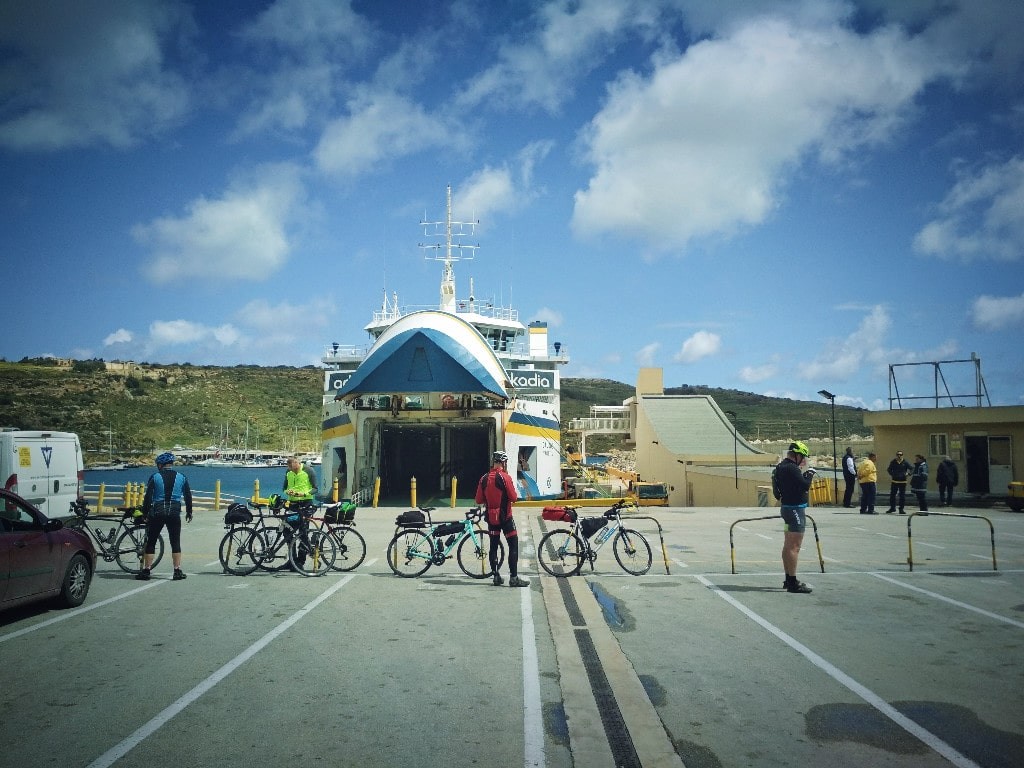 Getting to Sicily
We chose a ferry that constantly operates between Malta to Italy. On this route, a Maltese company called Virtu Ferries manages one of the largest and fastest catamarans in the world. One-way ticket costs ~59 Euros, and bicycles are carried for free.
The ferry from Valetta goes several times per day. And after spending less than 2 hours cruising on the Mediterranian sea, we reached Pozzallo in Sicily. This is a very convenient way of transportation, highly recommended to try.
Southern Sicily
After overnight in Pozzallo, we began our journey along the southern Sicily coast towards Agrigento. The cycling conditions were much better. Most roads were free of traffic, and cycling paths were often near every village or town.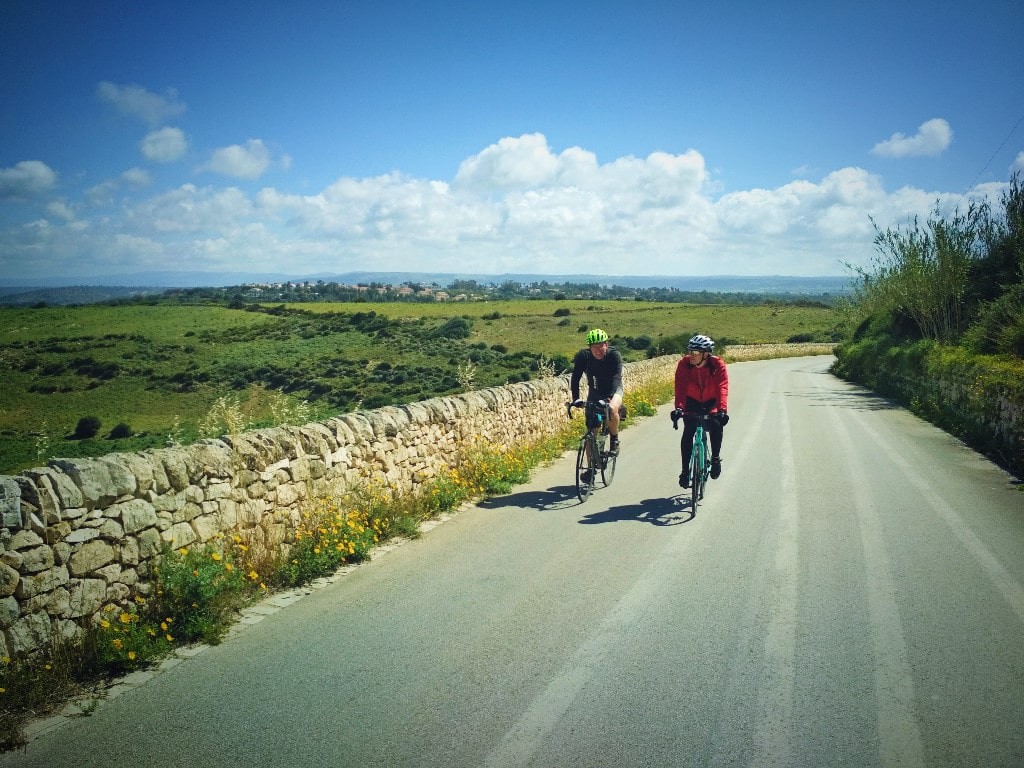 In the beginning, the surface was primarily flat. From Palma di Montechiaro hills appeared. The region of Agrigento was something I enjoyed most from all-day adventures. Also, the town itself is an exceptional place to see. A hilltop city on the island's southwest shore is known for the ruins of the ancient city of Akragas in the Valley of the Temples. It is a vast archaeological site with well-preserved Greek temples. When planning an itinerary, I recommend leaving some spare time for exploring Agrigento. A day or a half day should be enough.
A Scala Dei Turchi is the next point of interest after Agrigento worth swinging by. This white cliff is located along the stretch of sea between Realmonte and Porto Empedocle. You won't spend much time getting there because it is on a cycling route anyway.
Later, we reached Sciacca – a lunch spot. Though there were many places to gain back calories, I would recommend Pollo Doc bistro, which worked very well for us. During lunchtime, they have many options prepared, and prices are affordable. It looks like the place is popular among locals. It is ideal when you don't have much time for stops.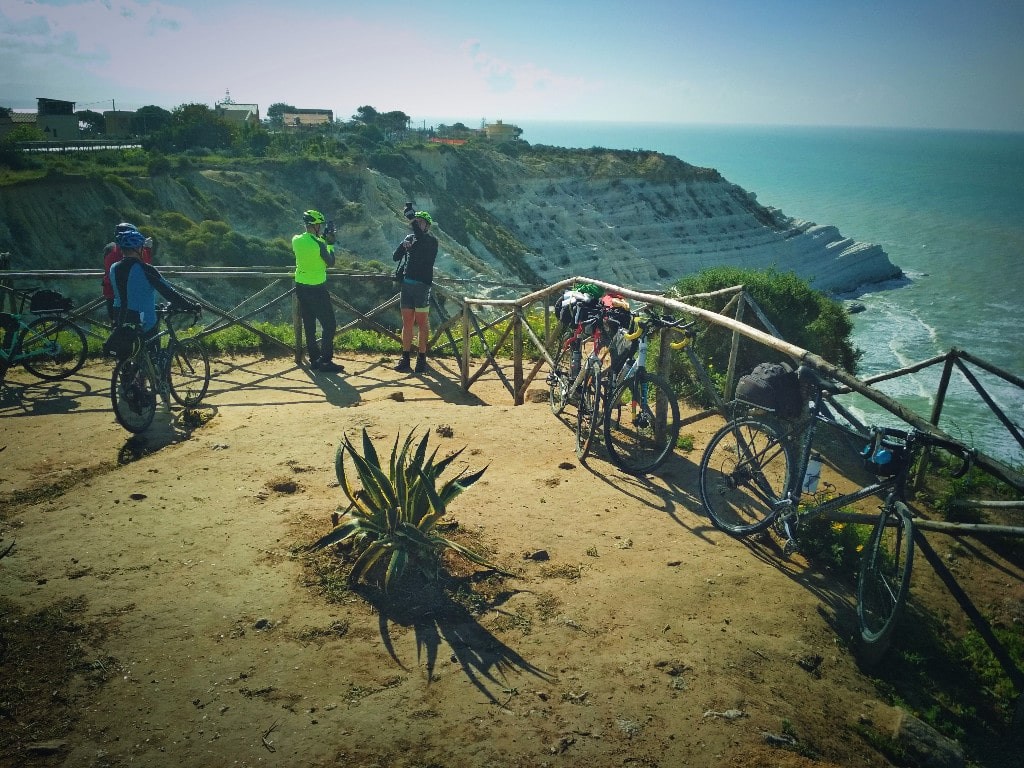 Trapani region
We reached that evening in Mazara del Vallo. Unfortunately, I can't tell you much about this place. It was just a quick stop for us as we came very late and left immediately in the morning towards Trapani.
And, even in Trapani, we didn't stay long as we knew the most exciting day segment would be just after it. The first climb in Sicily on the way to Erice was stunning and challenging. Starting at sea level, we went 750 meters up to the top. The sky was clear, so we were awarded a stunning panorama of the town of Trapani and the northern part of the island.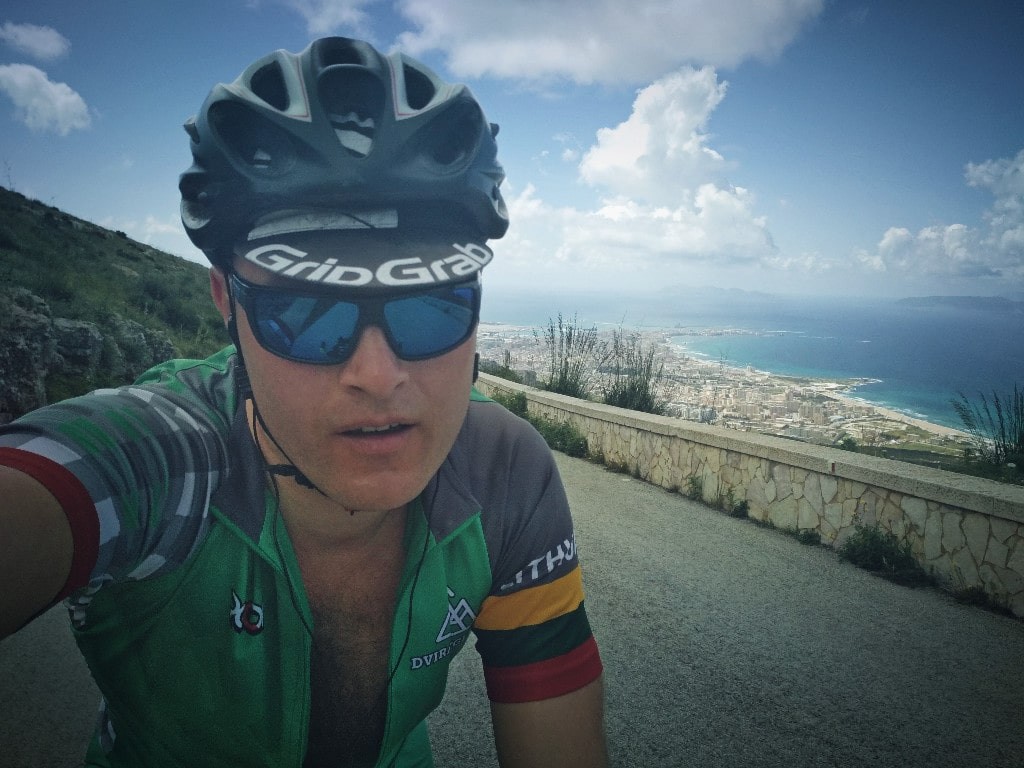 Erice is a historic village located on the top of the mountain. It was another medieval town with tiny and cozy old-town architecture. Today Erice offers both – breathtaking views and fascinating history.
Exploration of this place took us an hour. Later, after a few kilometers below, we stopped in Valderice town. Here we found another place for refreshments and meals. The pasta buffet Raviolo Valderichino is a great spot that I recommend if you are nearby. You can get here brilliant pasta, chicken, or risotto.
Visiting San Vito Lo Capo
After the break, we continued our tour toward our day's destination San Vito Lo Capo. It was an easy ride with another small climb to 300 meters and then down. We learned San Vito Lo Capo is a small seaside village known for its beach, which is on a sheltered bay overlooked by Mount Monaco. In the summer it is full of local vacatiores. Though our April visit was just perfect – not too crowded, and many places were already open.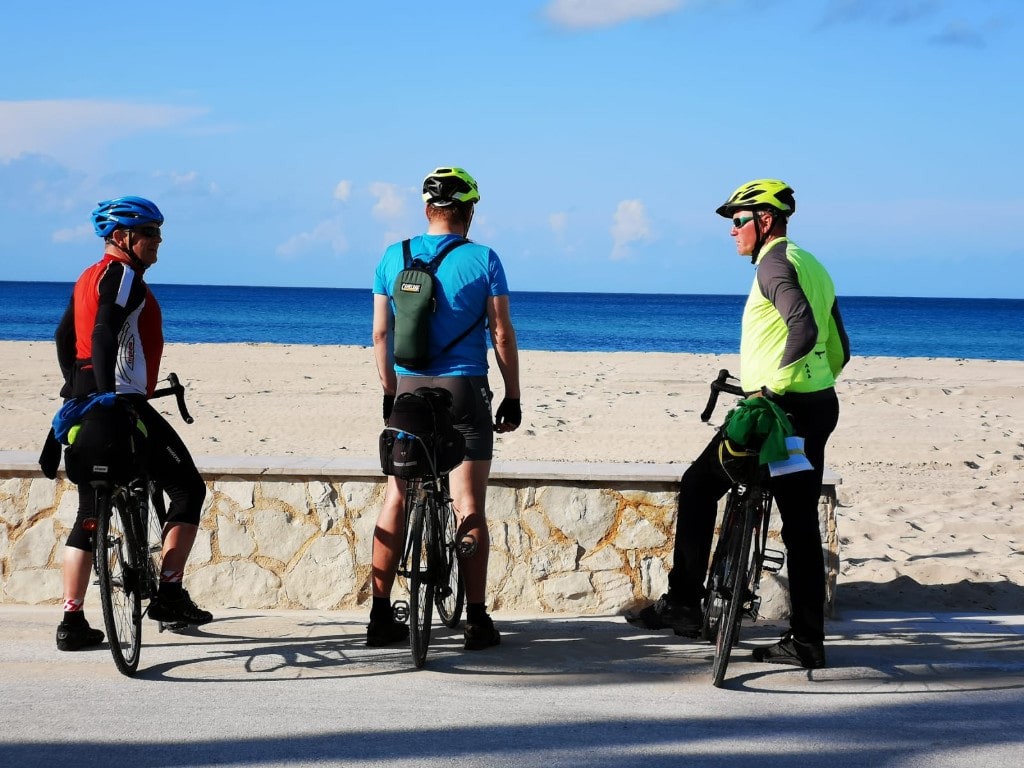 As you may notice already, we usually choose budget options for eating. However, we have a non-official rule that once during the trip, we go for dinner without considerable limitations. In San Vito Lo Capo it was a time for it! That evening we ordered a special dinner prepared by the chef. Fish, pasta, and desserts, accompanied by tasty wine. After several days of being on an intensive rhythm, the lovely experience was just at the right time.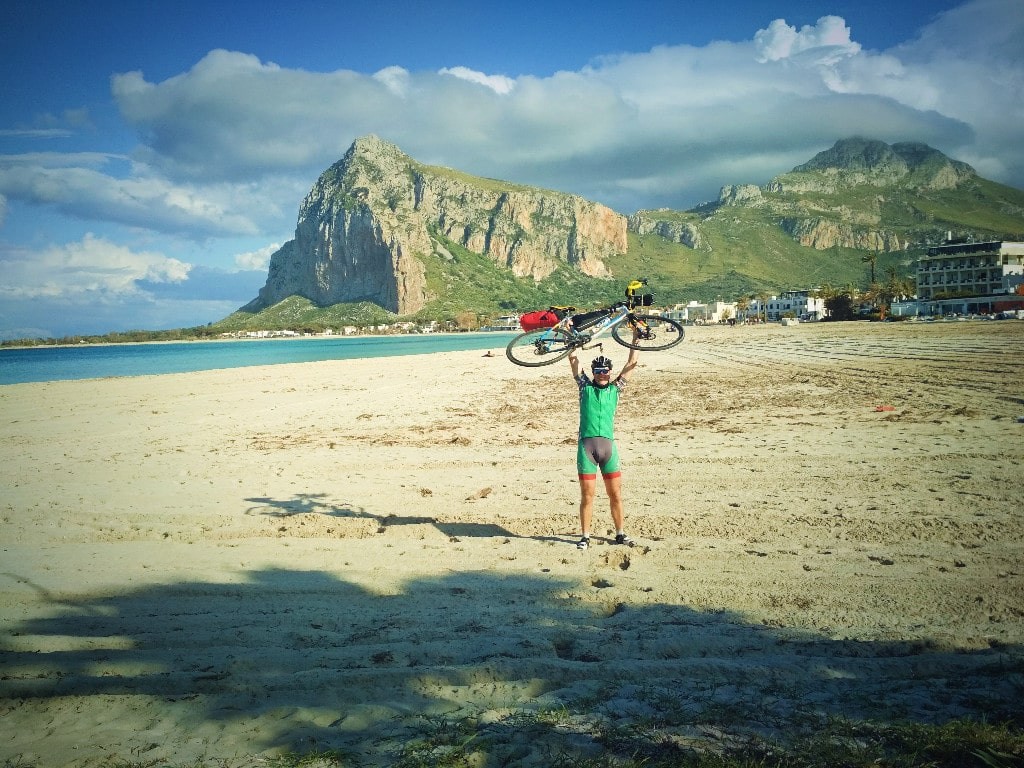 North Sicily
The next day came with heavy rains. I enjoyed the morning section from San Vito Lo Capo to Castellammare del Golfo. We were going on an almost empty road between the mountains until finally saw the beautiful panorama of the Gulf of Castellammare. Afterward, we cycled almost without a break until the evening. It is sad to say, but we passed by Palermo without stopping. There was no chance we could avoid the pouring rain there, so we decided to continue for another 50 kilometers.
Finally, after an exhausting day, we gave up in a random place close to Bagheria without reaching the initial target point. All I needed was a hot shower and a comfy bed that evening… Nevertheless, there was no panic because Northern Sicily had a well-developed train system. We knew we would catch up with the initial plan the next day by taking public transport. So we proceeded the next morning.
Climbing to Etna
Our ascent to Etna began in Sant'Agata di Militello after coming here by train from Bagheria. The weather was dry again, so we continued our delightful trip, slowly but surely climbing in Parco dei Nebrodi. I liked it very much as the route was not too steep and mostly covered by trees, saving us from the warm spring sun.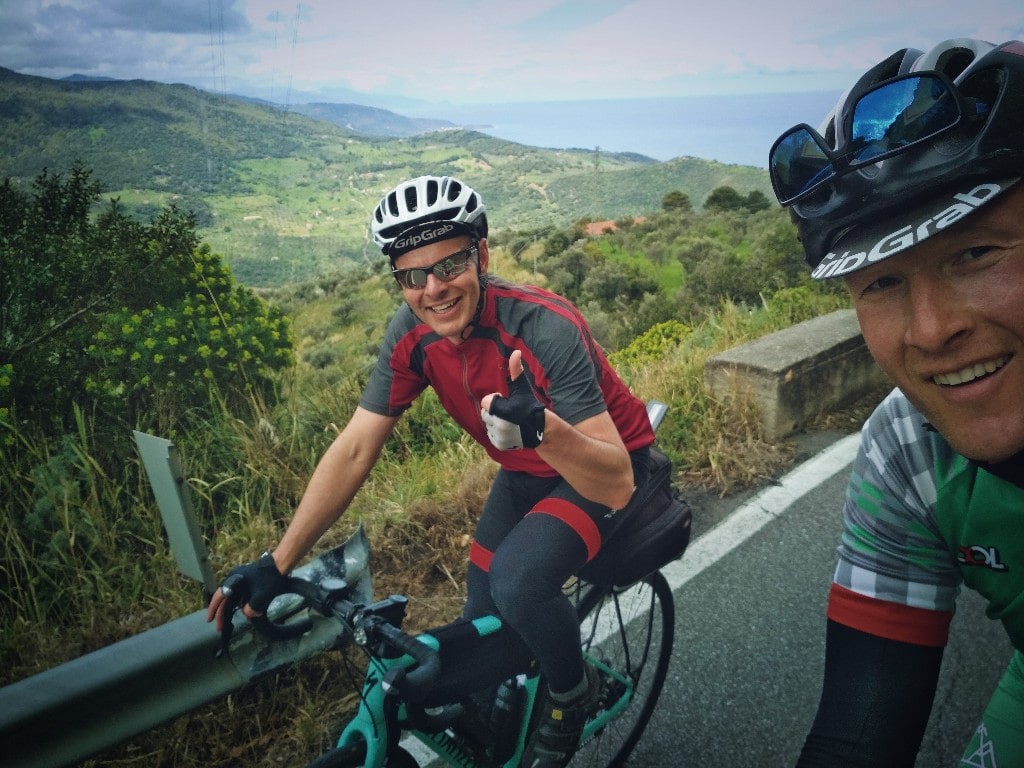 In the afternoon, we passed Cesaro, Bronte. The section from Bronte to Adrano is spectacular and full of exotic plants. You can see almonds and pistachios trees all over the horizon down the valley. We were a bit too late to see the blossoming, but the whole valley was still drowning in the trees' aromas.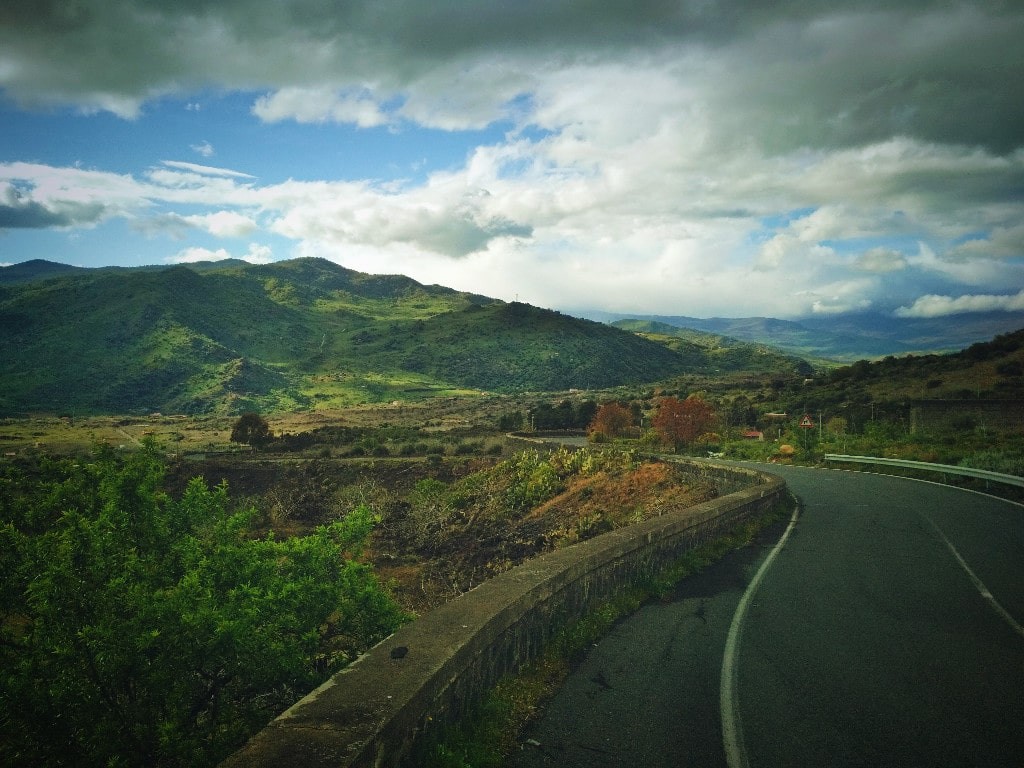 I often ignore disappointing things; however, I can't skip them this time. It looks like littering is a massive problem in Sicily. Every day on the roadsides, we saw a tremendous amount of trash, plastic waste, car parts, tires, etc. And it is everywhere, even in the mentioned magic almond valley. If you look far to the horizon, you see an astonishing view. If you turn your head down below – trash is everywhere.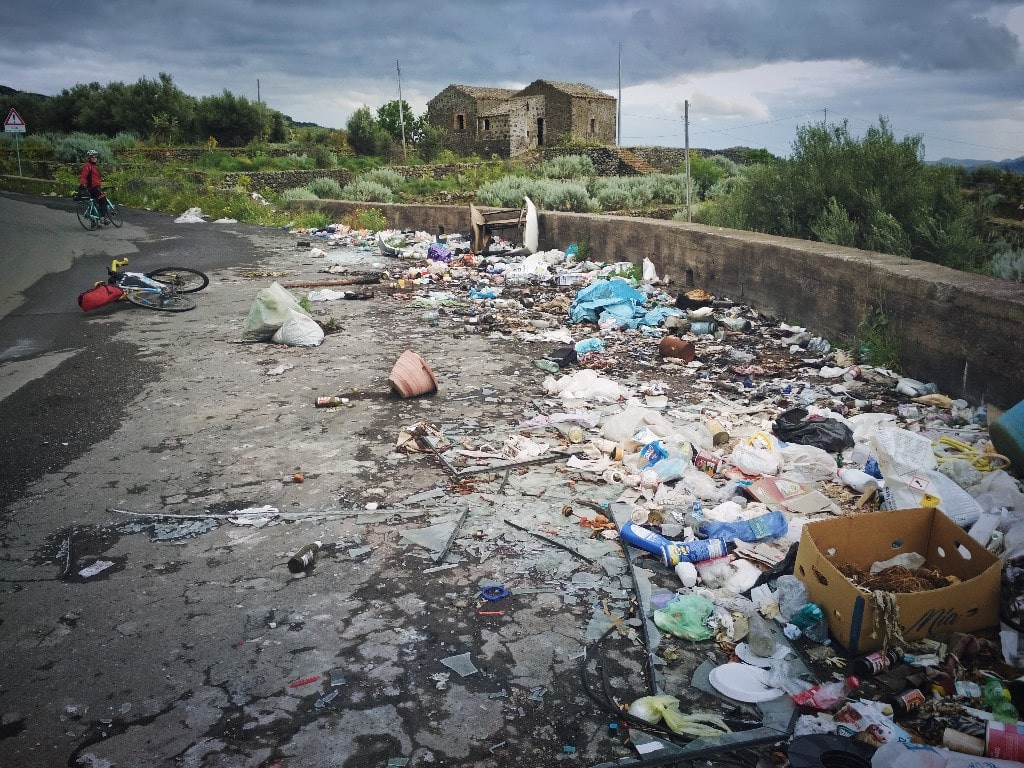 The second day of climbing to Etna has begun early. At 7:50, we were on the road toward Nicolosi. A quick stop there to get extra calories, and we started the final climb. Even though it was sunny before, at 1500 meter level, dark clouds suddenly came on, and heavy showers began.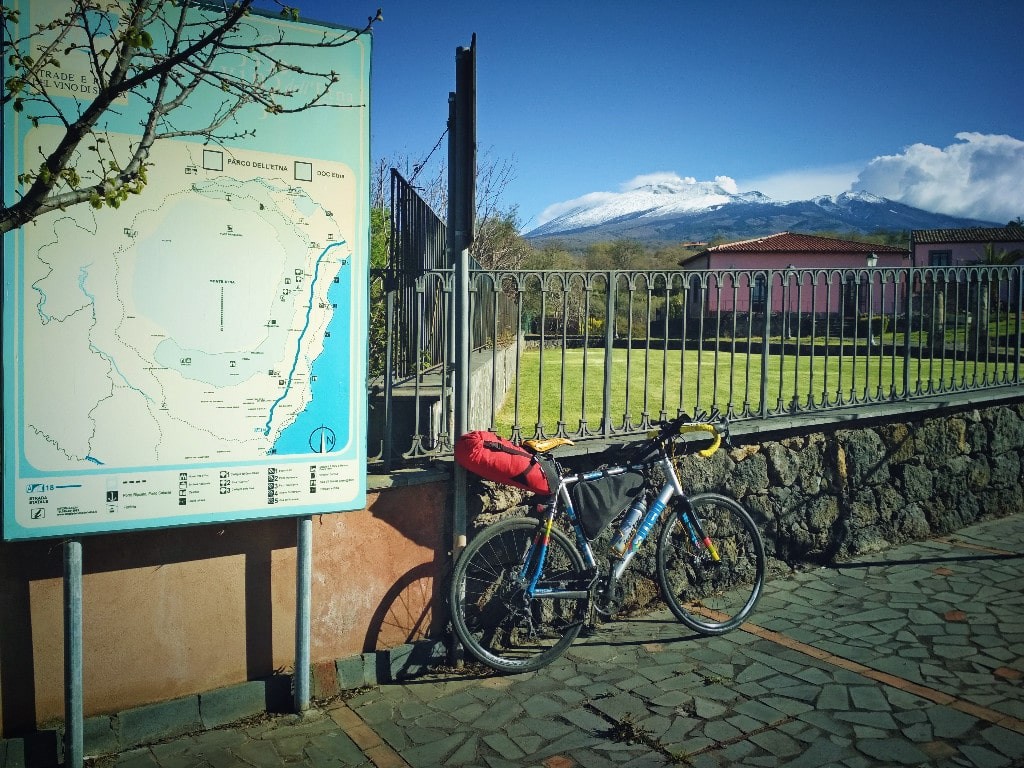 Also, the temperature dropped immediately to +10C. Going up is not a problem. Still, you generate a lot of warmth. But we saw a few cyclists going down with short jerseys, and they were looking pretty bad. Around 1:30 AM, we ended up on top, completely soaked, sitting at the Rifugio Sapienza sipping hot soup.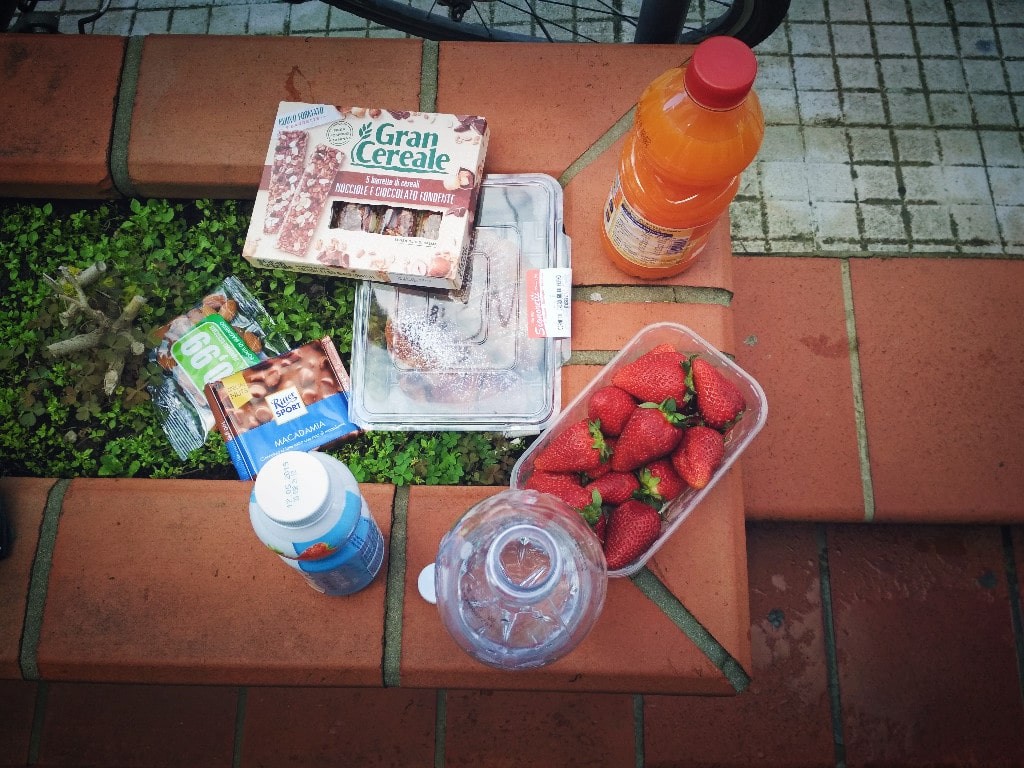 On the one hand, we were happy we made this. On the other, the weather was so miserable that we gave up on our idea of hiking or taking an elevator to the top. The camera with a live broadcast from the top showed how things were looking out there – the area was drowning in the fog and snow.
That evening in Taormina, we celebrated the end of two days challenging ride to Etna. We were happy with a significant achievement, and most importantly, we did it safely. However, it was far away from the end of our tour. For the upcoming day, we cycled to Messina and took the ferry to Villa San Giovanni.
The next phase of our cycling tour was traveling through the inner part of "the Italian boot" Calabria, Basilicata, and Apulia. This will be covered in the following article.
Summary
It was so enjoyable to cycle around the southern part of Sicily on mild and sunny days. Trapani, Erice, and Agrigento were the most interesting civilized places to see. Finally, I would mark the Etna region as a favorite for me. It was a harrowing experience, and the weather conditions and surface were challenging. Nevertheless, the scenes of climbing and descending are etched deep in my memory.
After this challenge, I understand why Sicily is known as a Meka for cyclists. Entirely agree with that statement. Still, when I look at the map, I see that we have ridden only a single route from several more available around Etna park. I hope to have a chance to go there again and give it a shot in other tracks. Also, the inner regions of the island should be interesting to see. If you tried it, feel free to share your experience in the comments how it was.
Thanks for reading!