Last updated January 15, 2023
We cycled 2400 kilometers from Lithuania to Greece. After 16 days, starting the trip from Vilnius, we reached Thessaloniki.

For us, it is an every-year tradition of gathering in different European places and going for a multi-day ride. Holidays on bicycles enable us to visit exciting sites, try local food and beverages, and meet people.

On the way, we visited Belarus, Poland, Ukraine, Romania, and Bulgaria and got to Greece. 

In this article, I'm sharing my experience of cycling in Romania.
Cycling in Romania
Romania is one of my favorite cycling destinations among countries in Europe. For cycling travelers, the country offers picturesque sceneries and challenging mountains.
Romania is a large and diverse country. Every traveler profile can find his favorite bicycle touring route. You can challenge yourself in the Carpathian mountains. If you are looking for an easier tour, trying out the Eurovelo routes is worth trying.
The longest bicycle route in Romania is the Danube Cycle Route. It is a part of the Eurovelo 6 route. A small section of the Eurovelo 13 "Iron Curtain Trail" also lasts in Romania.
Both of them are worthwhile to check out by yourself and get new experiences.
Pros:
Great destination to travel by bicycle
Delicious local cuisine with a strong Italian influence
Lower prices than in Western Europe
Cons:
Nothing that's worth mentioning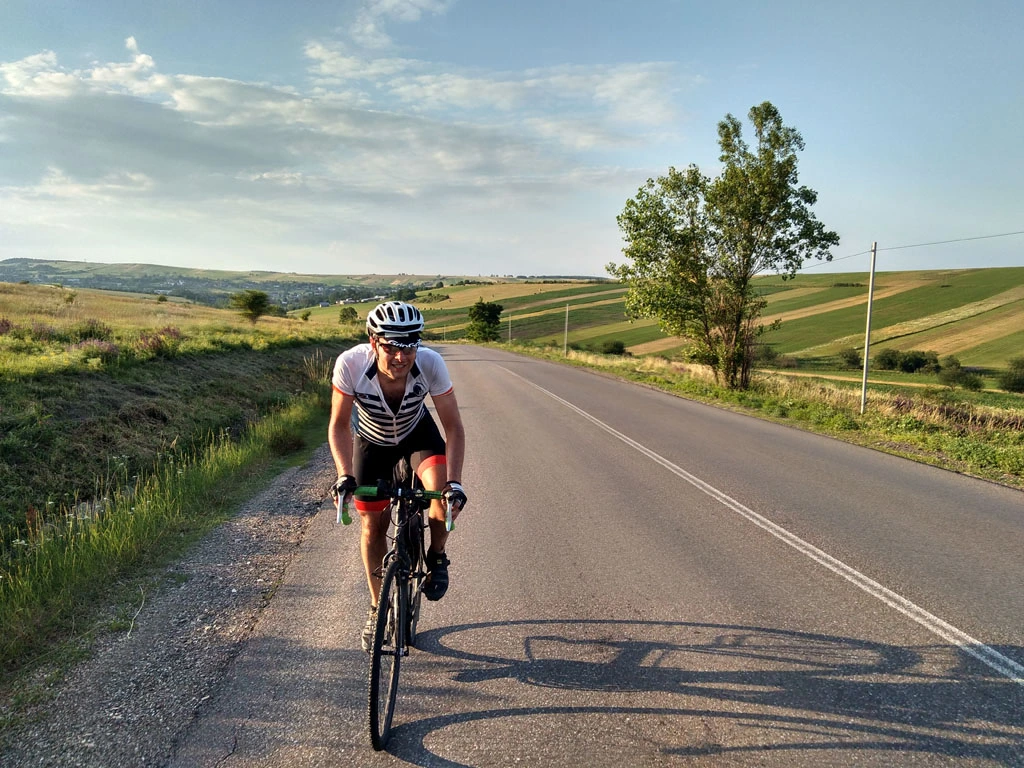 Entering Romania
After a short night in Chernivtsi, we left towards the Romanian border.
That morning I had a Déjà vu feeling. Two years ago, with the same group of friends, we had also been cycling from Chernivtsi toward Romania.
Due to that, the road section to the Romanian border was familiar to us. Nothing has changed except the border procedures. This time the rules were different. We didn't have to fill out forms or stand in a queue for hours. We showed the passports to the customs staff, who let us into Romania quickly.
We had a challenging day today. During the daytime, the temperature exceeded +30C degrees. Now we started to feel that we were moving to the south.
Before the stop in Targu Neamt, we entered the hilly road section. It was a balmy summer evening, and we enjoyed cycling on the empty roads without any stress.
In Targu Neamt the apartments we reserved were overbooked. We had to find another place to live. It was a minor issue, that we solved. The administrator served us a free beer until we found a different location.
Cycling in Transylvania
The next day we started cycling in the Carpathian mountains crossing the Transylvania region. We had to make the first crossing point going to Gheorgheni. We ascended to 1200 meters, following a fabulous route through the mountains.
And after lunch, on the descending, we faced a heavy storm. Strong wind and rain with ice cubes hit my face so much that I couldn't see anything or even stand. I was looking for shelter for some time until I finally found an abandoned house. I jumped in immediately. In a few minutes, friends also joined me.
We stayed there for half an hour until we got cold. Luckily in an hour we got to Gheorgheni town and had a chance to get warm and take a bath.
That evening was exceptional because the fifth cyclist joined us. He planned to go with us to Greece, but the last-minute plans have changed. He had to finish his job at home but found a workaround to catch up with us on the way.
Together, we have been cycling in the Balkans, Great Britain, Italy, and Hungary. After all those joyful years of experience, I was so happy to meet all team again sharing old memories.
Visiting Brasov
With one more cyclist in the crew, we have updated our agenda. We decided to leave earlier every morning. With that, we wanted to reach the day's destination earlier, having more time to explore the place in the evening.
Following the new plan, we made a 180 km haul the next day to Brasov. It was worth coming to Brasov earlier because the town appeared to be a lovely place to visit.
The Southern Carpathian mountains surround Brasov in the central part of Romania. It is well known for its architectural styles. In the town, you can find a mixture of gothic, baroque, and renaissance buildings as well as a wealth of historical attractions.
The same evening we enjoyed an open-air concert in the central square. Afterward, we went to the main pedestrian street for food. We chose The Drake Pub, just around the corner from our hotel. The food and drinks were tasty, and the atmosphere was great, as in the town.
It was a fantastic place to spend a calm summer evening with many people around you.
A tip

Plan to spend two or three days in Brasov. There are plenty of things you can do. Such as exploring Brasov Historical Center taking Tampa Cable Car to Tampa mountain or visiting museums.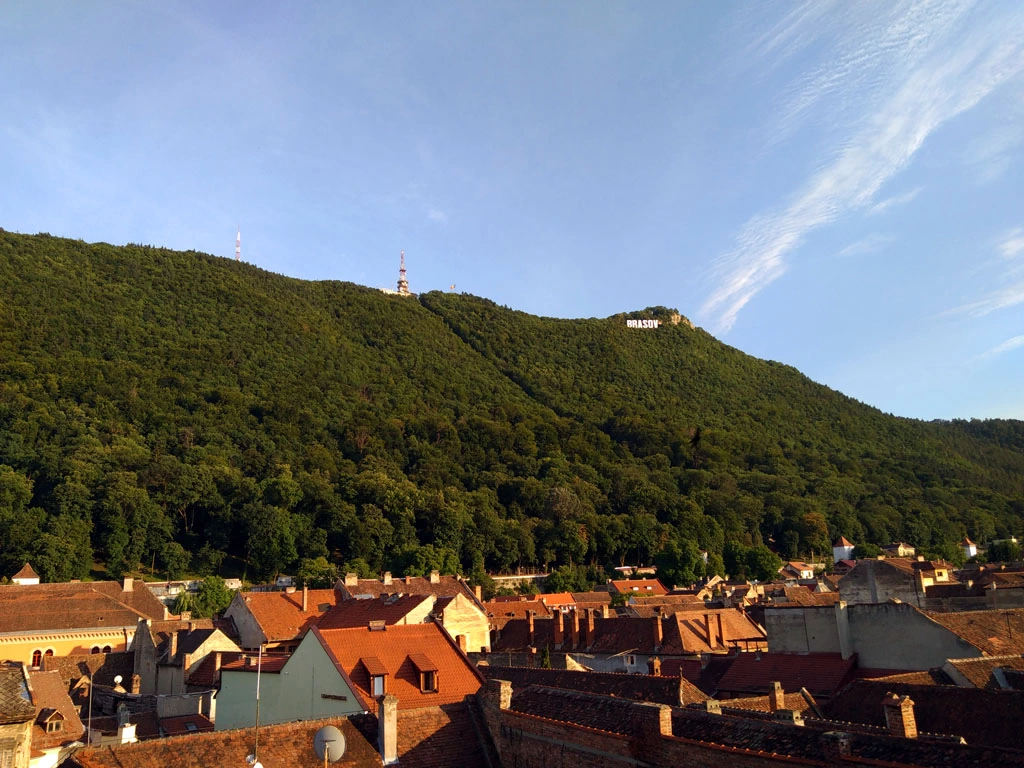 Piatra Craiului National Park
After we left Brasov, the next stop was Bran castle. The whole Dracula story is similar to Borat from Kazakhstan. The difference is that Romanians have managed to make money out of it, and Kazakhs haven't.
This castle is a typical tourist trap spot. I saw nothing worth seeing or paying for at this tourist site. You can save money and dedicate more time to exploring Piatra Craiului mountains.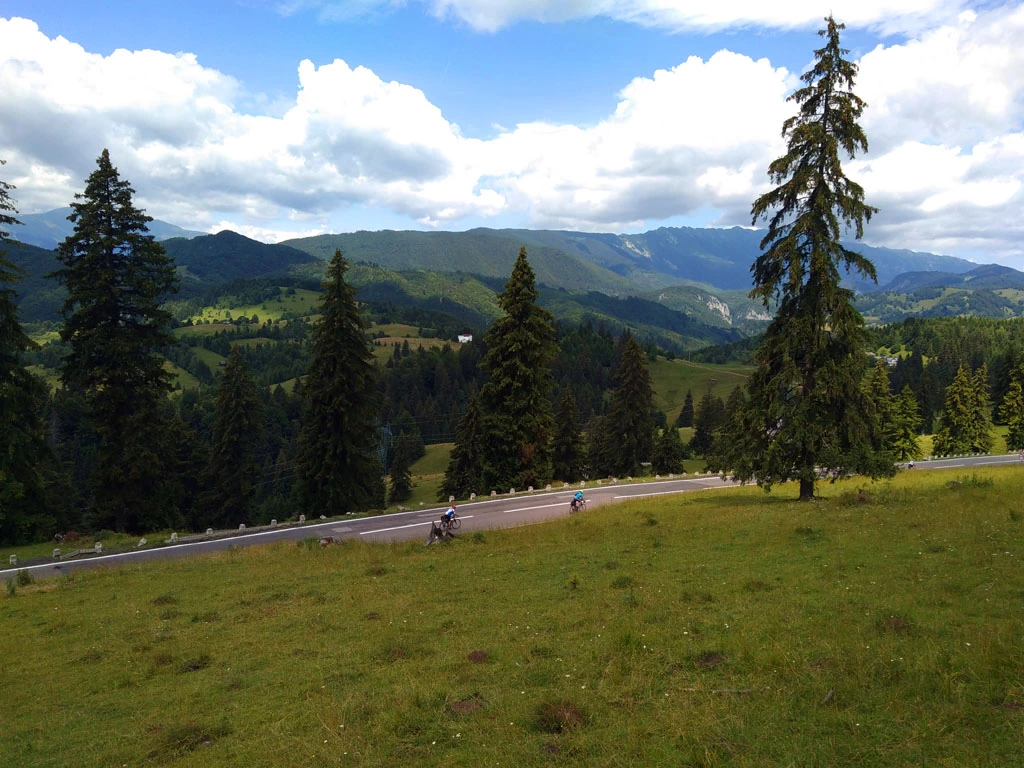 Traversing Piatra Craiului mountains was one of the best experiences of the whole journey. After the Bran castle, we traveled up and down, crossing various passages and making rest stops in remote villages.
The ride was so fun and intense that day that soon, the bicycle brakes broke up. I noticed that the brake pads are worn out. I changed it to a brand new set before leaving. But it was only enough for a few days in the mountains.
Near Pitesti, I wanted to avoid the motorway, and going down the hill flew into the ditch. I braked with my shoe, but it was not enough power to stop. Luckily I didn't hurt myself, but it was apparent I couldn't go with bicycle condition further.
Walachia region
The following day we split up with the team. The guys went forward to the Bulgarian border. Two of us went looking for a bicycle shop in Pitesti. We first went to the Decathlon shop, but they didn't have the required brake pads.
We spent hours searching for an open bicycle shop. Finally, we found one! Max from Velomax Cycles saved our day and possibly the whole journey for me.
He didn't have exact brake pads for my Cinelli bicycle. But he found a workaround on how to customize another model.
All day long we were catching up with folks in the front. The terrain was completely flat, so we pushed ourselves to the max. After making 180 kilometers in the evening we reached the Danube and the Bulgarian border.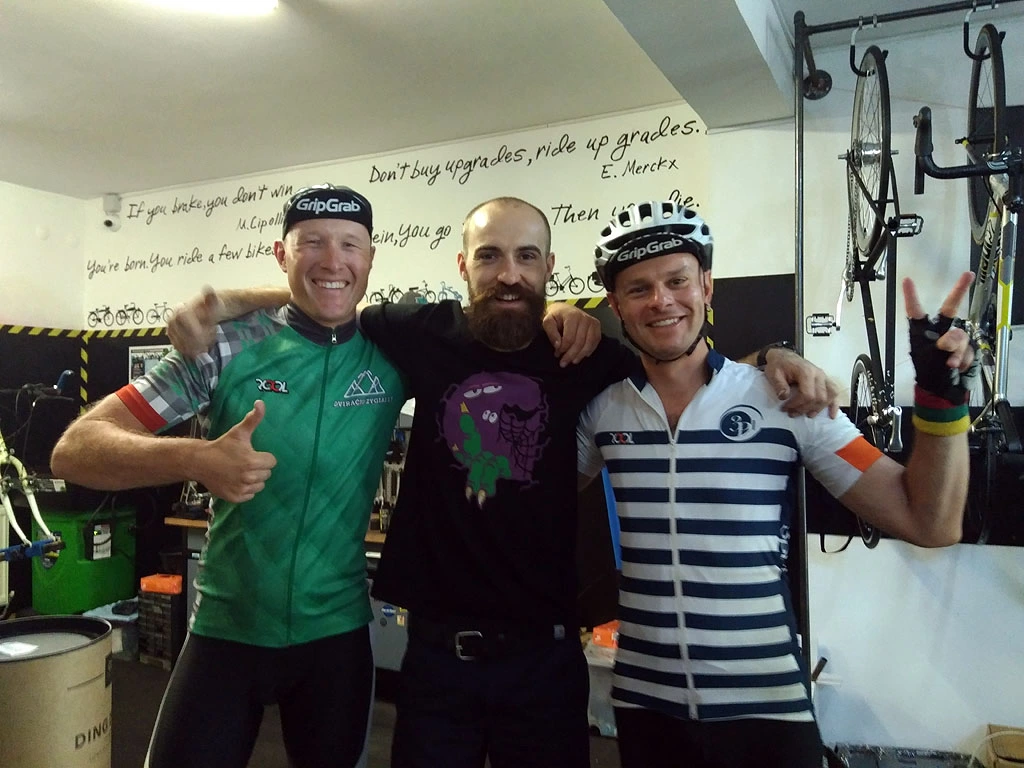 Did we manage to catch up with the group? No. But they arrived 10 minutes before us. So we were close all the time.
An intensive Sunday in Romania was the hottest so far. The temperature hit 40 degrees Celsius during midday. Cycling in such conditions can be exhausting, but we survived with enough water and nutrition.
A tip

Summers in Romania are very hot. Don't forget to have sunscreen and drink enough water, and electrolytes.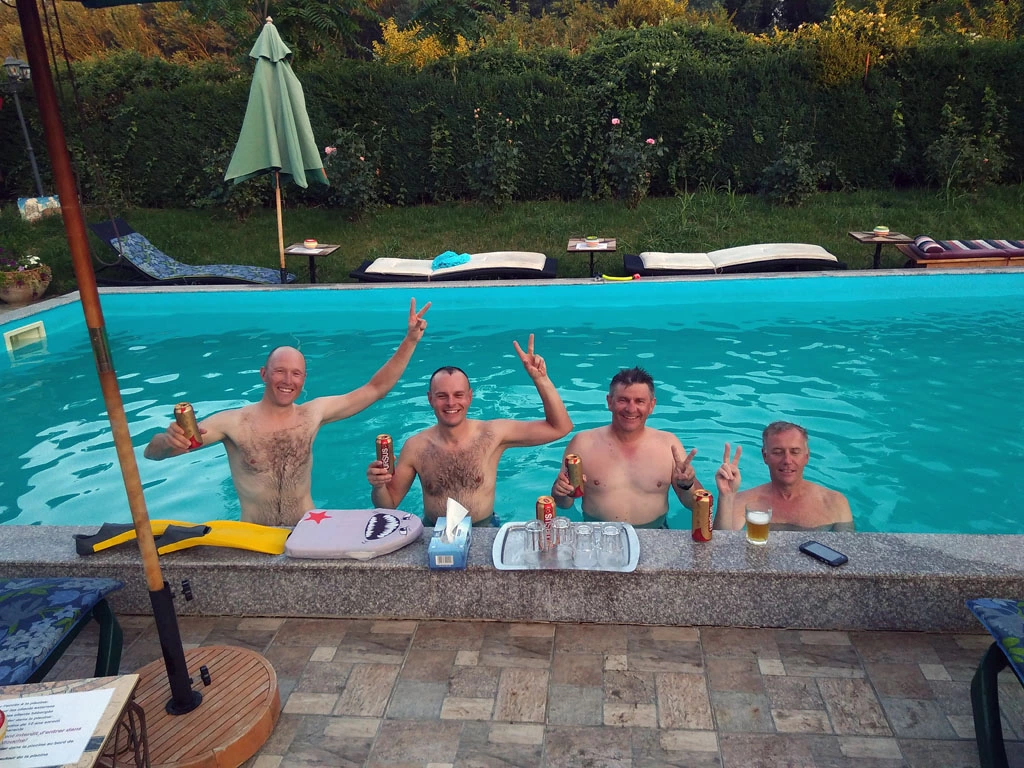 As a reward, we got an apartment in the countryside with a swimming pool and cold beer. It was a deserved, relaxing moment for us. On the last evening in Romania, we stayed in the backyard enjoying water procedures, local cuisine, and some guitar music.
I have the brightest memories and a wish to come back again to cycle in Romania. But for this time Bulgaria waited for us ahead.
Next country – Bulgaria