Last Updated January 7, 2023
We cycled 2400 kilometers from Lithuania to Greece. After 16 days, starting the trip from Vilnius, we reached Thessaloniki.

For us, it is an every-year tradition of gathering in different European places and going for a multi-day ride. Holidays on bicycles enable us to visit exciting sites, try local food and beverages, and meet people.

On the way, we visited Belarus, Poland, Ukraine, Romania, and Bulgaria and got to Greece. 

In this article, I'm sharing my experience of cycling in Belarus. 
Cyclist perspective on Belarus
Belarus is a Post-Soviet Union country still very much related to Russia. By traveling, you can see a lot of signs and methods from Soviet Union times.
For some of you, it might be an exotic experience for the rest – the opportunity to get back 35 years in the past.
From the cyclist's perspective, Belarus has many low-traffic roads with decent tarmac. There are few significant nature objects, but some historical heritage objects like the Grand Duchy of Lithuania castles might be interesting to see.
Pros:
Good quality and low traffic roads.
Low prices.
Friendly local people.
Cons:
Poor accommodation and restaurant quality.
Lack of outstanding natural objects.
Most people don't understand and speak English.
Important

Since our visit in 2017, geopolitical circumstances have changed. On 2022 February 24th, Russia invaded Ukraine. Belarus is actively supporting aggression in the region against Ukraine. Due to the high risk of detention and possibly the military attack on neighboring Ukraine, EU and US institutions recommend sustaining from visiting Belarus.

Entering Belarus
Several weeks before departure, we announced our trip on social media. Some folks even promised to come and wish us luck and say goodbye at the start.
Mother nature welcomed us by washing out the city with heavy rain in the morning. We haven't seen such an amount of water in Vilnius for ages, or possibly never before. We postponed the early departure, but after lunch, we succeeded.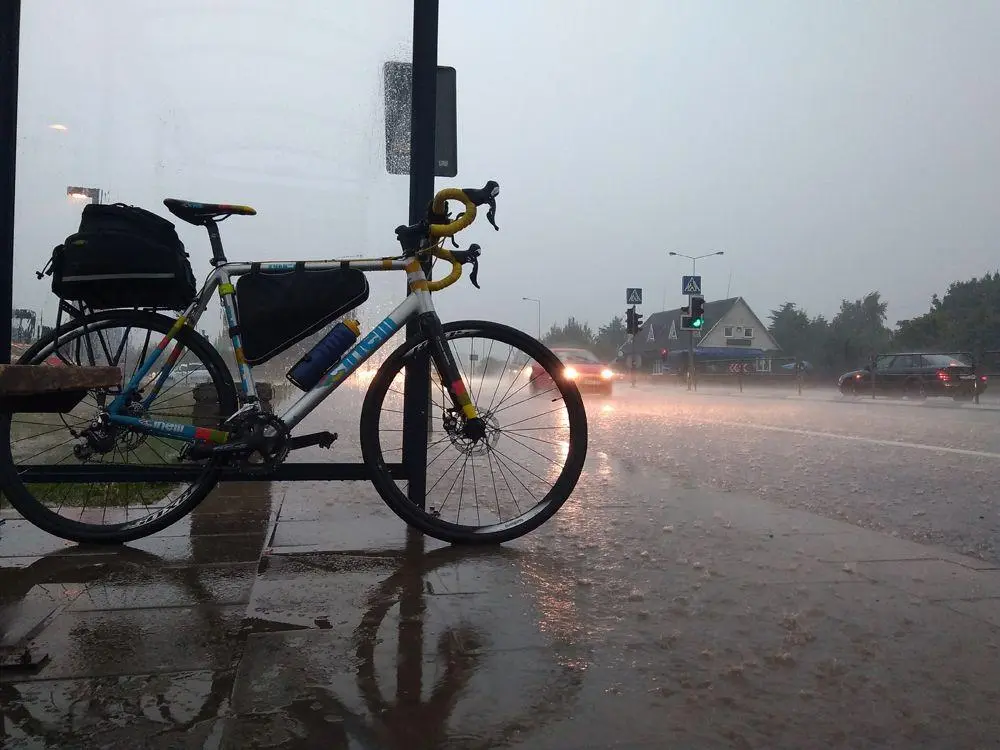 It was raining until the Lithuania-Belarus border. The border procedures took us about 30 minutes. We filled out the necessary forms and papers and were ready to go.
Later, near-overnight place in Berezovka village, a storm caught us again. Trees were falling, and random pieces from the rooftop were flying around us. Luckily no one got injured!
The next morning we began with a strong breakfast – tasty pancakes with fresh strawberries on top. Every one of us enjoyed it.
The road was mostly flat and empty. The only that you don't like is a headwind. Due to it, we made fewer kilometers than planned initially and stayed in Ruzhany overnight.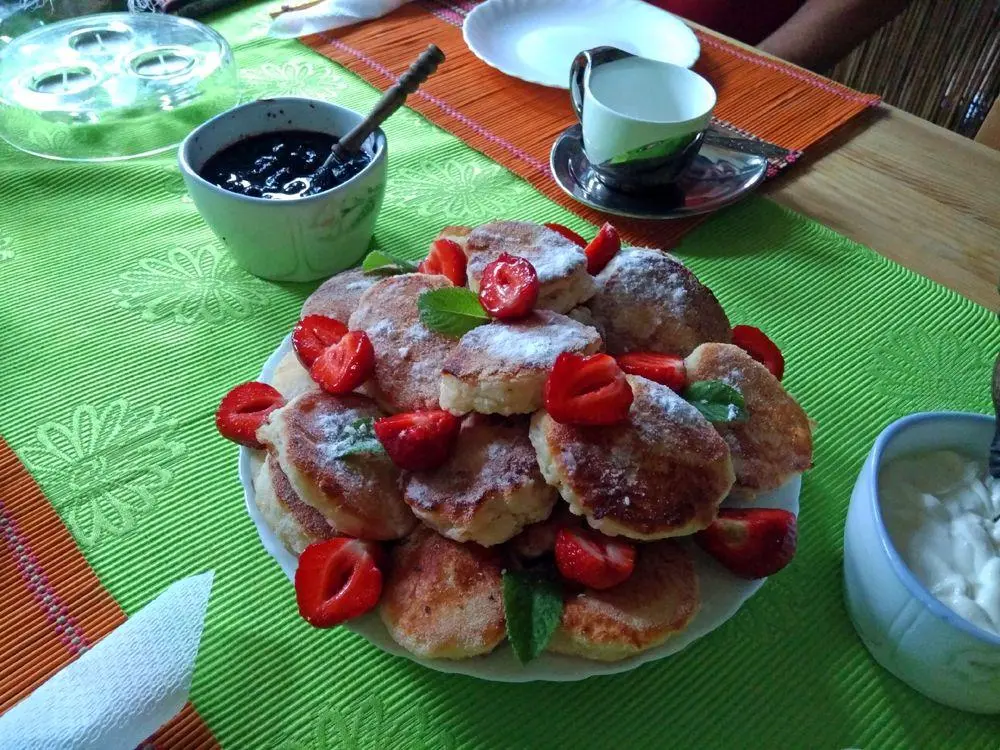 A tip

Driving roads in Belarus are empty, and the surface is good quality. However, the technical condition of vehicles could be better. Cycling in Belarus isn't popular, and drivers arent' used to see cyclists on the road. Take extra safety actions and use bicycle lights or reflective cycling clothes.
Visiting Brest district
For lunch, we stopped at the cafe in Slonim. We ordered a beer, soup, and for a second meal – a meat cutlet. It was terrible but cheap. For four portions, we paid ~11 euros. See the details in the picture below.
We spent the evening in Ruzhany with a few locals in the pub. We degustated local food and drinks, of course. Probably we stayed a bit longer than needed, because the following day, we woke up with terrible headaches. The best you can do during those challenging moments – is to spin the pedals.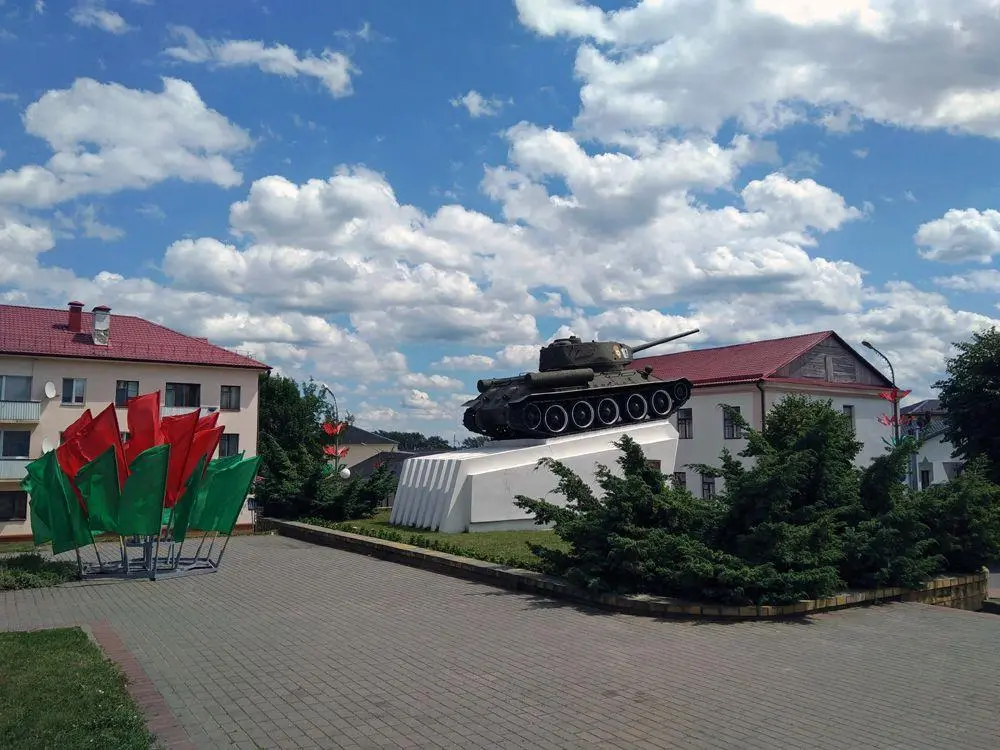 Coming closer to Brest, the surroundings remained similar to what we had seen in the past few days. Endless plain fields, swamps, and forests. The towns we passed didn't differ from one another.
Brest itself has a sorrowful story from WWII times. Nazi Germany heavily attacked the fortress on the first days of Operation Barbarossa. We only had a little time for exploration, but for those interested in 20th-century history, this place should be on the checklist.
Entering Poland
Before leaving Belarus, right before the border crossing point, an outstanding person stopped us. His name was Valentin. From his hairstyle and mustache, he was very look-alike Cossack. He immediately stopped the car after overtaking us and jumped out to welcome us.
Valentin was the president of the Brest cycling club. He is a fan of Audax cycling and told us some stories about his cycling adventures all over Europe. For example, his epic trip from Moscow to Paris in the early 80s.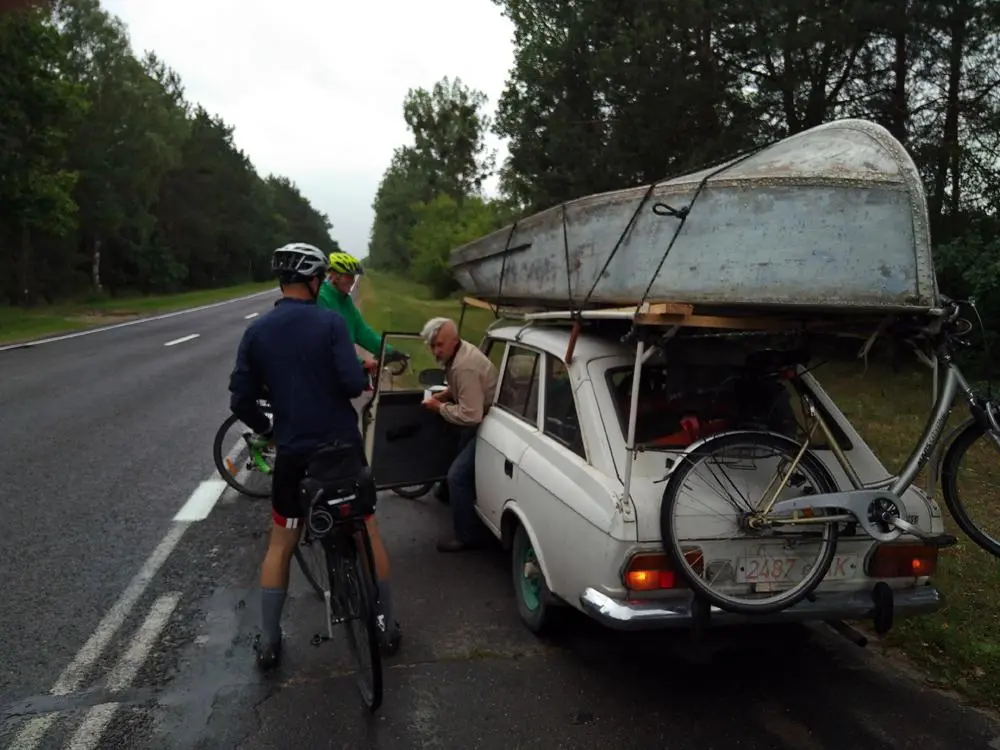 He didn't expect to meet somebody like us, who are going to Greece, near his hometown. We took some photos together. Valentin gave us a contact card and insisted on sending photos after we came back.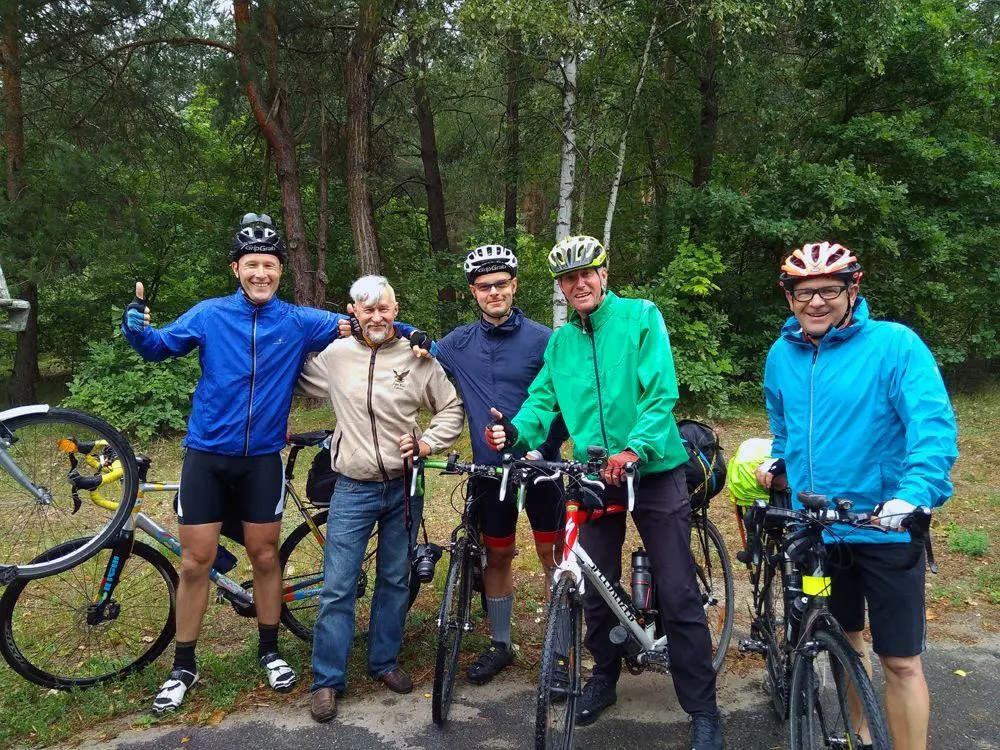 Soon we got to the Damachava border crossing point. It was a happy moment for us, seeing a new country border around the river.
But to get to Poland was a challenging thing. We could not get out here because the border was only for cars. We have spent more than half an hour explaining the situation and begging for an exception.
Finally, all efforts softened the officer's heart. She called someone and came back to us in 5 minutes. "Are you guys from the theater crew?"
We were not. But in countries like Belarus, not telling the truth can save you the day. So we nodded and were free to ride into Poland.
A tip

In Belarus bicyclists aren't permitted to cross the border in all border crossing points. Check the details before leaving.
Next country – Poland