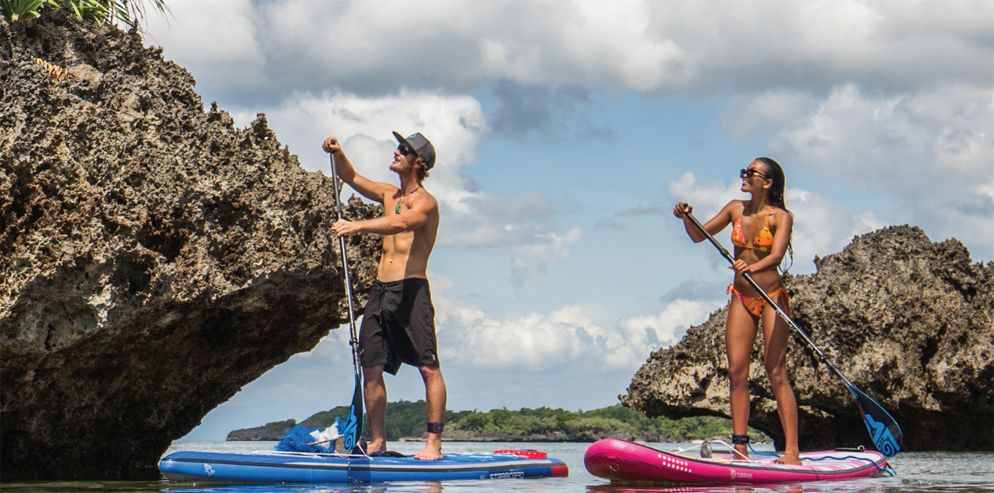 2021 Starboard 10'8″ x 33″ iGO Zen – a popular entry-level size, perfect for schools and centers that want one board that does it all. Ideal for riders up to 120kg, this board is faster to turn than the longer sizes yet has more glide than the shorter size, all at an ultra-stable width.
NEW for 2021: 2 D-rings for shoulder carry strap. The strap needs to be purchased separately after-market. The strap makes it easier to carry as the board simply hangs effortlessly on the shoulder and frees up your hand to multi-task, hold your coffee, or phone.
ZEN fin with an ergonomically designed screw that can easily be adjusted using the fingers, allows the fin setup to be done without any tool.
Before you get on board, you can secure yourself with the included flat lightweight leash, paddle safely and comfortably knowing your board is a life raft. The Bungee straps at the nose are good for storing all sorts of dry bags or gear on your next big SUP adventure. Flat carry handle is made discrete for extra comfort when doing Yoga, yet still easy to carry. And it can be comfortably stepped on.
ZEN CONSTRUCTION
With only the best core essentials. Built with single layer Linear dropstitch making it even lighter and stiffer than before. This Linear knitted dropstitch was developed by Starboard with its supplier for Starboard use ONLY. The Heat Welded Rails create a complete airtight, mechanically bonded seam without the risk of glue weakening over time. Making the board stronger and last longer. Galvanized 2000D rails increase strength and stiffness.
PACKAGE
Re-cover bag is designed to minimize weight, yet maximize comfort and strength. Roller wheels available on every bag make it more comfortable for a long walk. Hiking strap is ergonomically curved to ensure good stability on the shoulders.
V8 double action pump. Inflate your board faster and easier with continuous pumping cycles in both downward and upward action. With a switch, the double action becomes single action for easy inflation to 15-18 PSI. Comes with the Tiki Gauge to know your inflatable board's pressure.
Lightweight leash at only 70g, the leash is incredibly light. Soft cushioning means it will flatten when stood on. Easy to attach to the leash ring without needing any excess rope loop.
Types
TYPE OF THE BOARD
All Round
MODEL
2021
Dimensions
LENGHT
10'8" / 325.1 cm
WIDTH
33″ / 83.8 cm
THICKNESS
5.5″ / 14 cm
VOLUME
309L
WEIGHT
8.8 kg (Est.)
PADDLER WEIGHT
Up to 120kg
Package
WHAT\'S IN THE PACKAGE
Starboard's Zen SUP Carry Bag; ZEN fin, V8 Double Action High Pressure Pump; Repair kit.