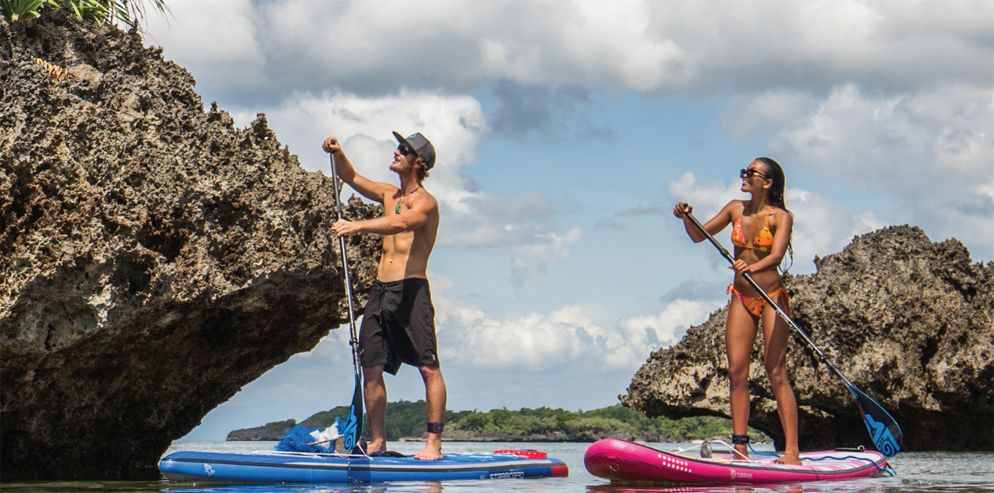 Starboard SUP boards featuring ZEN construction is the leanest, lightest, value-oriented inflatable boards – with the best core essentials. Built with single layer LINEAR knitted dropstitch and heat welded rails, making it even stronger and stiffer than before. The single layer LINEAR knitted dropstitch was developed by Starboard in close cooperation with its supplier and is for Starboard use ONLY. The tool-less fin system is quick and easy to set up, now with a long and strong finbox.
Starboard Touring boards are the explorer's favourite transportation. Created for long adventure seekers or those looking for more advanced and faster SUP board that all round paddling boards. Ideal for short or long distances, flat or small chop, the Touring makes the journey possible!
ZEN CONSTRUCTION
Linear dropstitch. Linear alignment of space yarns, oriented only in warp direction ( the direction of the board's length), maximizing the stiffness and response. Linear dropstich also secures the board's shape better over time compared to standard knitted dropstitch. Linear dropstich with single layer coating is the lightest offering in our collection. What does it mean for you? An ultra light board with the best stiffness that single layer technology can offer, you can feel the acceleration.
Heat welded rail. Welding technology turns 2 pieces of material into a single solid unit, resulting in an extra-strong mechanical bond. A mechanical bond is stronger, lasts longer and is better for the environment. Welding creates a complete airtight seam without the risk of glue weakening over time.
2000D galvanized rails. Galvanized 2000 D rails increase the strength and stiffness of the board.
PACKAGE
Lightweight leash. At only 70g, the leash is incredibly light. Soft cushioning means it will flatten when stood on. Easy to attach to the leash ring without needing any excess rope loop.
V8 double action pump. The hand pump with fixed base completes the picture of the price friendly inflatable paddle board. Works both in single and double action. Can be used to inflate and deflate the board.
RE-COVER bag. Is designed to minimize weight, yet maximize comfort and strength. Roller wheels available on every bag make it more comfortable for a long walk. Hiking strap is ergonomically curved to ensure good stability on the shoulders.
Types
TYPE OF THE BOARD
Touring
Dimensions
LENGHT
12'6″ / 381 cm
WIDTH
30″ / 76.2 cm
THICKNESS
6″ / 15.2 cm
VOLUME
355L
PADDLER WEIGHT
Up to 110kg
Single chamber SUP board package
WHAT\'S INCLUDED IN THE PACKAGE
Starboard SUP bag; Zen fin; Starboard leash; V8 Double action pump.