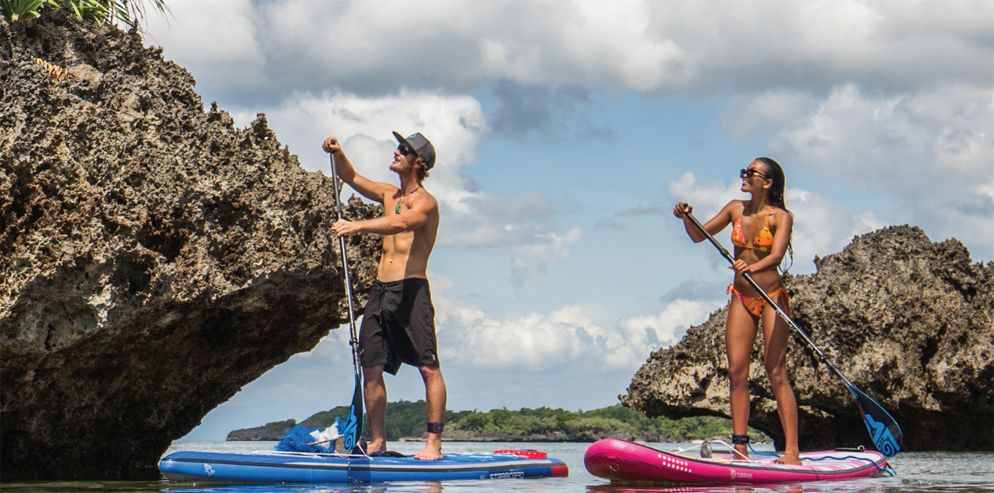 Inflatable paddle board construction Zen DC
The double chamber construction is now available with the boards of the Zen range. The boards consist of two separate (but integral) parts that inflate separately. In addition to being an important safety feature – the second chamber acting as a buoyancy bag – the presence of two separate chambers has an effect that may seem paradoxical: the overall rigidity is further improved compared to the Zen SC range. This is due to the "I Beam Stringers" technology: two internal stringers that border the structure of the second chamber. This does not interfere with the SUP's bending: as with the Dropstitch Linear technology that structures the core of the two chambers, the stiffness is only effective once the board is under pressure.
Linear dropstitch technology
The vertical composition of the dropstitch that joins the deck and bottom together is distributed along the length of the board in a straight line.
This maximizes the strength and stiffness of the board, providing a softer paddle feel and allowing you to accelerate faster with less effort.
Specifications
| | |
| --- | --- |
| Length | 12'6″ / 381 cm |
| Width | 30″ / 76.2 cm |
| Thickness | 6″ / 15.2 cm |
| Tail Width | 19.3" / 49.0 cm |
| Volume | 355L |
| Rider Weight | 55-110 kg |
| Fin Set Up | Single |
| Fins | Zen fin |
| Weight | 9.3 kg (Est.) |