Beginning. Adaptation (1st day)
Packing and preparations are over. Frequently the whole week before leaving, I'm trying to go through the checklist in my mind, to make sure that I didn't forget anything mandatory for my trip. That is a pleasure and immense stress at the same time.
I left my house yard in Riga just before dawn. The trip with a car was smooth and fast. Though I came to Tallinn just before the morning traffic jam, I wasted a significant amount of time searching for the place where to leave the car. I needed a decent and safe place for the whole week. Finally, I got into a ferry going to Helsinki, and my adventurous week in Finland has begun.
Couple hours on open water and I have reached Helsinki's harbour ground. Though the temperature was similar to Riga's, I experienced difficulties in finding a proper clothes combination that would not be too hot for cycling and not too cold for during break.
The snow was gone, but the surroundings are pretty much greyish everywhere. Fauna's vegetation didn't start yet.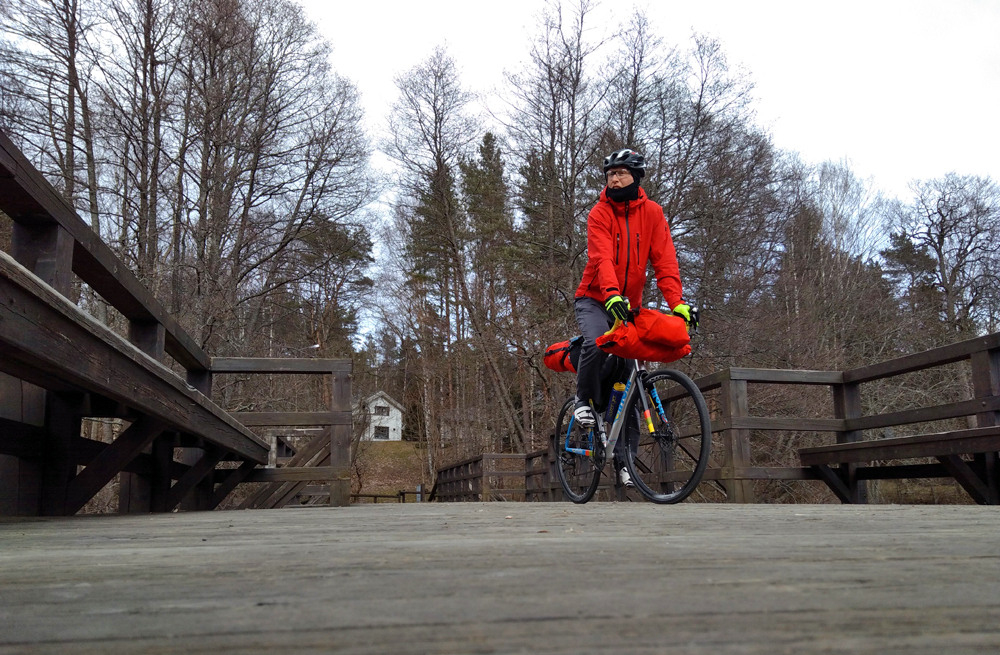 This year it was my first outdoor ride. I noticed my packing skills were not so good anymore, and I had to stop several times to repack stuff. Bags were full of camping equipment, and that led to enormous shaking and an unpleasurable ride. It looks like my body was eventually preparing for a long journey also, and overall this day was nothing more than warm-up.
I have chosen a small village Fiskars for overnight. Empty and lonely place a hundred kilometres away from Helsinki. Perhaps some of you might be familiar with this name as here they produce well-known axes, knives and other qualitative garden tools. There is a museum massively visited by tourists during summertime. To my unluck, it was still closed for now.
The King's Road route (2nd day)
My first night at Airbnb rental place was short. The bed was too small. Therefore all night long, I flipped back and forth, trying to find a decent position to rest.
At 7 AM, I gave up and left the house. It was an excellent chance to spend some extra time for explorations and take an alternative route to visit Tammisaari that I planned to skip.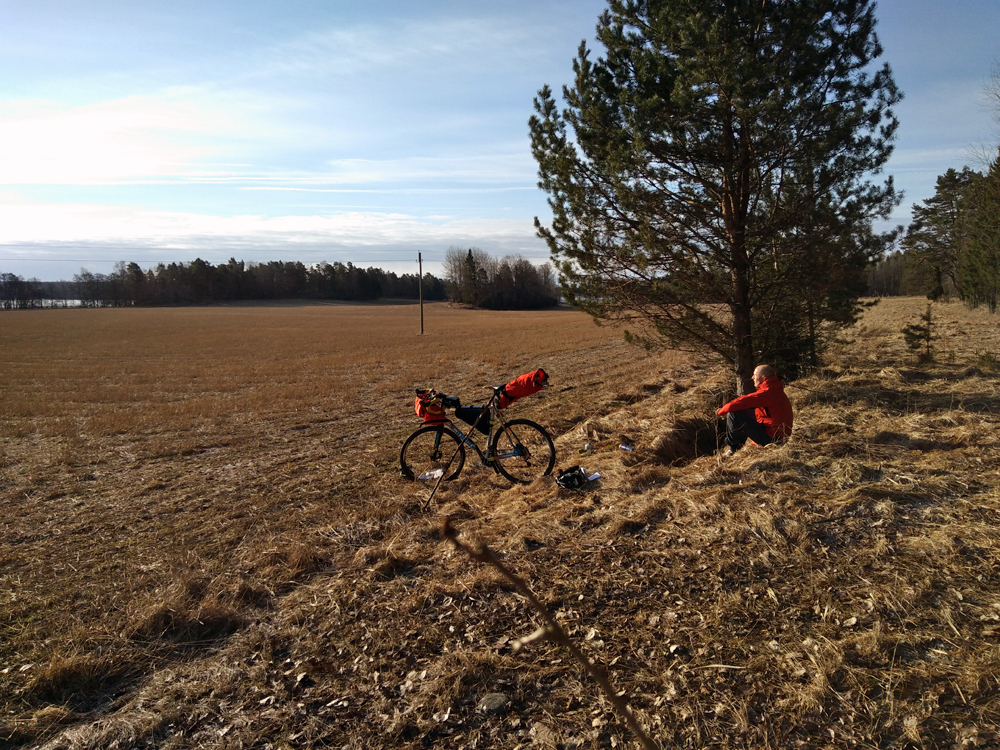 It was breakfast time. After some kilometres, I stopped to eat my food and enjoy the calm morning. Sun was already starting to warm up the surroundings, and it was a magnificent moment in the totally empty peasant field. I boiled up water for the coffee and ate a sandwich with ham.
Tammisaari reminded me of some cosy Aland islands villages that I visited some time ago. I did a quick tour ride around it and left towards Turku. Not much to do at this time of the year.
The route that I rode is called King's road (Kuninkaantie, Kungsvägen). It is a scenic coastal bicycle pathway that connects Vyborg and Turku.
Back in the Medieval Period, Finland was a part of the Swedish kingdom. This road was a part of the mail road that stretched from Bergen to Vyborg. It is interesting to know that even nowadays most of the Swedish minority in Finland lives in the south coastal region. That explains why road signs are in two languages everywhere. Later I learned about valid law in Finland related to ethnic minorities. It says if the ethnic minority in the area is above 2%, official signs and names must be in two languages. 
During my second day, I felt physically and mentally ready to cycle long distances. Today I've made 150 kilometres and stayed in Turku. As a days award – it was a hostel with sauna procedures. Oh yes, you can get it only in Finland…
Along Bothnian Bay (3rd day)
Probably the most pleasant day so far. Even though it was 5C degrees, everything was perfect.
Just after I left Turku, I stumbled upon a Eurovelo 10 "Baltic sea cycle route". It goes along the coast of Bothnian Bay far to the north. To my surprise, the cycling path quality was top level. Excellent quality and picturesque sceneries. It used to remind me of my trip to the Aland islands where I travelled with my wife more than 10 years ago.
I stopped for lunch in Uusikaupunki. Little Finnish town with many people in the centre square. Not much was happening out there except some acapella artists had a rehearsal show for the town's 400th birthday which was supposed to happen on Saturday.
The second leg was so joyful like the first one. I continued rolling on totally empty coastal roads relaxed and gazing at wild nature surfaces.
Two hours later, I reached Rauma. I wish I would have booked my bed in Pori because even after 140 kilometres, my legs were still full of energy, and the sun was still high in the sky.
But even staying here was not a bad idea. I left my bags and went to the centre to look around, eat dinner and to drink a pint of beer. Maybe a couple…
Chased by rain and snow (4th day)
I stayed alone last night in the tiny garden house that I rented for the night. Since it was not much to do, I spent a couple of hours studying tomorrow's weather. What I realized that evening, I will be caught up by heavy precipitations on the way to Tampere.
My serious face turned into a smile after I found a solution. To wake up early and to start rushing to Tampere at 6 AM on a frosty bike path. That's what I did.
All-day long I spent gazing at the clouds through the handlebar. They were getting closer and closer, and it seemed soon the blizzard would break down this lonely cyclist, who persistently was rushing further. Luckily it didn't happen until I reached the city and got into a hostel.
Today's route wasn't the best one. Therefore I had no big impressions except the fact that I'm in Tampere.
Unexpected morning in Tampere (5th day)
Gosh, I wish I were again in Turku wherewithal those sunny brights mornings let me cycle and enjoy my trip. Instead of that at 9 AM, I was standing under the roof of the bus stop considering "should I go, should I stay". This scene was after several minutes when I left the hostel. Raindrops mixed with snowflakes were falling from the dark grey sky. And the lonely cyclist shivering from the cold was hopelessly standing wearing summer cycling shoes that were already drenched in the rain. I wouldn't have refused another cup of warm coffee…
It was still a long way to go to Lahti; therefore, with the first brighter sky areas, I dared to leave Tampere.
The first part of the day I kept cycling on small country roads in between endless lakes. Everywhere I looked, I saw blue and crystal clear water with sunlight sparkling on its surface. That is how I imagined Finland before arrival. The only issue currently was my wet feet that dried so slowly.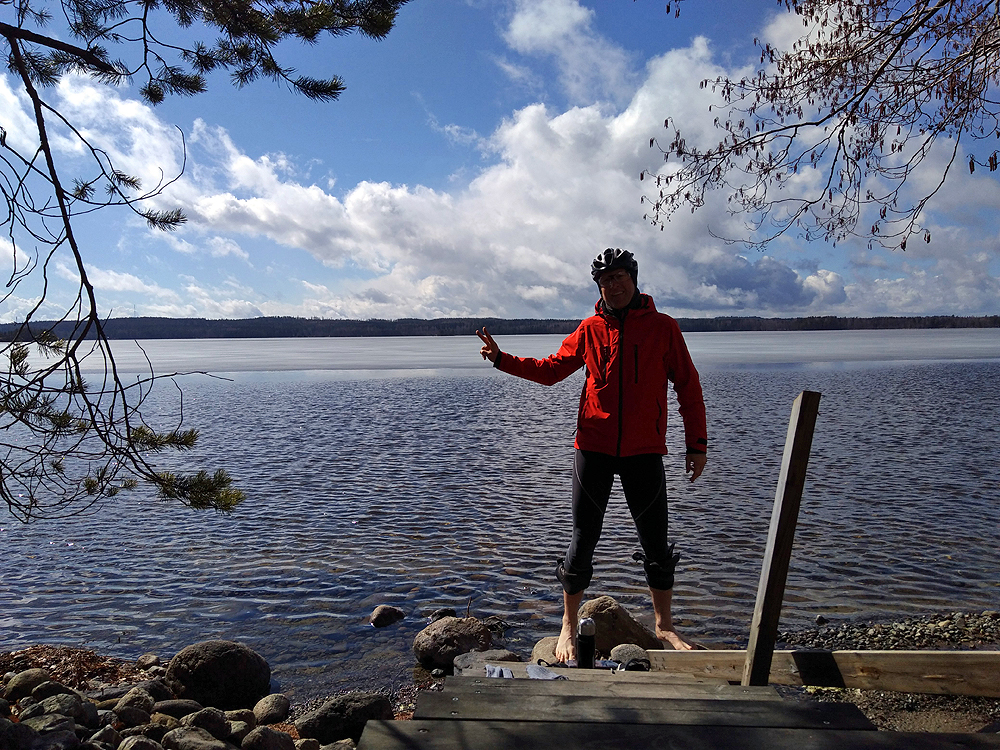 Nevertheless – that was an exciting and fascinating day. Better than yesterday.
It took me 7 hours to reach Lahti. Which meant again I have some spare time for Lahti exploration.
Lahti in the Finnish language means Bay. Before the Soviet collapse, here was a strong furniture industry developed. All the production export routes were stretched far to the East.  Afterwards, unemployment rose dramatically. But this is a history already as Lahti nowadays is one of the fastest-growing economic centres in Finland.
I also took a chance to visit another unique place. Sports arena where you can find giant trampoline for ski jumping. Often athletes from all over the world visit this place participating in international championships. Amazing to see, worth visiting.
The last day (6th day)
My challenging tour around the southwestern part of Finland was going to an end. In the morning I did a small ride again around Lahti and rushed towards Porvoo. After 100 kilometres Porvoo old town welcomed me. Nothing much to see on the way, so I had just several stops only. However, it was worth coming here earlier, because this place looked different from what I have seen before in Finland.
Together with Turku, Porvoo is considered as one of several medieval towns in Finland and probably one of the most beautiful ones. Tourists come here to see well-preserved 18-19th century buildings and a cathedral from the 15th century period.
I'm happy that I decided to stop here overnight and enjoy the opportunity of a little walk tour around this fascinating Finnish town.
Verdict
Finland is a great place to cycle with brilliant infrastructure and high cultural attitude towards cyclists. Perhaps I could mention only several countries where I felt so safe and relaxed cycling on the motorways. On the other hand, I have never felt so lonely and isolated like there. Don't expect to be approached by strangers near the food store, asking about your trip, your destination. Even with my accommodation hosts, we usually exchanged a couple of polite sentences without going much into the details. That's Finland and people are not so talkative.
If I had another opportunity probably, I would pick another date to go there. April was too cold for me, and sometimes I caught myself thinking more about it than enjoying a pristine and scenic route.
Despite that Finland is a great destination to visit for everyone who wants to have some adventures!
My first and following rides can be found on Strava: