It is the second part of the series of articles reporting the story about five cyclists who decided to cross Central and Eastern Europe with a single attempt. In 16 days from leaving Vilnius in Lithuania, they managed to cycle 2400 kilometers and successfully have reached the southernmost point of the trip – Thessaloniki city in Greece. Every separate article covers one of the countries – Belarus, Poland, Ukraine, Romania, Bulgaria, Greece, which they managed to cross on their way. If you would like to read another article from series, kindly proceed here.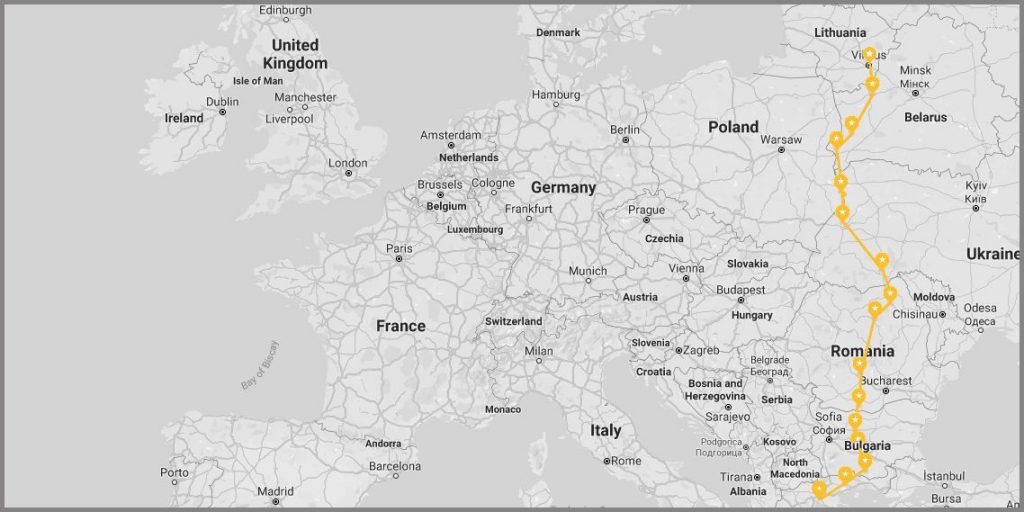 Poland
Though current swing by to Poland was very short, it wasn't my first cycling experience there. I frequently have been cycling in the Northern part of the country, visiting cities like Gdansk, Giżycko, Olsztyn (looking forward to writing another article about it). That's why I thought it is the right time to give a bit of overview and some judgment about the pros and cons.
Overview
Poland is one of the most populated countries in Central & Eastern Europe. Therefore, you should expect an extremely high amount of vehicles on the roads. That said, I must mention Poland also has a huge advantage – a very well developed regional road network. Most of them are tarmac roads very suitable for bicycle lovers. It is possible to create your route and spin your pedals on those small roads from town to town, entirely avoiding busy motorways, which are the last place any cyclist might want to ride on. If you are considering visiting North-East part of Poland, you definitely should check out details about the Green Velo route. It is the longest (1885 km) consistently marked cycle trail in Poland, and it has more than 300 km of newly built cycling paths.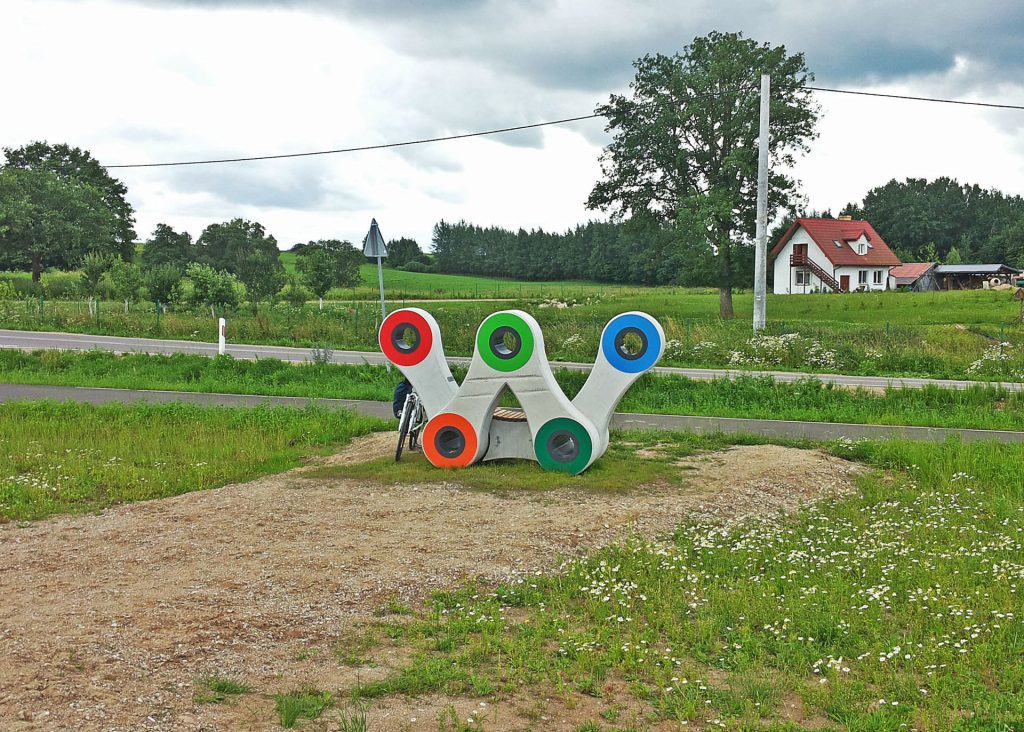 Pros:
Well developed infrastructure for cyclists.
A lot of nature, cultural objects, military, historical heritage places to see.
Prices are still a bit lower than in other EU countries.
Cons:
A lot of local tourists. It can be crowded, especially during high season.
In smaller towns and villages, language might be an issue.
A quick visit to Poland
The sun was almost at the highest daytime point when we waved goodbye to Belarus and were passing over the bridge towards Polish checkpoint. Misunderstandings which we encountered during the past days were over, and we were looking forward to coming back to the EU again. At least for one day, because heading south, this was the straightest path to go down. Also, we tempted to try the Green Velo track stretching just along the border.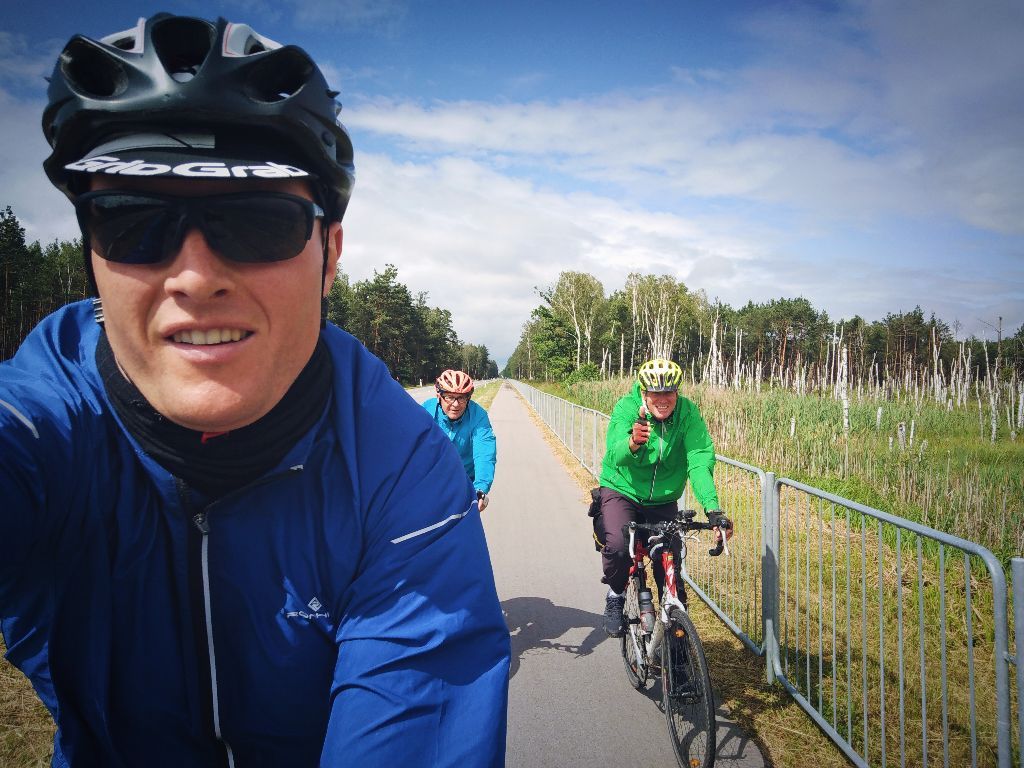 Polish border procedures were simple. A kind lady asked us typical questions, but apparently, she was more interested in our destination – Greece, than checking what we are carrying. She shouted out to her colleague and were very satisfied to announce her: "look, these guys are going to Greece by bikes!". "Yup, that what we are doing Ma'am'', replied one of us with a voice full of happiness and confidence. We were dreaming of this for so long and completely understood how privileged and lucky bastard we are. With the same, we were fully aware of the fact that the majority of those people saying: "oh, I wish I were with you…" have never imagined how much of physical and psychological efforts this is demanding. Nevertheless, it was a pleasant small talk which lifted the mood.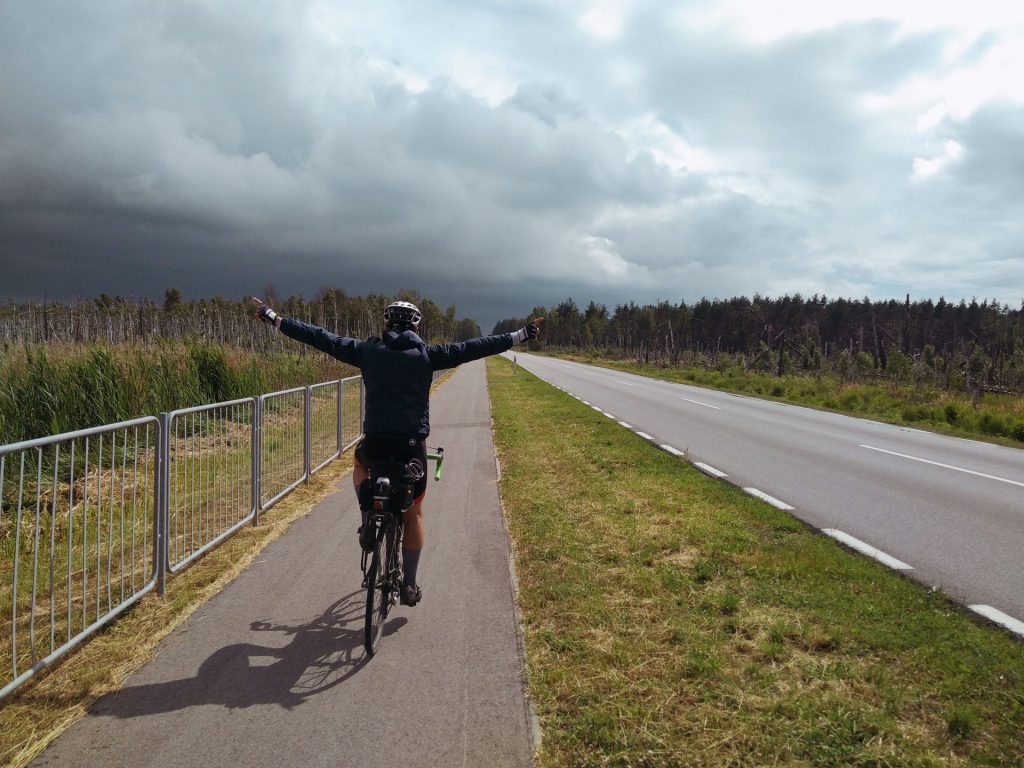 For lunch, we've stopped to buy a couple of welcoming beers and snacks in the nearest gas station. Quickly after eating procedure, we jumped onto the Green Velo route. That was an amazing. Newly built tarmac track explicitly dedicated to cycling tourists. It is completely separated from the motor traffic flow and marked with signs, equipped with info stands.
The weather suddenly went better, and the afternoon ride was joyful. Lots of conversations and jokes while keep spinning the pedals. Hassle-free time and not worrying about distance, navigation, traffic.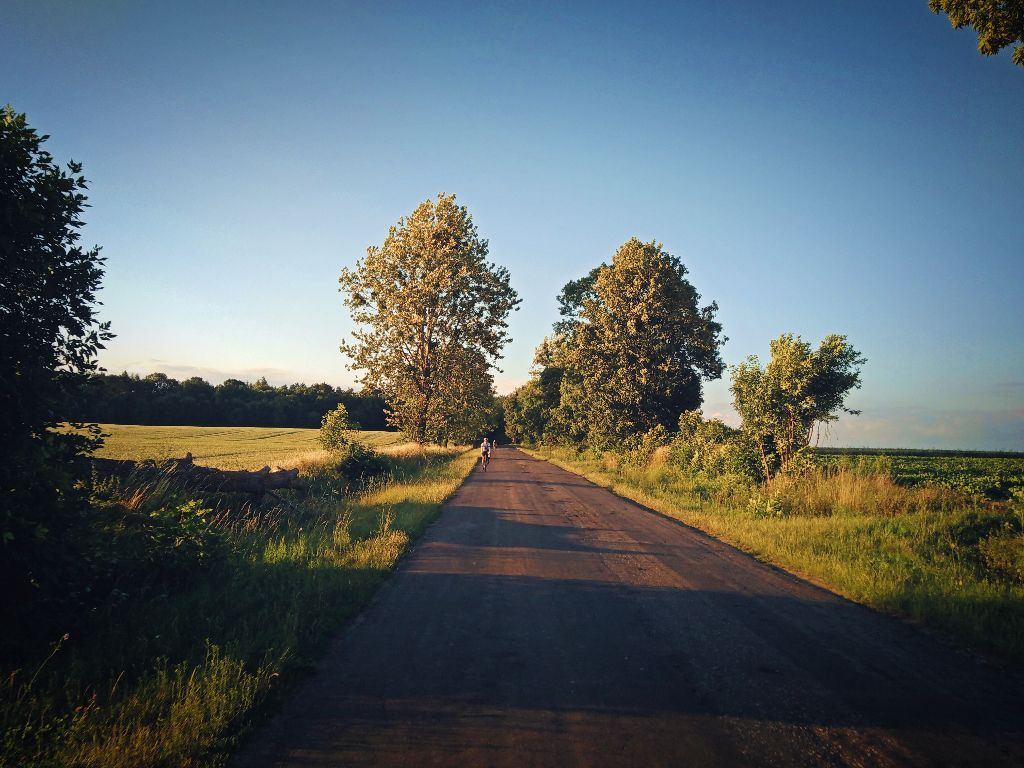 We stopped at Hrubieszow with 195 kilometers done this day. Typical polish style hotel with fancy decorations and color style was already waiting for us. Quickly settled down and went downstairs for food and beverages. What a marvelous ride and lucky day today!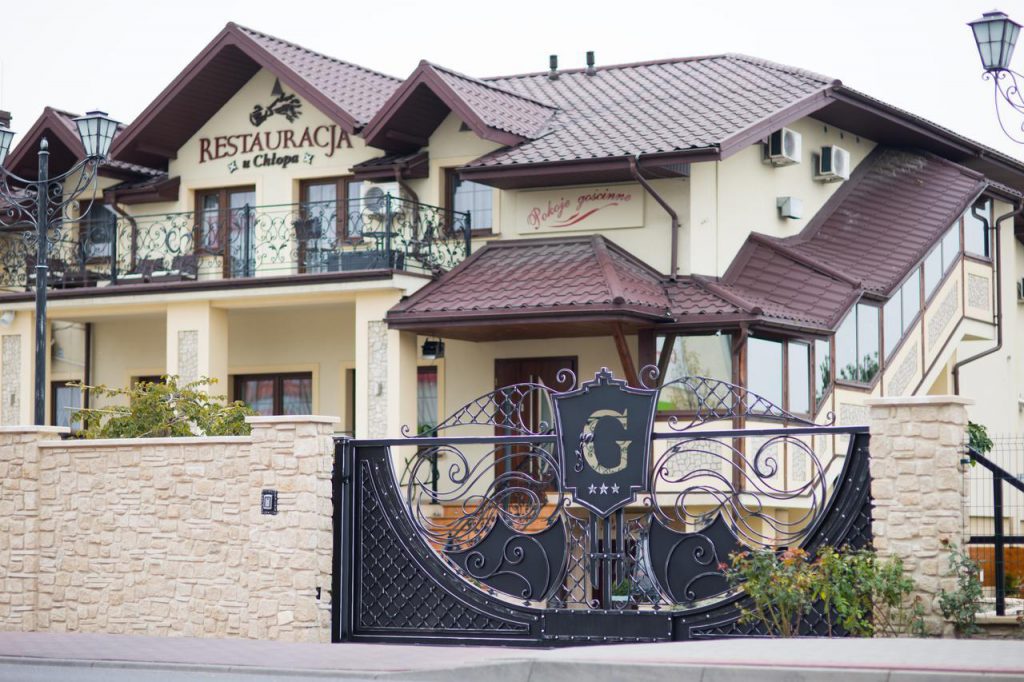 In the morning, we woke up from the sound of raindrops breaking into the roof window. Perhaps another wet day was waiting for us ahead as four of those previous. But it was only 135 kilometers left to Lviv, so we didn't worry too much about it. Quickly packed the stuff back, ate breakfast, and began cycling. After two hours, we were approaching the newly built crossing point, ready to enter the third country of our journey – Ukraine.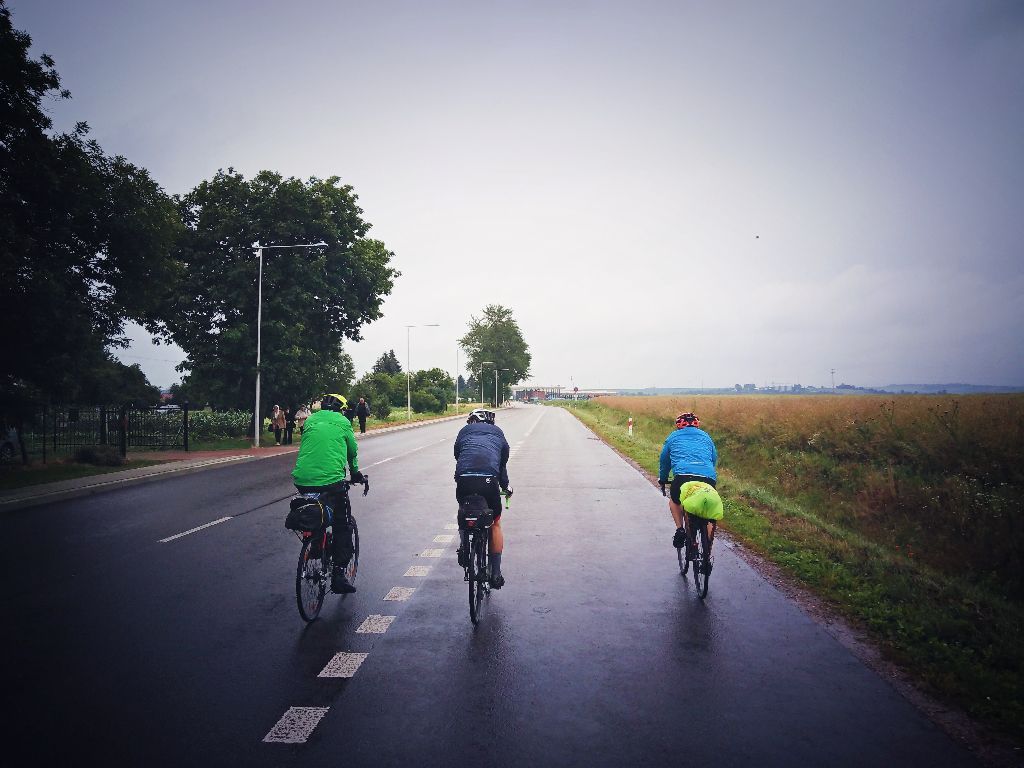 Some time ago, Ukraine went into an agreement with closest supportive countries like Poland, Lithuania ensuring visa-free movement for citizens. And we were lucky ones enjoying simplified procedures this time. Completely different experiences and impressions compared to what we encountered in 2015 when we were traversing the Carpathian mountains with the same group. Today's procedure was fast, easy, transparent.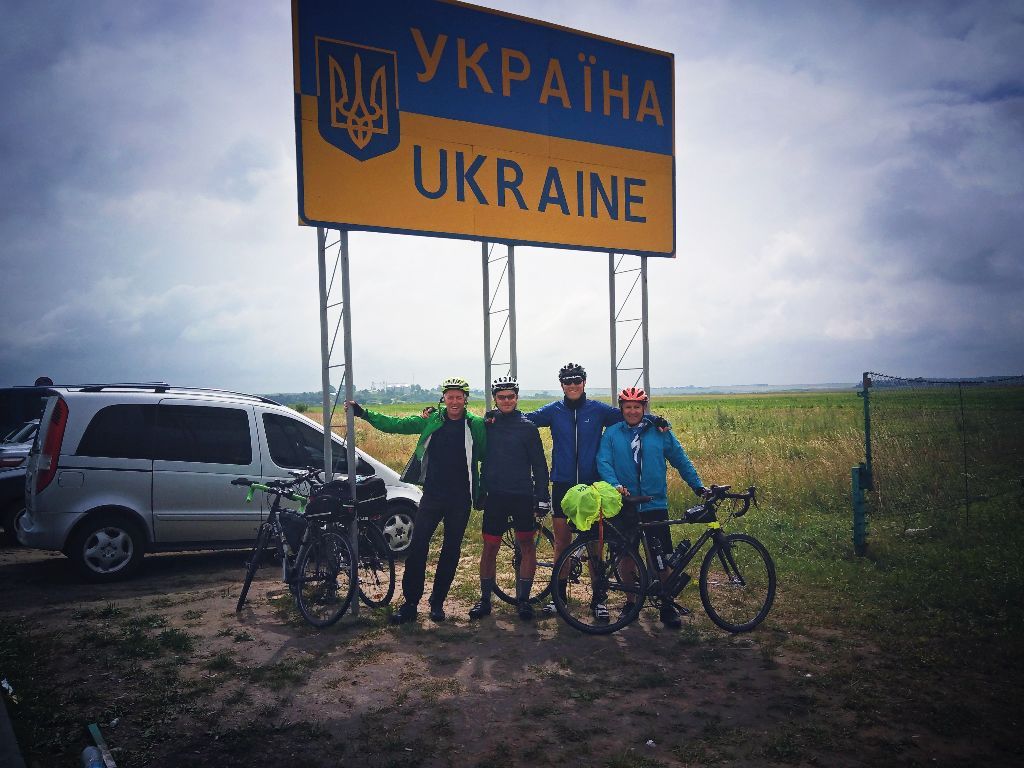 End of part two. Next country – Ukraine.