This is a story about 5 friends, passionate cyclists, who decided to cross Central and Eastern Europe with a single attempt. For many years during the Easter holidays, they were gathering in pre-agreed location and were cycling for one week. They have bright memories about getting through Scotland, England, Slovenia, Italy, Croatia, Albania, Romania, Ukraine, Hungary, visiting points of interest, trying local food and beverages, meeting people. And during one of those common meetups suddenly a new idea was born. Why not try something bigger distance-wise? That is how the idea to go on a bicycle to Greece from Lithuania appeared. One year later they left Vilnius and In 16 days after cycling 2400 kilometres, successfully have reached the southernmost point of the trip – Thessaloniki city.
This series of articles will overview their adventures in each country and give some practical advice on what you should expect, avoid, keep in mind if you are in one of the mentioned countries preferably with a bicycle. If you would like to read another article from series, kindly proceed here.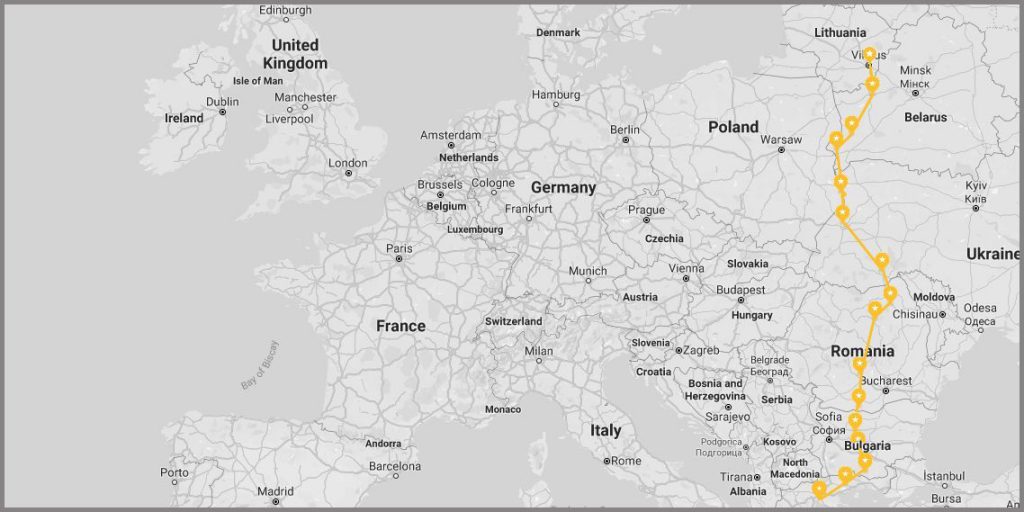 Belarus
Overview
From the cyclist's perspective, Belarus is a friendly place to cycle due to low traffic and decent road quality. You will not find significant nature wonders, though historical heritage is pretty well developed for tourism purposes. Traveling there you easily can notice a lot of signs and methods from Soviet Union times. From some of you, it might be an exotic experience, for the rest – the opportunity to get back 30 years in the past.
Pros:
Decent quality and low traffic roads.
Friendly and welcoming people.
Cheap.
Cons:
Lack of outstanding natural objects.
Poor service quality.
"English only" language might be an issue.

Long-awaited start and first kilometers
Just before leaving Vilnius, I had a plan to share a social post with a quote saying "Some of you go to the office in the morning, but some of us cycle Thessaloniki instead". Couple folks even promised to come and say goodbye to us.
But mother nature welcomed us, by washing out the city with heavy rain in the morning. We haven't seen such an amount of water in Vilnius for ages or maybe even never before. The departure was postponed and we managed to leave just before lunchtime.
The raindrops were pouring on us until the Lithuania-Belarus border, while after we just crossed the border, everything has changed. Unfortunately not for long, because in the evening storm came back while we were looking for a place to eat dinner near Berezovka village. Trees were falling down, random pieces from the rooftop were flying around us… Luckily no one was injured!
The first morning on the tour we woke up very early. Before leaving, the owner of the house invited us to have breakfast. Oksana had prepared tasty pancakes with fresh strawberries on top.
Absolutely everyone of us enjoyed it, especially having in mind that 180 kilometers distance was waiting for us ahead today. The road was mostly flat and empty. If we could complain about something, then it would be the headwinds.
We simply ran out of time in order to reach today's destination. Therefore we have chosen Ruzhany for overnight.
The evening program was organized mostly by "Sacha and Pacha" – two locals whom we met by accident the same day. We were introduced to local food and beverages which resulted in terrible headaches the next morning.
The best you can do during those tough moments – to spin the pedals. That is what we did all day long. Coming closer to Brest, the surroundings remained similar to what we have seen in the past few days. Brest itself has a very sad story from WWII times. The fortress was heavily attacked by Nazi Germany on the first day of Operation Barbarossa, Germany's invasion of the Soviet Union. We didn't have much time for exploration, but for those who are interested in 20th-century history, this is a place should be on the checklist.
On the last hours before leaving Belarus, just right before the border crossing point, we've been caught up by another interesting person. His name was Valentin. From his hairstyle and mustache, he was very look-alike Cossack. Just after overtaking us, he immediately stopped the car and jumped out to welcome us.
Valentin is the president of the Brest cycling club. He is a fan of Audax cycling and told us some stories about his cycling adventures all over Europe. For example, his epic trip from Moscow to Paris in the early 80s.
What a kind surprise was for him to meet us just right near his hometown – someone who is heading to Greece. We did some photos together, Valentin gave us a contact card and insisted to send photos after we will come back.
Soon we got to Damachava border crossing point. It was a happy moment for us, seeing a new country border just around the river. But after the first attempt to leave Belarus, we were told that his crossing point is only for cars and pedestrians are not allowed to cross it here.
We have spent more than half an hour asking, explaining the situation and begging to make an exception for us. Finally, all efforts softened the officer's heart. She called someone and came back to us in 5 minutes. "Are you guys from the theater crew?" – "What? Well… Actually, n….." – "Ok, no problem, then you can move on!"
End of part one. Next country – Poland.